(EJNews) – Chabad of Edmonton will be hosting its 26th annual Candle Lighting Ceremony at the Alberta Legislature on Sunday December 17, 2017 at 4:30 pm.
"Thanks to the continued generosity of the Edmonton Jewish Federation and the thoughtfulness of the National Council of Jewish Women, we are looking forward to a spectacular program complete with latkes, jelly doughnuts, live music and a fantastic children's program which will include dreidel fidget spinners and fun for the whole family," said Chabad Rabbi Ari Drelich.
There will be free bus transportation starting at 4 pm from Beth Israel and 4:15 at Beth Shalom and returning at 6:45 pm.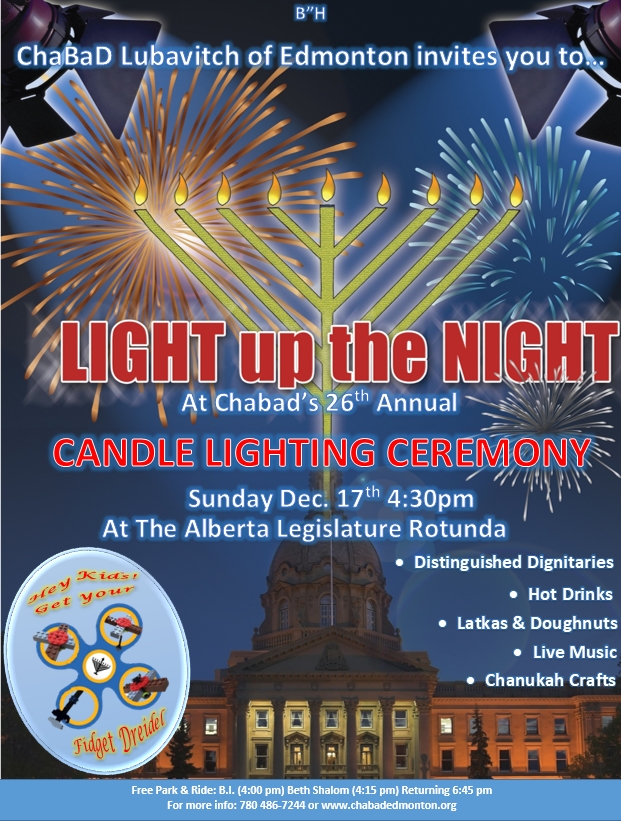 This is an indoor program (even the Menorah lighting can be viewed from indoors) which is open to the entire community.
"Don't miss this wonderful community event – it is a great time to visit with friends and family and the entire community as we celebrate Chanukah and witness the lighting of the giant menorah at the beautiful Alberta legislature grounds."
For more information visit ChabadEdmonton.org or call 780-486-7244.