By Jenna Soroka
(AJNews) – Sari Uretsky is the Founder and Artistic Director of the Aviv Israeli Folk Dance Association (AIFDA), as well as a mother of three teenagers. She is also the owner of Uretsky Physiotherapy. Through each chapter of her life, she has used her passions and hardships to build a business, a not-for-profit organization, and a life she takes great pride in.
A constant thread throughout Sari's life has been dance. Since the age of four, dance has played a significant role in her physical and mental health. Her mom initially enrolled her into dance to build her confidence, which included lessons in tap, jazz, and ballet. It was love at first plié. Sari describes herself as an introverted person, but dance allowed her to channel a different, more outgoing, side of her personality.
In junior high, Sari injured her Achilles tendon and began going to a physiotherapist for rehabilitation. It was this therapist who sparked Sari's curiosity and interest in a possible career in physiotherapy. Fast forward to 1999, and Sari graduated with a Bachelor in Rehabilitative Medicine from the University of Alberta. After gaining experience as a head trainer for the Golden Bears basketball team and as an assistant trainer with the Edmonton Eskimos (now Elks), she moved to Vancouver, BC for her first physiotherapy job. "People in your life empower you and change you in different ways," noted Sari, while sharing deep gratitude for her family's support growing up and their willingness to help her work towards her goals and passions.
A big shift occurred in her life when she was diagnosed with a chronic disease at the age of 14. When she was admitted to the hospital during the middle of dance competition season, Sari recalled a memory of her dad where he told her "You will never let this control your life. You will control this disease." This message uplifted Sari during a time of uncertainty, to remind her that she was strong enough to not only move forward but thrive. As an adult, she appreciates the power these words have had throughout her life.
In addition to her parents' unwavering support, her aunts played a significant role in her introduction to the world of Israeli dance. Her first exposure was during high school through her aunt Karen Hering's Israeli dance classes in Edmonton. When Sari moved to Vancouver for work as an adult, she then joined her other aunt's Israeli dance program. She was part of Trudy Harowitz's Israeli dance group for almost 10 years in Vancouver where she danced, choreographed numbers, and learned how to organize shows.
When Sari started having children, she moved back to Edmonton to be closer to family but missed the Israeli dance community she had been part of in Vancouver. Outside of some basic instruction kids at the Edmonton Talmud Torah School were exposed to, there was no structured Israeli dance program in Edmonton. In the spring of 2006, Sari formed the Aviv Israeli dance group which started off as six volunteer adults with classes held at the Jewish Community Centre (JCC). At the time, the Jewish Federation of Edmonton provided rehearsal space at the JCC for free as the dance program began as a free program. Dancers and volunteers helped to sew their first costumes using fabric donated by Fabric Land. "The costumes were rough, but we [did have] a costume," Sari recalled with a chuckle. During this time, she was working full time as a physiotherapist, raising three children, and running this program.
Sari credits Stacey Leavitt-Wright, current CEO of the Jewish Federation of Edmonton, for being a driving force in creating the Aviv Israeli Folk Dance Association (AIFDA) dance program we see today. In 2012, with the help of other key individuals, Sari and Stacey decided to make the group into a not-for-profit association with Stacey becoming the first President on the Executive Board. Two years later Festival Hatzafon (Festival of the North) was born. Edmonton's Israeli dance festival has evolved throughout the years, always showcasing the hard work, dedication, and talent of AIFDA's dance community. This coming year, Festival Hatzafon is planning a two-day event to celebrate 18 years since the start of the Aviv dancers. It will be a unique celebration with alumni planning to return for a special performance.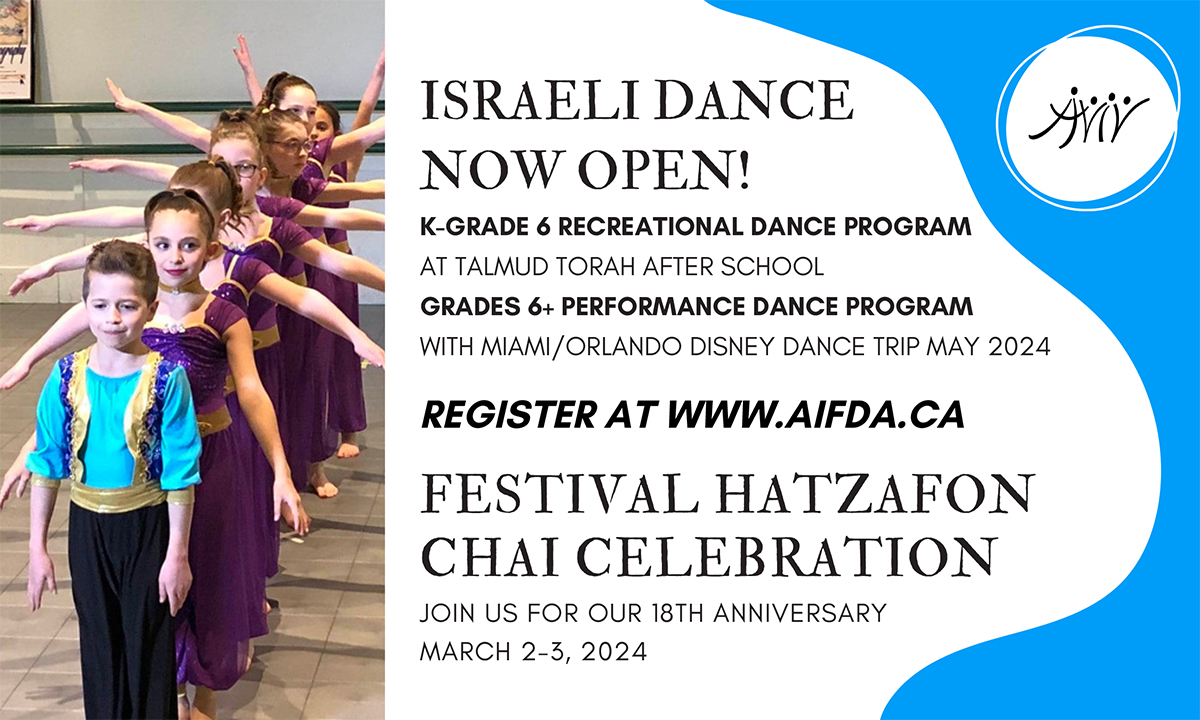 Sari's Israeli dance program has grown to provide an enriched cultural experience for the Edmonton community. AIFDA has brought dance choreographers to Edmonton from around the world to teach new choreographies and lead workshops. In 2014, with the help of a grant from Karen Hering, Sari and Stacey traveled to Israel for an Israeli dance teacher workshop. After-school dance classes at the Talmud Torah school were made available for kindergarten to grade 6 students, and Meirav and Doron Or began leading drop-in circle dance lessons. Aviv and the other performing groups have traveled across North America to perform in front of wide-ranging audiences.
AIFDA strives to provide its participants with a place to explore and deepen their connection to their heritage, in a safe and welcoming environment, while providing them with instruction in folk dance as well as a place to make new friends and strengthen existing ones. Furthermore, AIFDA aims to enrich the cultural mosaic of Edmonton and its people by exposing them to Jewish and Israeli culture through the art of dance. By participating in various festivals and multicultural events, their goal is to spread peace and tolerance to as many people as possible.
This mission, as described on their website, has been the guiding force throughout the years of AIFDA's existence. Alongside the incredible growth of Sari's Israeli dance program, she was making a difference in the physiotherapy world as well. She worked in sport rehabilitation and chronic pain for many years and describes how her practice has evolved into what it is today. In addition to pediatrics, acupuncture and IMS, pelvic health is a big focus of her practice.
"I have had my own company for three years now," explained Sari, "and I have created this practice specifically so that I can have one-on-one time with my patients and give them the attention they deserve." She recently spoke at the 2023 Alberta Wellness Summit, a CDA, ADA, and CDSA joint convention. She did two talks that educated attendees on how physiotherapy can help them feel better, stronger, and more confident in their daily life. "Helping people with pelvic floor issues can make a huge difference in their lives, and that is so rewarding," Sari added.
After years of experience in the rehabilitation medicine industry, starting her own business has allowed her to give the best care to her patients. It has also given her the freedom to prioritize her children and focus on her dance career. "I did step out of my comfort zone to do it," Sari emphasized. She had three teenage kids all in different activities, and she was running a dance program all while navigating life's stressors when she decided to make this shift in her physiotherapy practice. "I knew I needed to make my career something that I would really enjoy and that would allow me the time I wanted to be there for my children."
Sari's physiotherapy and dance careers have grown into a synergistic relationship with one another. Lessons from one have flowed into lessons for the other, which have contributed to the success in these areas of her life. In addition to her own internal strength, Sari recognizes how the encouragement from family, friends, and her partner have all propelled her toward her goals.
Behind an empowered woman is a team of empowering people. Sari's life tells a story of passion, perseverance, dedication, and love which has been supported by a network of incredible people along the way. "If you have a vision and you let others help, you can reap all the benefits. You don't have to do it alone."
Book a physiotherapy consultation with Sari by visiting her website at www.uretskyphysiotherapy.com.
If you would also like to experience AIFDA's loving community for its 18th anniversary, Sari encourages you to register for the 2023/2024 dance year! Explore their website at www.aifda.ca to learn more about their dance programs. Additionally, students enrolled in AIFDA's performing dance program (grades 6 to adult) will have the opportunity to travel to Miami and Disney in May 2024, for an incredible dance and community-building experience. Please email aifdaedmonton@gmail.com with any questions.
 Jenna Soroka is a Local Journalism Initiative Reporter.