by Tammy Vineberg
(AJNews) – Chanukah brightens the darkness around us with the lighting of the menorah each night. This Chanukah is a chance to bring another meaning to the brightness of the menorah. This Chanukah, the Festival of Lights, is a time to Shine a Light on antisemitism and fight it in all its forms.
The Jewish Federation of Edmonton is creating a mosaic art piece in the shape of a menorah as part of the Shine a Light awareness campaign. We are asking you to participate in this project by voicing how antisemitism makes you feel or how it has impacted you through painting a tile for the mosaic art piece. By creating this art piece, we are coming together as a community to speak out and about antisemitism.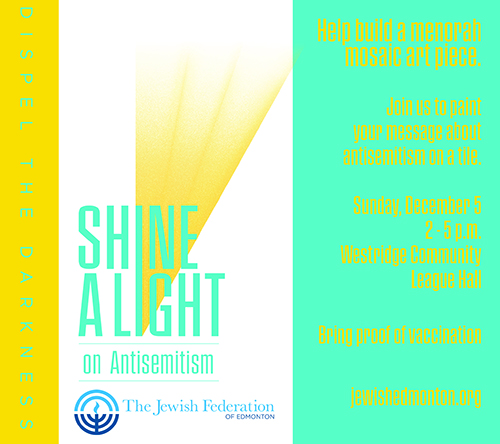 During the week of Chanukah (November 28 to December 5), the Federation is asking Jewish organizations and their members to paint tiles. Talmud Torah School, Jewish Family Services, the Jewish Seniors Citizens' Drop-in Centre, Hillel, B'nai Brith Youth Organization, and Shalom Baby will be given packages of tiles and acrylic paint pens so they can organize their own sessions.
A drop-in event for all members of the Edmonton Jewish community will be held so everyone has an opportunity to paint a tile on the last day of Chanukah, Sunday, December 5, between 2 and 5 p.m. at the Westridge Community League Hall. Proof of vaccination is required for participation (children under 12 are exempt).
Mosaic artist Lewis Lavoie of St. Albert will be assembling the piece once all the tiles are collected. An announcement in December will detail how the mosaic menorah will be unveiled for the public to see.
The Jewish Federations of North America funded this mosaic art project, which is one of many grants that provided for the Shine a Light on Antisemitism awareness campaign to Federations in Canada and the United States. The Jewish Federation of Edmonton had to submit an idea for a project, apply for this grant and received the maximum available funding of $10,000.
This initiative's goal is to shine a light, with positivity and by defining what we are for, using the powerful story of Chanukah to champion the message. It is not about being anti antisemitism and it is not about being a victim. Antisemitism is spreading online, in public discourse, and in popular culture. It is a darkness that threatens, not only the Jewish people and faith, but all of us, no matter creed or background.
The trend in the number of measured hate crimes committed against Jews per 100,000 population is upward. According to a 2018 Survey of Jews in Canada from the University of Toronto and York University, one-third (34 percent) of Canadian Jews say they believe Jews in Canada "often" experience discrimination in this country, with another 50 percent who say this happens "sometimes". The same survey revealed one in 10 (11 percent) Canadian Jews report having been called offensive names in the past 12 months because of being Jewish or having a Jewish background. It shows that, annually and on average, six anti-Jewish hate crimes were
committed per 100,000 Canadians—a total of 360 such crimes in 2017. In 2019, Statistics Canada found police-reported hate crimes against Jewish people accounted for the highest number of religion-based hate crime in Canada.
Antisemitism is on the rise. It is used to justify stereotyping and violence against Jewish people. Shine a Light asks people to become aware of antisemitism and act to fight it in all its forms.
Jews in North America feel alone. They are silently absorbing antisemitism—in their communities, at work, on social media—and they feel unsafe speaking out. Many of their friends and neighbours aren't speaking up. Nearly 40 percent of the general public—and nearly 50 percent of Jews—think antisemitism is taken less seriously than other forms of hate and bigotry.
Be aware that antisemitism is taking place in the workplace, at schools and on campuses, and online. Very few people are paying attention to antisemitism, and it's concerning.
How you can help is by participating in the Shine a Light initiative. Just as you'd reject any other kind of hate, reject antisemitism. You can do this by speaking up to send a message that antisemitism won't be tolerated in Edmonton and in Alberta.
Visit www.shinealighton.com to learn (and teach) about antisemitism and how to fight it. Spread the word about the art mosaic. The Jewish Federation of Edmonton looks forward to seeing your messages on this important art piece.
Tammy Vineberg is Associate Director, Marketing and Communications at the Jewish Federation of Edmonton.