(EJNews) – From Carnegie Hall to Edmonton's Citadel Theatre, the very gifted Israeli clarinet virtuoso Avigail Malachi-Baev will be performing with pianist Maya Rand at the 2016 Edmonton United Jewish Appeal kickoff event on September 7, 2016. Guaranteed to delight and enthrall music lovers of all genres, Malachi-Baev and Rand will perform a program that journeys from classical to tango to klezmer.
The Jewish Federation of Edmonton is presenting this incredible concert at no charge to the community. There is limited seating available so please RSVP to eliannal@edjfed.org or 780.487.0585 ext 211 by August 31, 2016.
Avigail Malachi-Baev is a highly acclaimed musician. She is a long time recipient of the America Israel Cultural Foundation (AICF) scholarships in the period of 1998- 1999, 2006-2009, the Rotary Foundation Special award, the JAMD scholarships 2001-2005, the New School merit-based scholarships 2007-2011, and the Nerken Scholarship Fund of UJA-Federation of NY 2009-2011.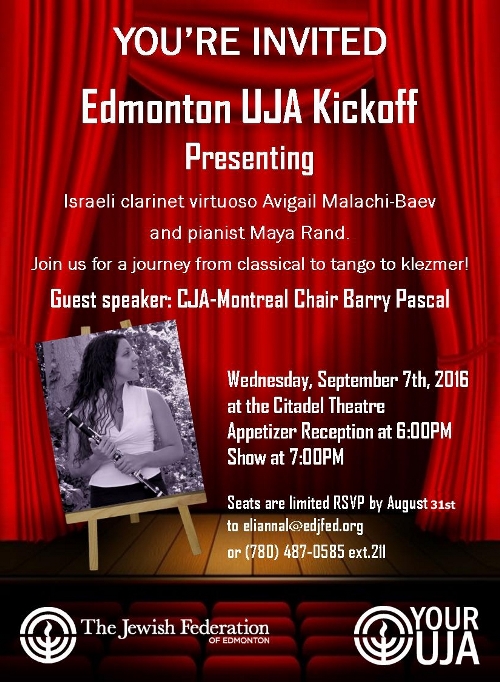 An active orchestral player, Avigail made her Carnegie Debut with the Mannes Symphony Orchestra as a principal clarinet in 2007. In addition, she has played with Bare Opera, Loft Opera, Ossia Symphony Orchestra, Adelphi Symphony Orchestra, 212 ensemble and Mimesis ensemble among many others.
A devoted chamber musician, Avigail is a founding member of "Philos" ensemble (2008) and "12th night Klezmer" band (2009). While focusing on contemporary music performance, for the past several years she has also been combining her passion and admiration for Jewish traditional music, along with performing the standard chamber music repertoire. Since her arrival in NYC, Avigail is also involved in the Tango music scene and being trained professionally to perform traditional Argentinean Tango collaborating with leading musicians such as Latin Grammy winner Raul Jaurena (Bandoneon), Pablo Aslan (Double Bass) and Octavio Brunetti (Piano).
Avigail participated in numerous Master classes and seminars and worked with some of the leading clarinetists in the world such as Ernst Ottensamer (Vienna Philharmonic), Corrado Giuffredi, Philippe Cooper (Paris Opera), Franklin Cohen (Cleveland Orchestra), Sharon Kam, Sabine Meyer, Wolfgang Meyer, Wenzel fuchs (Berlin Philharmonic), Anthony McGill (Metropolitan Opera) Eddy Daniels, Yehuda Gilad, Giora Feidman and the members of the Orion String quartet.
Teaching Artist in several music programs in NYC and abroad, Avigail is currently a faculty member at the "Spence School", woodwinds coach with the "InterSchool Orchestras of NY" and woodwinds faculty at "Kathryn Brickell Music School". Past engagements include the "Harmony Program", El Sistema based education method and the "Juilliard School" MAP program.
A graduate of Mannes College the New School for Music in NY, Avigail received her Master of Music and Artist Diplomas in 2009 & 2011 Studying with Charles Neidich and Ayako Oshima.
From Classical music to Tango and Klezmer, Avigail masters her instrument in any style and aspect. This will be an exceptional concert.
The UJA Kickoff event will also include guest speaker Barry Pascal, Canadian Jewish Appeal – Montreal Chair. An Appetizer Reception will be held at 6 pm and the show will commence at 7 pm.
See you there!