By Tammy Vineberg 
(AJNews) – The Edmonton Jewish Film Festival (EJFF) is back for its 27th year and has some surprises in store for its audiences. It's thrilled to announce the lineup, highlighting a diverse and dynamic range of films that celebrate Jewish culture, history, and identity. The 11-day hybrid festival will take place in-person at the Edmonton Public Library's Stanley A. Milner branch and online from Sunday, May 7 to Thursday, May 18. Audiences will have a choice of eight feature films and five short films that offer the best in Jewish cinema, with engaging dramas and documentaries from Israel, France, Austria, and the U.S.
Local talent will be featured as the Young at Heart choir from the Jewish Senior Citizens' Centre will be performing on the festival's opening day. Choir members will be on stage at the Stanley A. Milner downtown branch at 2:45 p.m., before the screening of Rose. Other festival bonuses include restaurant promotions and a dessert reception. Stay tuned for details on these feature additions to making your festival experience more enjoyable.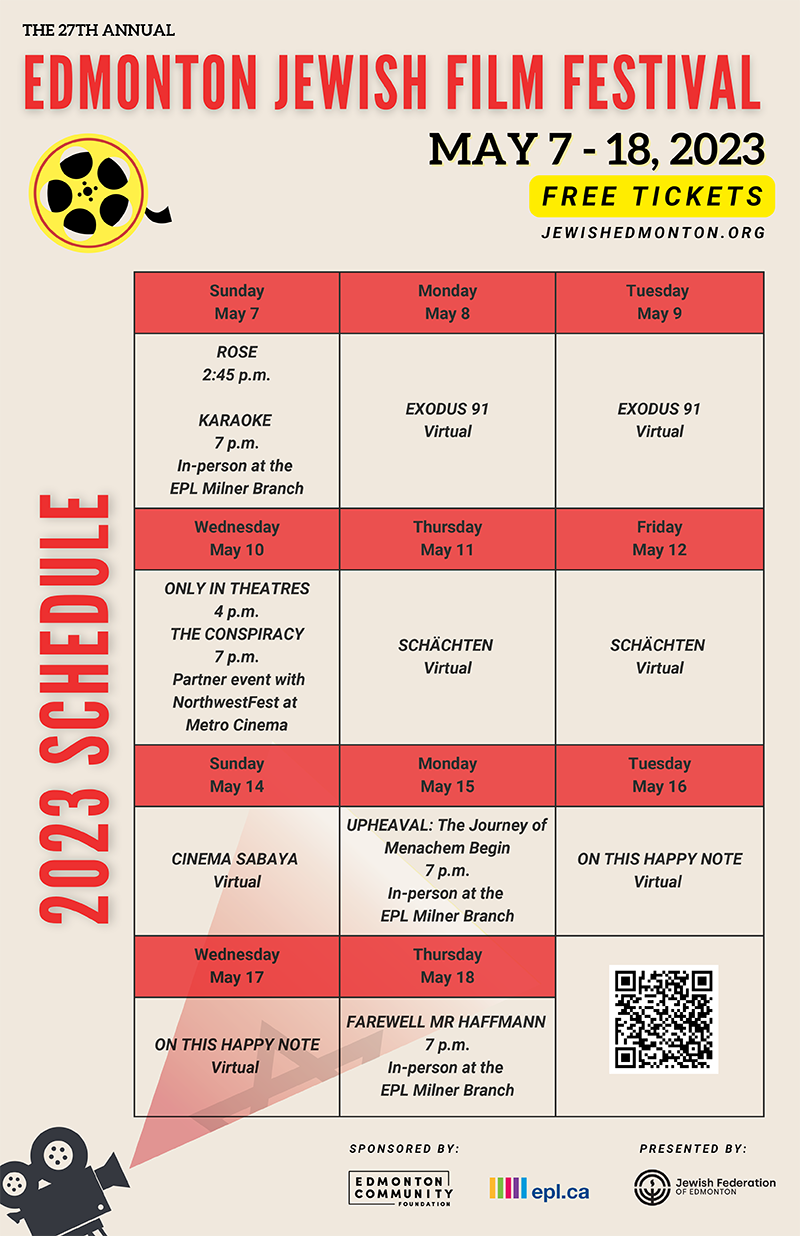 Festival committee members selected several films where stories of brave and resilient women are highlighted. One of these films is Rose, which stars legendary French actor Francoise Fabian as an elderly widow who finds an unexpected new life after losing her husband. Cinema Sabaya tells the story of eight women, Jewish and Arab, who are involved in a video workshop that forces them to challenge their beliefs. On This Happy Note documents the life of Anat Gov, one of Israel's most influential playwrights.
Another strong festival theme is telling Israeli stories. Five of the eight feature films are from Israel, fitting with the upcoming celebration of the country's 75th birthday.
As the Edmonton Jewish community gathers for this anniversary, festival committee chair Sam Koplowicz is excited to have people back in person to watch four of the films. "Online availability was vital during the past few years of enforced isolation, and will no doubt continue in some form due to popular demand. But it can't replace the communal aspect of gathering in a theatre to share an experience in real time with an audience," says Sam.
One of the films to experience in-person is Karaoke, awarded best film by the Israeli Film Academy and nominated for Best International Narrative Feature at the Tribeca Film Festival. It is a story of an ordinary middle-aged couple in Tel Aviv, whose lives change when a handsome, charismatic playboy moves into their building. Director Moshe Rosenthal will join, virtually, for a Q and A, following the 7 p.m. film. This opening night will also feature remarks by Senator Paula Simons and the presentation of the Earl Parker Award for Jewish Film.
EJFF goes out on a high note, on May 18 at 7 p.m. with Farewell Mister Haffmann, a tense and powerful French drama set in occupied Paris, about a Jewish jeweler who strikes a fateful deal with his non-Jewish assistant. With superb performances by Daniel Auteuil, Gilles Lellouche and Sara Giraudeau. A dessert reception will follow the film.
"We are thrilled to present this year's lineup, which includes a mix of thought-provoking documentaries and engaging dramas. These films represent the best of Jewish cinema and offer something for everyone, whether you're a film enthusiast or simply interested in exploring Jewish culture," said Festival Director, Susan Schiffman. "Our goal is to showcase the diversity of Jewish culture and history, while also creating a space for dialogue and discussion around the themes and issues raised by our films."
The festival is presented by the Jewish Federation of Edmonton with support from major sponsors, the Edmonton Community Foundation, and the Edmonton Public Library. Generous support is also provided by dozens of companies, non-profit organizations and individuals throughout Edmonton. Funds raised through EJFF support festival delivery as well as Partnership2Gether, the Federation's capacity-building partnership in Israel's Northern Galilee region. All films and events are free.
Click here to see the full schedule and tickets are now available at jewishedmonton.org.
Tammy Vineberg is Associate Director of Marketing and Communications for the Jewish Federation of Edmonton.