By Regan Treewater-Lipes
(EJNews) – Edmonton has much to be excited about!  This year's National Council of Jewish Women of Canada's Convention will be held in the City of Champions from November 16-18, 2019.  Jewish women dedicated to social change from chapters in Toronto, Barrie, Winnipeg, and Vancouver will be making the journey to our northern capital for two and a half days of exciting annual meetings, project planning and collaboration, compelling guest speakers, community presentations, scrumptious kosher eats, and the opportunity to meet new socially engaged Jewish women.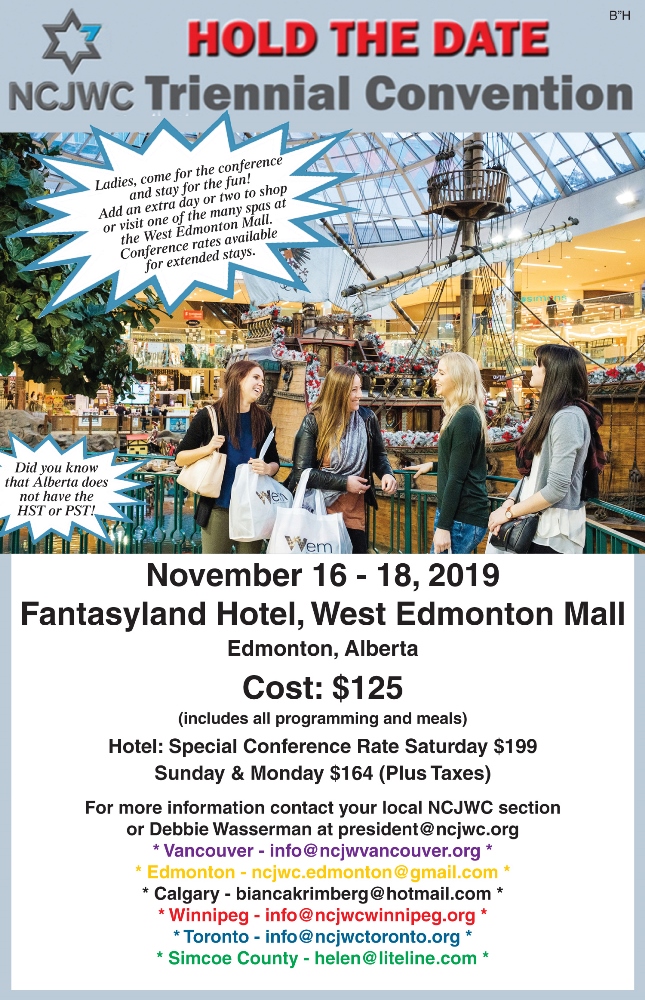 In the words of National President Debbie Wasserman:
"NCJWC has a rich history spanning more than 122 years in Canada.  Today NCJWC is still strong, concentrating our efforts on the pillars on which we began – service, education and social action."
NCJWC's Edmonton Section President Jodi Zabludowski and her team have put together a packed line-up to welcome delegates from afar, as well as local ladies from our own Jewish community as well as from Calgary.  Following Shabbat on November 16, organized transportation will pick up participants from the West Edmonton Mall's Fantasyland Hotel and tour some of Edmonton's key Jewish sites, ending at the Jewish Drop-In Center located downtown.  There, local NCJWC members will welcome their visitors over dinner and exchange ideas from across the country.
"We are so looking forward to hosting the NCJWC Convention in Edmonton.  The women from the different sections of NCWC are dynamic and engaging," commented Jodi Zabludowski.
On Sunday morning, delegates will have the opportunity to discuss their activities during the NCJWC Annual General Meeting before the much-awaited Community Luncheon.
"Discussions will be lively, and we hope to accomplish a lot, in addition to having fun," Zabludowski elaborated.
NCJWC Edmonton invites women from across the Jewish community, even if they are not affiliated with the organization, to come, partake and enjoy the afternoon's festivities.  At only $36 a ticket, this kosher catered lunch, with inspired guest speakers, and a performance by the Aviv Israeli Folk Dancers, is an event not to be missed!  Tickets can be purchased on Eventbrite and registrants just have to search NCJWC Community lunch to purchase a ticket.   Thanks to the generosity of the Edmonton Jewish Community Charitable Foundation, this luncheon is able to take place and it will be one of the highlights of the weekend of festivities.
The Edmonton Section of NCJWC has, in the past, supported WIN House, a local women's shelter.  Some in the community might remember the children's book drive that took place in the summer of 2018.
 "Yes, NCJWC is a force, continuing to work tirelessly to promote social justice, freedom, equality and tolerance, while engaging in meaningful projects to impact our communities," Wasserman commented.
In preparation for November, Zabludowski and her team are delighted to announce that WIN House's top leadership will be attending the luncheon, and speaking to guests about the work being done in Alberta to elevate the status and security of women.  Additionally, there will be an opportunity to hear from representatives of the Alberta Council of Women's Shelters.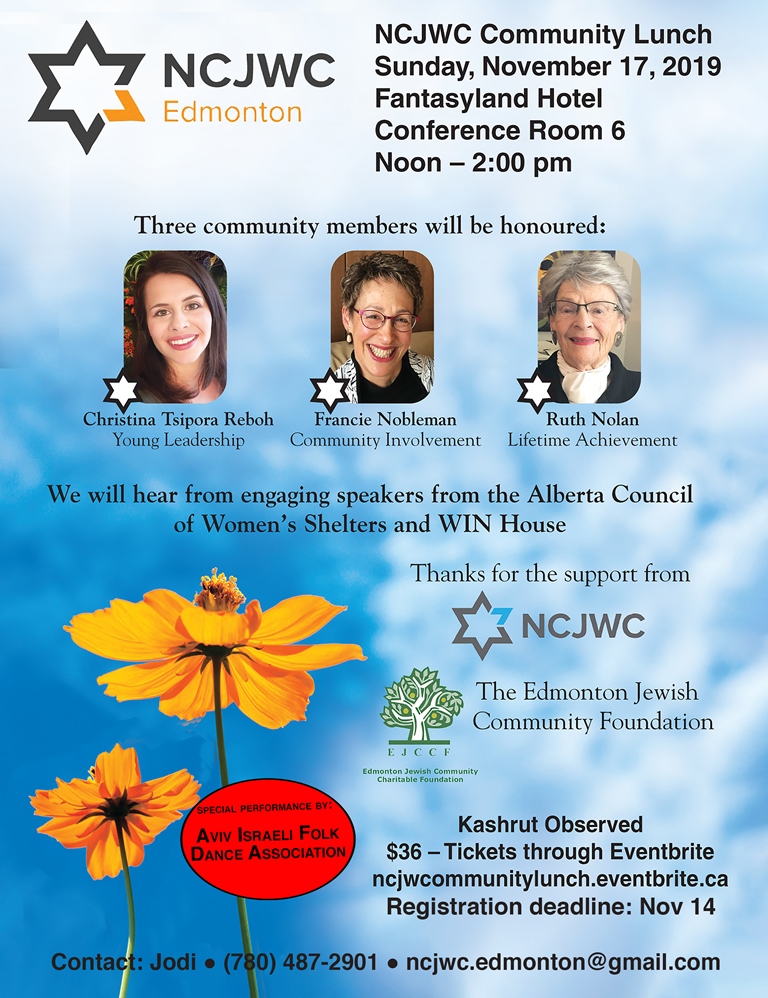 In recognition of their tremendous contributions to the Jewish community, NCJWC Edmonton is proud to announce that it will be honouring the achievements of three local women who have gone above and beyond to improve the world around them.  Christina Tsipora Reboh will be presented with an award for her contribution to young leadership, Francie Nobleman will be recognized for her tremendous work in community engagement, and NCJWC Edmonton's lifetime achievement recipient will be Ruth Nolan.  Organizers hope that women throughout the community will come together on November 17 to honour these incredible Jewish women.
For delegates, dinner Sunday evening will be hosted by Chabad.  NCJWC's attendees from across Canada will have the chance to meet the Chabad Rebbetzins and hear about the dynamic endeavors that have been, and will continue to, enrich Edmonton's Jewish community.
Following a morning and early afternoon of final meetings on Monday, NCJWC Edmonton will bid farewell to its sister chapters and embark on another year of meaningful projects.
According to Wasserman, "Through our collective energies and enthusiasm, NCJWC will continue to thrive.  We are committed to making a positive impact.  This drive, coupled with our members' enthusiasm, shall propel us into the future to meet and take advantage of opportunities that are set before us."