(EJNews) – On June 5, the Edmonton Jewish Community joined Jews in Israel and across the diaspora in celebrating Yom Yerushalayim, a modern day holiday that commemorates the unification of Jerusalem under Israeli sovereignty.
For the second year in a row, a community wide event was organized by Beth Israel's Rabbanit Batya Friedman that included the participation and sponsorship of over a dozen diverse Jewish organizations within the city.  The event brought together more than 150 people, largely young families in a show of community unity and family fun.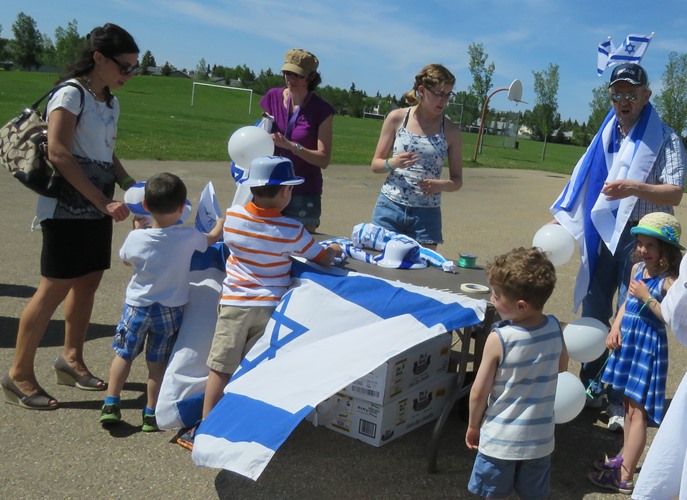 The Edmonton weather could not have been more perfect for an outdoor celebration; the beautiful blue sky and sunshine matched the blue and white flags and balloons that decorated the venue. Celebrants met at the Talmud Torah school at 11:30 on Sunday morning and the children happily took part in a PJ library craft as well as playground activities and a rousing game of soccer.
At 12:30 everyone gathered and began a joyful parade from Talmud Torah School to Beth Israel Synagogue. In Israel over 30,000 people marched in Jerusalem and the Edmonton Jewish community mirrored this enthusiasm with families from all levels of observance and affiliation. Some marched and some rode bikes, others rode in strollers; some waved flags and others held hands with friends and family members. Traffic slowed to let the marchers cross the street and some cars honked in support.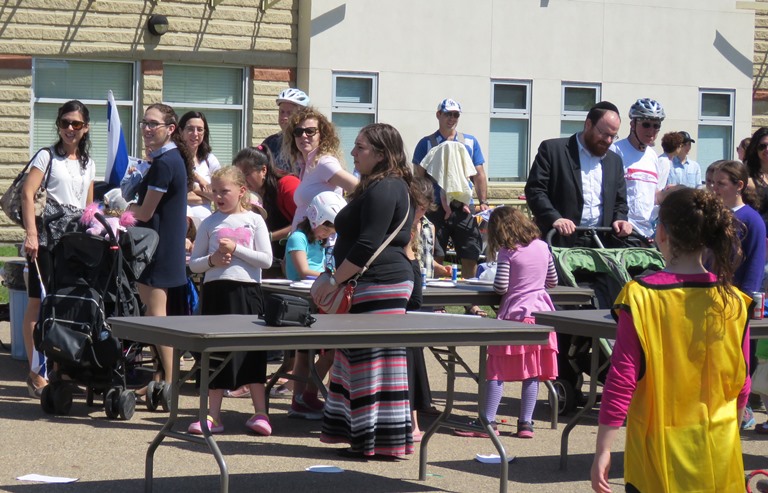 At the Beth Israel, the paraders were treated to a delicious pizza lunch and even more wonderful activities for the children. Dessert included ice cream, cotton candy and popcorn. The children were delighted to receive balloon animals, enjoy a jumping castle and have their faces painted.
Carnival games were hand made by community members Yaara Shabtai and Neomi Stocklin; the games were fun and the backdrop for each game was a work of art, including a windmill toss to signify Jerusalem's Montifiore windmill and a beautiful collage of the old city that was also used for a toss game. Other activities included hula hooping and a PJ Library reading circle.
Rabbanit Batya briefly addressed the crowd to thank everyone for coming out to enjoy the weather and celebrate the unification of Jerusalem and unity with the Edmonton Jewish community. She thanked the many organizations that co-sponsored the event including the two Jewish day schools – Talmud Torah School and the Menorah Academy – and the participating synagogues that service Jewish congregations of all backgrounds – Temple Beth Ora, Beth Tzedek, Beth Israel, the EDJGE and Chabad. She also thanked the Jewish Federation of Edmonton, J. CORE, PJ Library; Jewish National Fund of Edmonton, National Council of Jewish Women, Our Parents Home and the Edmonton Jewish News for their support.
She thanked all the people who helped make the event successful especially Yaara and Omer Shabtai, Neomi Stocklin and Asaf Sagi and other members of the community.
Scroll down to enjoy our Photo Gallery: