by Sheri Somerville
(Edmonton) – Although centuries apart, Wolfgang Amadeus Mozart and Leonard Norman Cohen have much in common. Both men are enigmas who continue to earn the applause of countless of millions, and both refuse to give up the answer to where their genius came from. Cohen, however, offers us a clue to this puzzle: The Doorway.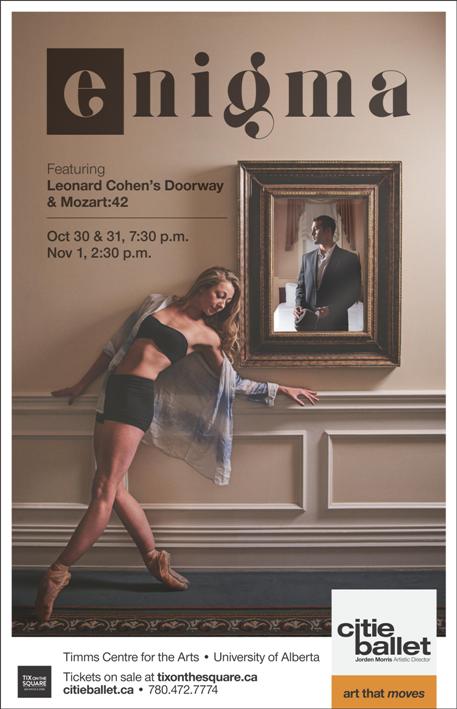 Created by Citie Ballet's Artistic Director, Jorden Morris, Leonard Cohen's Doorway explores the relationships between those we choose to love and ourselves, and the rite of passage to the creative process. The music includes pieces by Cris Williamson, Sharon Robinson, Adam Cohen and, of course, Leonard Cohen. The performance also features Edmonton's own, critically acclaimed musicians: Andrea House on vocals and jazz pianist, Chris Andrew.
"My idea for the piece was to use Leonard's voice, poetry, songs and thoughts via interviews to sculpt a movement-based series of vignettes that explore relationships," says Jorden Morris, Citie Ballet's Artistic Director. In regards to the world premiere of Mozart:42, "It is important for me to show the company's classical strength and technique in the season opener. A strong classical foundation such as Mozart:42 and innovative contemporary works like Leonard Cohen's Doorway are the focus of my artistic vision for Citie Ballet," explains Morris.
Citie Ballet is art that moves.
As Edmonton's own ballet company, Citie Ballet inspires audiences with original works and beautifully remounted pieces. Under the direction of internationally renowned choreographer, Jorden Morris, Citie Ballet presents three productions every season that range from modern to classical ballet at the Timms Centre for the Arts. Citie Ballet also tours and collaborates with various local arts groups throughout the season.
Citie Ballet's 2015 – 2016 season
All Friday and Saturday performances at 7:30p.m. and Sunday matinees at 2:30p.m.
 Enigma October 30, 31 and November 1 Featuring Leonard Cohen's Doorway, and Mozart:42
Emotion February 19 -21 Featuring pas de deux from Romeo and Juliet, Moulin Rouge, and Cyrano. Plus, Love Articulated, a new work by Edmonton's own Kiera Keglowitsch.
Evolution April 15 – 17 Featuring Tierra (a new work by Jorden Morris) and additional pieces by two emerging young Canadian choreographers.
Tickets range from $20 to $40. Advance tickets are available at Tix on the Square (780.420.1757 or tixonthesquare.ca). Visit www.citieballet.ca, Twitter @citieballet, and Facebook Citie Ballet for season updates.
See you at the ballet!
Sheri Somerville is Executive Director of Citie Ballet in Edmonton.