by Regan Treewater-Lipes
(AJNews) – 'Community unity through Jewish learning' is the name of the game at Beth Israel Synagogue.  As the seasons change, and Edmontonians begin to wake up to layers of frost on their windshields, Beth Israel's Shul Director, Moshe Siderson and the team have already cooked up, quite literally, some truly exceptional programming for the winter months to come.
"We want to continue to engage the community in a safe way, and build on our success from our summer activities," commented Siderson. "We are finding even more ways to come together for Jewish learning – we have been challenged to get creative."
It is through this necessity for creativity that BI organizers been able to stir up community engagement in a whole new way, with some truly innovative ideas!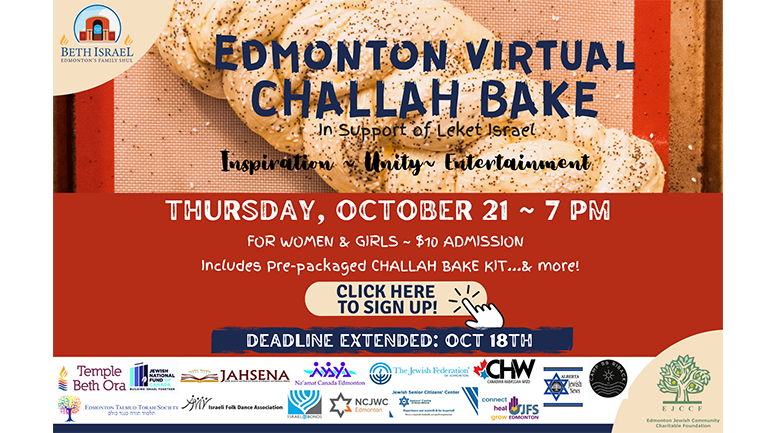 Edmontonians have long been familiar with the annual Challah Bake.  Veterans of the event have fond memories of gathering with friends, comparing challah braiding techniques, and enjoying the warmth of literal togetherness.  This year, its about 'Together, Whoever, Whatever, Wherever' and finding a new way to celebrate the yearly gathering – just virtually.
"With our lead partner – EJCCF, we have sixteen community partners," explained Siderson enthusiastically. "They are helping us to engage the greater community and spread the word. This is going to be a Zoom event, and it will be Alberta's largest virtual Challah Bake yet!"
Participants can register online for a nominal fee of $10.  Siderson and the team have prepared bags including all the necessities for successful challah baking complete with a recipe card and instructions.
"There are lots of other little goodies in the packages," Siderson elaborated. "We wanted to make sure that there were plenty of treats, edible and not, along with the ingredients – we wanted to ensure meaning and value."
On the evening of October 21, participants will sign onto Zoom for this year's Challah Bake, hosted by Rebbetzin Penina Claman. "The Rebbetzin will virtually guide the challah preparations, and while the dough is rising, there will be a special surprise guest speaker," said Siderson, emphasizing the word "surprise" excitedly.
Chief Rabbi of South Africa, Warren Goldstein, the pioneer of the International Shabbat Project, will also address the group with a pre-recorded message directed specifically to the Edmonton Jewish community.
"We realize that people are getting tired of Zoom events, but the Challah Bake is very active and hands-on by nature, and we really think we've found a way to make things engaging and fun," Siderson concluded. Click here to register for the Challah Bake.
But the Challah Bake 2021 is not the only programming that BI has in store for the greater Edmonton Jewish community. Siderson and the team have built upon the success of this past summer's 'Outdoor Torah Adventures' for the nippy winter months to come.
"We really recognize how much people need special things to look forward to, and as Edmontonians, winter temperatures won't stop us."
Once a plentiful snowfall has blanketed the city, BI organizers will spring into action yet again. "We are envisioning skating, tobogganing, and a ski trip. Like our programming over the summer, there will be an outdoor activity that allows for social distancing to be observed, some sort of enriching engagement with Torah learning, and obviously food!" With so much on the horizon, the Jews of Edmonton might even start looking forward to the first snow-dump of the season.
But wait – there's more! "We know people are frustrated. It's difficult to go out with all the restrictions, but even when we can, we don't have any kosher restaurants in town. Plus, people may not feel completely comfortable with the idea of eating out yet," Siderson began thoughtfully.  Community members should mark their calendars, and ready their appetites, because Siderson and the team are cooking up an inspired event innovation that will have everyone boiling over with excitement.
"We had huge success with our take-out food orders this past year, so we wanted to take this to the next level and add a component of Jewish learning to the mix."  On November 4, Edmontonians will be able to pick-up pre-ordered authentic kosher Indian cuisine right from the BI kitchen!  Scrumptious Indian favourites like: butter chicken, keema kafta, and aloo gobi will be but a few of the mouth-watering delicacies featured on the menu.
"Registration will begin the week of October 18," explained Siderson. "Then on November 4 people come and pick up their orders and take them home to enjoy with their families, but that's not where the fun ends!"
Siderson continued to explain that Rabbi Zolly Claman will host an online Zoom event in conjunction with dinner. "For our first meal, the Rabbi will be joined by none other than Sylvia Benjamin.  Since Sylvia grew up in India before moving to Israel, and eventually to Edmonton, she is the perfect person to pass along some interesting knowledge and perspective about the Jewish world of India. The Zoom portion will be called 'In Conversation' and the Rabbi and Sylvia will be able to help contextualize the meal in terms of culture and the global Jewish consciousness."
What could be better than good food and an interesting discussion? Edmontonians may not be traveling internationally any time soon, but their taste buds certainly will!  "We have three of these events planned – for the next two, I'm going to keep you in suspense!" said Siderson with an audible grin.
So as the weather takes on that unmistakeable bite of cold, things at Beth Israel are just warming up!  There's still time to sign up for the annual Challah Bake before the big day on October 21, and registration for upcoming 'Winter Outdoor Torah Adventures' and 'In Conversation' culinary delights will be available at www.familyshul.org shortly – don't miss out!
Regan Treewater-Lipes is a Local Journalism Initiative Reporter for Alberta Jewish News.