By Jeremy Appel
(AJNews) – Edmonton's Beit Midrash is returning for 2022 with a series of five weekly workshops focusing on different facets of being Jewish in Edmonton starting November 3.
The workshops, which are funded by the Government of Canada, and supported by the Jewish Federation of Edmonton, will be facilitated by Jeremiah Levine with the Sexual Assault Centre of Edmonton, Jeni Adler and Meital Siva-Jain with Jewish Family Services (JFS), and Rabbah Gila Caine of Edmonton's reform congregation, Temple Beth Ora.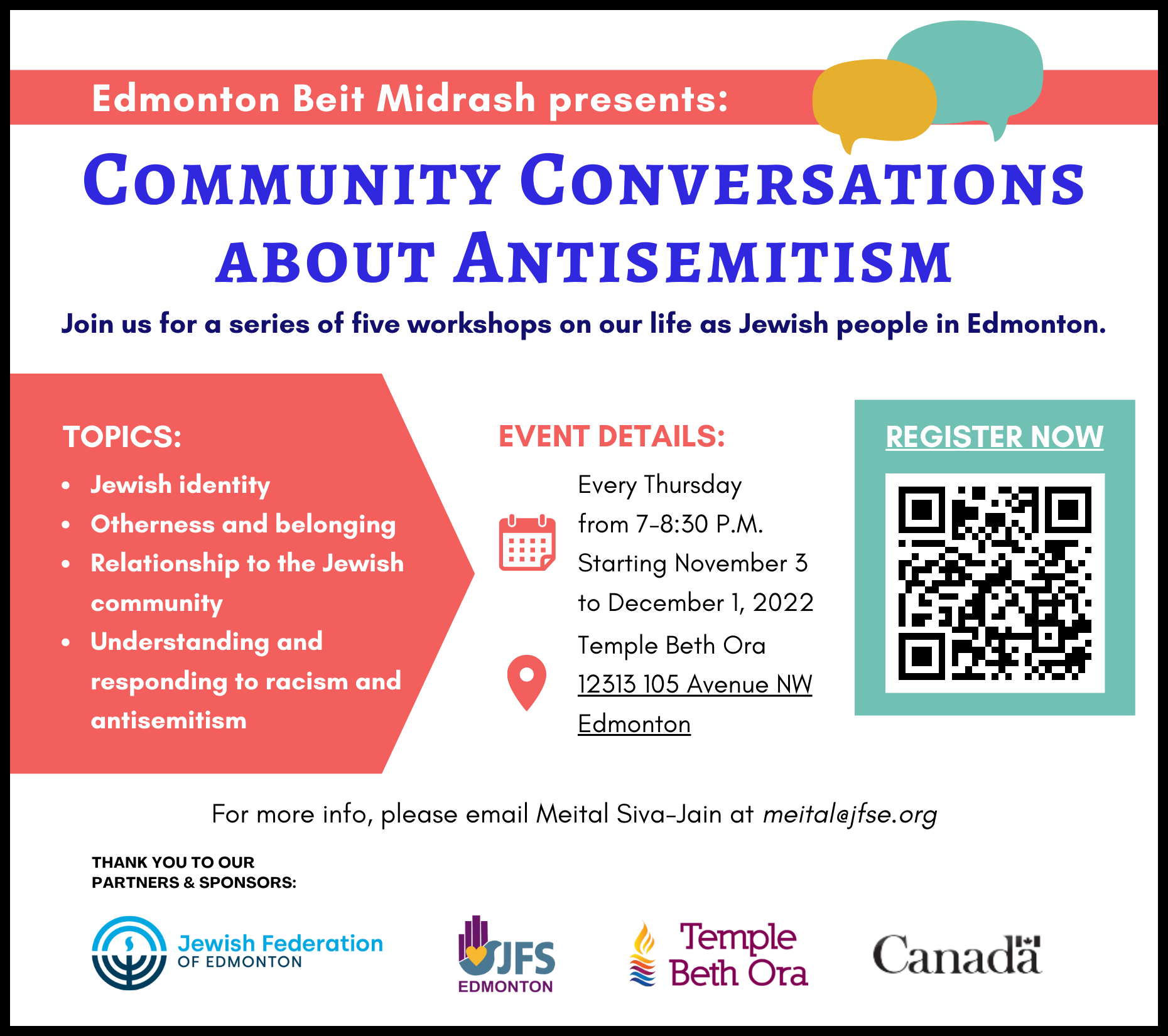 "It's a series of workshops that's been developed by Jewish people, for Jewish people," explained JFS Community Resource Specialist and Intercultural Facilitator Jeni Adler.
While these particular workshops are for members of the Jewish community, the plan is to deliver them to members of other faith and cultural communities in 2023.
Each workshop is intended to build on the material presented in the previous one, but they're also conducted in such a way that they are informative even in isolation from each other.
"If people can only make it to some of them, that's OK. Of course, we would prefer and we recommend that they attend all of them, especially for the community building aspect. And some of the information leads naturally from previous information," Adler said.
The Nov. 3 workshop provides an introduction to the course and its emphasis on building Jewish community before examining the various 'isms' of hate — antisemitism, of course, as well as sexism, racism and homophobia. "It's not an 'ism' but we'll make it an 'ism'," Adler said of the latter.
All these forms of bigotry "tend to interface with antisemitism," she added.
On Nov. 10, the workshop will expand on this connection between antisemitism and other forms of hate, and how they can potentially be addressed through legislation.
The Nov. 17 session, which Adler will deliver with Levine, deals with the concept of belonging.
"We want participants to have a good look at their current sense of belonging to the Jewish community and how to deepen it," Adler said.
"We go quite deeply into the meaning of belonging for different people and how people can welcome others into their group, some of the skills involved."
This will involve defining what an inclusive space is, and distinguishing between the concepts of 'fitting in' and 'belonging.'
On Nov. 24, the facilitators will build on the concepts from the Nov. 10 workshop and go more in-depth into the different forms of hate.
"We want to explore our understanding of local types of oppression and how serious they are, so we will be talking about anti-Black hate and anti-Indigenous hate, all at a local, Edmontonian level," Adler said.
The final session on Dec. 1 will deal with how to most effectively respond to antisemitism and racism, with an emphasis on education and stress responses.
"We want to help people build individual comfort and competence in responding to antisemitism, because we find that there's a lot of information about what it is and how prevalent it is, but not a lot on how to respond effectively so that people end up feeling good about themselves and get the message across that they would like to get across," said Adler.
There will also be discussion around trauma, triggers and "learning how to calibrate the threat more realistically, as in, when is it time to run like hell? And when is the time to stand up for yourself or someone else? " she said.
Levine will also discuss how to avoid a "white saviour complex."
Rabbah Gila Caine will speak at the end of each session to tie everything back to spiritual concepts in Judaism.
This is the second annual edition of the Edmonton Beit Midrash, which Adler promises will be an even more enlightening experience than its previous iteration.
"It's a much more developed and sophisticated course than what we offered last year," she said.
The workshops each begin at 7 p.m. at Temple Beth Ora.
Anyone from the Jewish community is welcome, but you have to register in advance, which you can do at https://docs.google.com/forms/d/e/1FAIpQLSeYEKIeom03jt9v2lJ_o9m5CduvBCtMqkJa8bY3PkUKuYZv9g/viewform.
Jeremy Appel is a Local Journalism Initiative Reporter.