by Darian Fizle
Just two years into operation, Suits by Curtis Eliot is staking an international claim.
Helmed by sartorial wunderkinds Sean Farmer and Matthew Eaton, the Edmonton-based clothier has begun stitching its identity into custom men's fashion on a continental scale.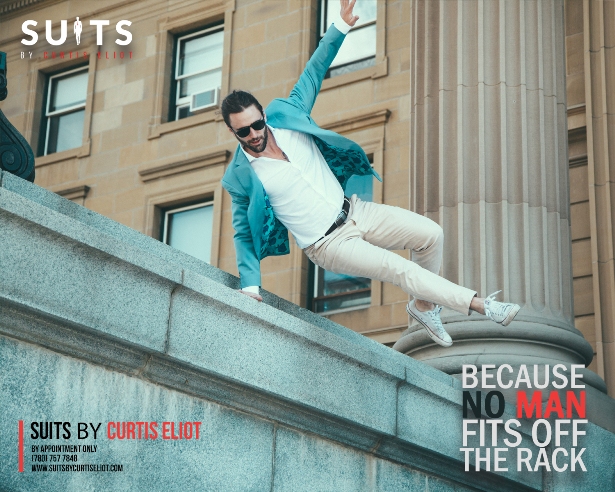 "While the world categorizes Edmonton as an industrial, blue-collar centre, its population has become increasingly savvy in high-end fashion," says Farmer, the company's founder.  "We're beginning to blend our local tastes with emerging international trends and styles."
This combination, infused with the firm's uniquely personable approach to superior menswear, is attracting new clients in both established and burgeoning markets.
Indeed, Suits by Curtis Eliot is garnering attention from all over North America, from Canadian metropolises Vancouver and Toronto to worldwide fashion hub New York City.
Damien Brown, the firm's initial NYC client, specifically cited the foreign allure of the product.  In a city with so many options, Northern Albertan garments will set you apart.
Canadian couture isn't exactly common here," Brown says from his Soho office.  "Adding some of the Great White North to my wardrobe is something of a badge of honour for me."
While made-to-fit menswear is Suits by Curtis Eliot's craft, the client experience is their method.  Treated with traditional, face-to-face fittings and cutting edge digital measurement techniques, customers often cite the event as the gilding to the handiwork's lily.
"Having them fly out here to spend a day hanging out, talking fashion and making me look great… it really speaks to the joy these gentlemen show in their work," Brown explains.
Since America's influence on the garment industry remains strong, exposure to various US cities allows the company's talent to remain in step with the fashion world.  New York, in particular, provides an unmatched perspective into what's hot and what's next.
"It's such a vibrant, raw city," says designer Matthew Eaton.  "The thought of implanting our clothing and designs into places like Manhattan or East Village is extremely gratifying."
Suits by Curtis Eliot strut onto the scene in September 2013, when Farmer recognized Alberta's capital demanded more in men's fashion.  Now, even with a specialized staff of 5 designers, they're hard pressed to meet that demand.
Even so, the firm is taking on a cosmopolitan visage, ensuring the calls abroad will remain routine on the path ahead.
"We're thrilled to see what – and where – our next step is," says Eaton. "It's fascinating what a place like New York can stir up inside you – creativity is born in a place like that."
Fortunately for Edmonton, the nurturing takes place at home.
Suits by Curtis Eliot provides fast turnaround times, personal service and accurate measurements to ensure your garments are of the best quality and the perfect fit. Check out their website or call 780-757-7848 to book an appointment today. Follow them on instagram and Facebook.