By Rabbi Chaim Greenwald (March 2020) – Last Friday, we had an intuition that school closures were coming so we asked teachers to send home student materials in case we wouldn't be open the following week.
One teacher took their class to our STEAM Lab and operated their class over Google Meet to practice for the eventuality that did come to fruition.
We are so proud of the response of our teachers and staff to remote learning.
We were fortunate to have had a scheduled PD day the first day of school closures and used that day to collaborate on how we can best service our students and families during this challenging time. Our teachers and administration met and came up with a framework to get started.
We started remote/ distance learning the next morning and have been going strong since.
Our main goal was to keep as much "normalcy" as possible by sticking to our regular schedule. We encourage students to start their day at 8:15 as usual with their first morning class.
Specialties such as music, art and physical education became even more important. Our teachers have been phenomenal at adapting providing video or live physical education and music lessons.  Our parents have been supportive with one even volunteering to do a Yoga Class over Zoom.
We use Class Dojo to post and submit assignments for students in Nursery through Grade 6. In addition teachers are scheduling video conferences using Google Meet. Materials are printed in school and available for parents to pick up at their convenience during school hours. For families that are in self-isolation we send the materials electronically as well.
Pesach preparations continue with students making their own Haggadot and practicing the songs for the seders.
It is our hope and prayer that everyone should be safe and well and can be physically close once again. Until that time the learning and social connections continue remotely at Halpern Akiva Academy.
Wishing the entire community a Happy and Healthy Pesach.
Feedback from Parents:
"I am so proud of our school for not missing a day and the learning has continued straight according to the regular schedule from 8:15-3:30."
"Given the zero-downtime we have seen, I think the teachers and administrators have done a fantastic job of making this pivot to online learning. The content is improving daily as the teachers, students and parents get more familiar with the new platform and daily routines."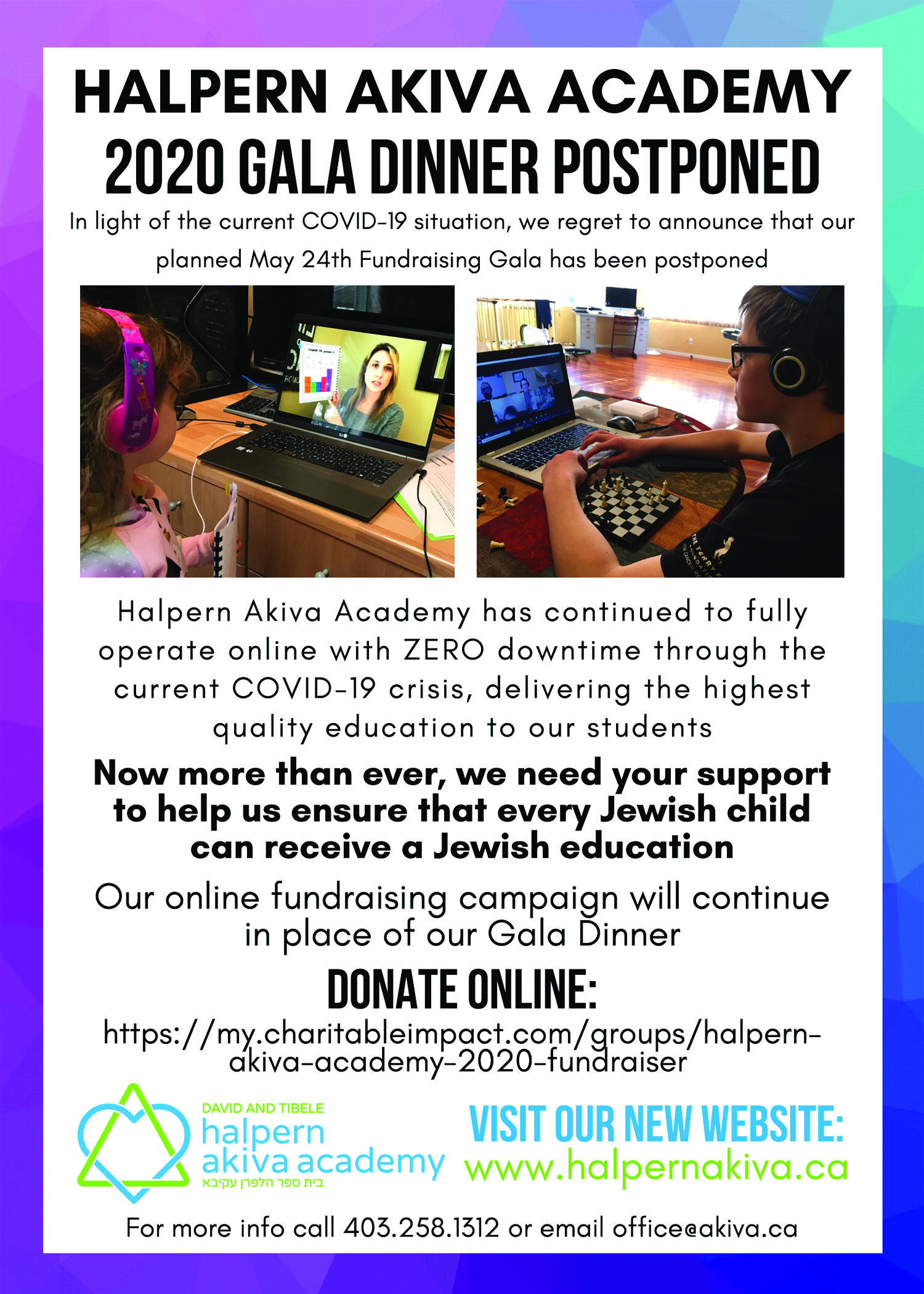 "My experience with Kindergarten; there has been a noticeable improvement in the last few days and my child is very happy with her lessons. She was busy learning about 2D/3D shapes, the Hebrew letters Pay and Fay, making a bedikat chametz kit, and she even did a great PE workout… beats my day of endless conference calls."
"I am so amazed at the dedication of the teachers. As a teacher myself, I know how hard it is to shift and adjust and our teachers have been amazing. Our children really enjoy the connections to their teachers and classmates at a time when they can't be together."
"I want to thank you and the staff of Halpern Akiva so much for all of your tremendous efforts and amazing work right now. I am amazed by the way the staff has on such short notice pulled together an online program for our children. And even managing to include things like gym, art and music! I can only imagine the effort that goes into this and am so grateful."
Rabbi Chaim Greenwald is Director of Judaic Studies at Halpern Akiva Academy in Calgary.