(EJNews) – Cottswood Interiors is an independently owned business in Edmonton that started out more than 25 years ago and dared to dream that one day it could become "everything" a customer needs and wants for their home furnishings.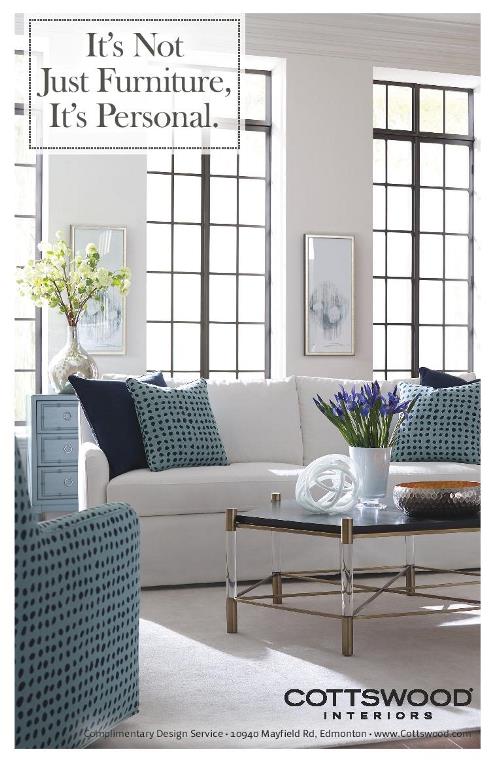 Behind every beautiful room, there are dozens of choices to consider, styles to ponder and decisions to make.
Where do you start? This is where the keen eye of the designers at Cottswood Interiors located in west Edmonton can make all the difference; someone to listen and guide you through the process. You'll be amazed at how seamless and fun it can be, and best of all, it's complimentary. The experts at Cottswood are happy to help you in the store, or meet you in the comfort of your home.
As soon as you enter Cottswood Interiors, located at 10940 Mayfield Road you get a sense that this is a very special store. The selection is vast and it is obvious that great care is given to creating a story in every room.
Shoppers can browse at a leisurely pace from room to room and get ideas about what might work in their own homes. Different furniture combinations and groupings can feed the imagination and spark creativity for room makeovers. Testing the comfort of arm chairs or sofas or dining sets can spark a yearning to redo or recreate an atmosphere of comfort or function.
"We believe in mixing styles and creating interesting, comfortable interiors that play to the emotions of the homeowner. We want our customers to feel excited about going home to their special place," says owner Sue Martin. And Cottswood goes to great lengths to achieve just that with a team of seasoned design consultants that take the guess work out of creating a beautiful room.
If you want to browse on your own, the team at Cottswood will respect that but if you want assistance they are extremely knowledgeable, friendly and happy to help.  
"Our complimentary design service is very popular. It's much more enjoyable to share ideas with a professional who might introduce something you've never thought of and can guide you through the process to avoid mistakes," Sue explains.
Cottswood Interiors has something for everyone – no matter what stage you're at in your home furnishing needs. If you are just starting out with a small space or if you are furnishing a larger home, they have a wonderful selection of beautiful and well made furniture that will meet your needs.
In-home consultations are offered to check measurements and draw a floor plan if necessary. This service is invaluable when selecting new upholstery when scale is so important.
A growing market that has become very important is furniture suited for smaller spaces or condos. "We've had a loyal following of clients since our early days in Glenora 28 years ago and many of those clients whose large homes we furnished back then are now seeking our guidance to downsize into smaller spaces."
The combination of a passionate team and a truly inspiring selection of furnishings makes a visit to Cottswood an extraordinary shopping experience.
"Drop by and enjoy our showroom at 10940 Mayfield Road ," concludes Sue. "We have lots of free parking, an amazing selection and we'd love to help you furnish your home."
For more information visit cottswood.com or call 780-453-3447.