by Chef Amanda Lambert – Meraki Cuisine
(Calgary) – Who doesn't love French toast and warm apple pie? This is a delicious breakfast or brunch dish to enjoy year-round with family and friends, but you may just want to keep it as a special treat for Rosh Hashana and the holidays.
It can be made in the morning or pre-made the day before and kept in the fridge overnight and baked in the morning. There are a few more ingredients and steps than everyday French toast but it's worth the extra effort.
I serve it with warm real maple syrup and fresh fruit as a side.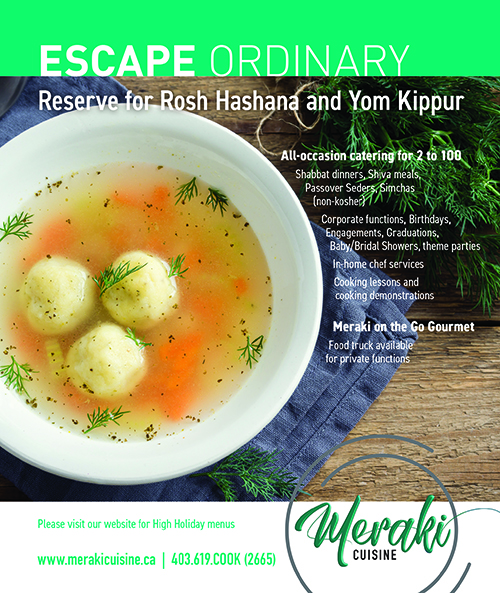 Ingredients – French Toast
• One large challah or raisin challah
• 5 large eggs
• 1-1/2 cups half & half cream
• 2 tablespoons maple syrup
• 1 tablespoon honey
• 2 tablespoons bourbon (optional, substitute with apple juice)
• 1 teaspoon vanilla extract
• 1/4 teaspoon salt
Ingredients – Apple Topping
• 4 tablespoons unsalted butter
• 3 large Granny Smith apples, peeled and sliced thinly
• 1/4 cup + 2 tablespoons dark brown sugar
• 5 tablespoons maple syrup
• 1 tablespoon honey
• 1 teaspoon ground cinnamon
• Confectioners' sugar
• maple syrup
Directions
Butter a 9 x 13-inch baking dish. Slice the bread into 3/4-inch-thick slices. (approx. 12)
In a large bowl, whisk together the eggs, half & half, maple syrup, honey, bourbon, vanilla, and salt.
Dip each slice of challah into the custard mixture to coat well and place in an overlapping pattern in the prepared baking dish. The entire bottom of the dish should be covered with the challah slices. Set aside.
Pre-heat the oven to 350 degrees and set oven rack in middle position.
In a large sauté pan, melt the butter over medium-high heat. Add the apples, brown sugar, maple syrup, honey, and cinnamon. Bring to a gentle boil and continue to cook, stirring frequently, until the apples have softened, and the sauce is thickened, about 8 minutes.
Spoon all the mixture evenly over the bread. (If you're preparing the dish ahead of time, cover the dish with plastic wrap and put in refrigerator until you're ready to bake and eat)
When you're ready to start baking, cover the baking dish with aluminum foil and bake for 25 minutes. Remove the foil and continue baking until puffed and golden, about 20 minutes more. (If you pre-made the dish and had it refrigerated, allow for an extra 10 minutes of cooking while covered)
Remove from the oven.
Using a fine sieve, dust with the confectioners' sugar.
Serve with warm maple syrup.
Serves 6 – 8
Prep time: 15 minutes
Cooking Time: 55 minutes
Chef Amanda Lambert can be reached at Meraki Cuisine in Calgary. Click here for their High Holiday menus and other delicious offerings.