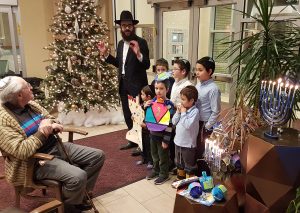 Chanukah was celebrated enthusiastically at OPH with Chabad Rabbi Mendy Blachman and the Chabad Choir visiting on the eighth night to light the candles and share sufganiyot with the residents and their families. The Choir sang while the seniors clapped their hands, swayed their heads to the familiar songs and some even sang along.  The front room was beautifully decorated for Chanukah and everyone really enjoyed the celebration.
Chabad then packed up a caravan of Chanukahmobiles and paraded down Jasper Avenue, across the river and along Whyte Avenue bringing Chanukah joy, music and light to the City of Champions. At the beginning of the holiday, two synagogues in Edmonton as well as several others across Canada had received anti-Semitic hate mail with graphic imagery.  The hate mail was condemned by Jewish groups, human rights groups and politicians around the country including from Premier Rachel Notley and Prime Minister Justin Trudeau, and eloquently from TBO president Spencer Brawner. The Chabadmobile parade was Chabad of Edmonton's response to the events demonstrating that the Jewish Community of Edmonton will not celebrate in darkness but with light and joy.
Earlier in the week the Talmud Torah Choir visited OPH and lit the candles for a very special Chanukah event.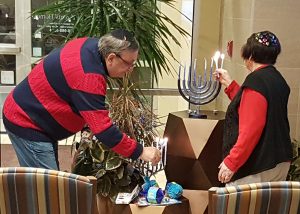 With Our Parents' Home designed to meet the needs of a new generation of seniors wishing to fully enjoy their freedom, privacy and independence, it offers a residence that is safe, friendly, modern and welcoming. OPH has created a wonderful community that continues to evolve.
The latest addition to the OPH landscape is the opening of the PharmaChoice pharmacy in its retail space on Jasper Avenue – a convenience that we expect many will enjoy.
For those residing on our assisted-living floors, as well as independent-living residents accessing home support, we are proud that our facility operator, Christenson and Advantage Assist, recently won the prestigious Innovator of the Year award from the Alberta Continuing Care Association for their "Bee the Difference" program.  This program is utilized at OPH and is a unique staff/service training model based on world class operating procedures and problem-solving opportunities.  As well, the OPH in-house Recreational Therapist, Brody Williams, was the winner of the "First Care Provider of the Year Award" for incorporating music into his therapy programs.  We congratulate all for their excellence on all levels!
OPH continues to offer stimulating programs, from faith talks, Wednesday's orchestra night to book club and outings to the Opera. Onsight, our holistic approach to living continues to be enhanced with onsite esthetician services, massage therapy and even more access to a personal fitness trainer. Senior living at OPH is clearly for those embracing "all that they can be."
For more information about OPH visit OurParentsHome.com or call 780-988-5504.