By Dina Wachtel
(EJNews) – "Jerusalem of Gold: Capital of Innovation and Tech" brings a taste of Jerusalem to Edmonton on July 18, in a special TED Talk-style event featuring encounters with Jerusalem's change-makers. The Edmonton event will follow similar events taking place in Vancouver (July 16) and Calgary (July 17).  Four speakers represent four different facets of Jerusalem. Fifty years after the reunification of Jerusalem, Canadian Friends of Hebrew University and the Jerusalem Foundation celebrates a very bright future for the city. Join us and meet these faces who are building the city's future. They will illustrate how an ancient city is transforming into a modern metropolis.
The first talk, "Jerusalem's Population: What Does the Future Hold?" will feature an in-depth look at Jerusalem's demographic trends and challenges. Lior Schillat, head of the Jerusalem Institute for Policy Research, will explain the purpose of his organization, a think-and-do tank that researches all aspects of life in Jerusalem. Lior's plan is simple, "I will try to make people fall in love with my city… It's a gorgeous, beautiful place."
"Raising a Start-Up Nation" will feature Maya Halevy, director of the Bloomfield Science Museum, which was founded by the Jerusalem Foundation and Hebrew University to provide STEM (science, technology, engineering and math) education for all of the city's varied population groups. Maya says, "We have Hebrew and Arabic speaking guides. One-third of the students who come with their schools are Arab Israelis. 10-15% are from the ultra-orthodox community." She is adamant about one thing: "young kids love science…. We have to work with children and their parents to encourage children to pursue careers in STEM."
The next speaker is 29-year old Yonatan Avraham, a student in Hebrew U's new Physics and Entrepreneurship Center. He will explain "The Making of a Serial Entrepreneur" as he explores Jerusalem's role as a source of modern-day innovation. His start-up, Gamitee, links social media and shopping websites. Yonatan sees his entrepreneurship as a way to give back to his community. "I want to build a valuable company that makes an impact on the world but remains in Israel and that is connected to Jerusalem."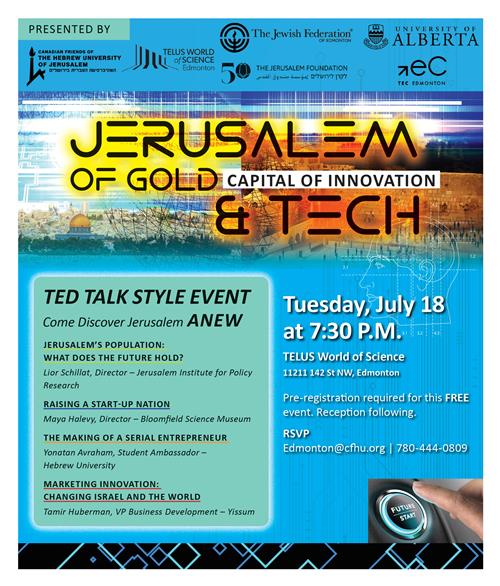 Wrapping up the evening will be, "Marketing Innovation: Changing Israel and the World" which will explore how ideas become marketable products. Presenting is Tamir Huberman, VP of Business Development in Computer Science and Director of IT at Yissum, the technology transfer company of the Hebrew University. Some of Yissum's successes – among many others – are Mobileye, (a company founded by HU Professor Amnon Shashua and recently sold to Intel for US$15.3 billion) and Exelon (a type of Alzheimer's disease medicine). Tamir will explain what makes Israeli Innovation so special.
"Jerusalem of Gold: Capital of Innovation and Tech" is not a dream – it will be a reality. And in July, for just a couple of hours, it can become part of your reality. The event will be followed by a reception, offering opportunities to mingle with the speakers. Co-sponsored by Canadian Friends of Hebrew University and the Jerusalem Foundation, this event will take place in three cities: Vancouver on July 16, (co-sponsored by the Jewish Community Centre), July 17 in Calgary (co-sponsored by Beth Tzedec Synagogue) and July 18 in Edmonton (co-sponsored by TELUS World of Science, University of Alberta, TEC Edmonton and the Jewish Federation). For further details and to register, go to the CFHU website and find your city under CHAPTERS.
We look forward to seeing you there.