(EJNews) – The fiftieth anniversary of Yom Yerushalayim will be celebrated in Edmonton with a Community Unity Celebration on Wednesday, May 24, 2017 from 5:30 – 7:30 pm at Talmud Torah School.
Once again, several groups and organizations within the Edmonton Jewish Community are coming together to make the Yom Yerushalayim event a united community celebration with fun activities for the whole family.
Yom Yerushalayim – 28 of Iyar – is an Israeli national holiday commemorating the reunification of Jerusalem in the aftermath of the 1967 War.  There will be celebrations across the world marking 50 years of when the kotel/western wall was returned to Israel.
Because Yom Yerushalayim falls on a week day, we are doing things a little differently this year, explained Rabbanit Batya Friedman. The event will be held on a week day in the early evening, rather than on a Sunday afternoon.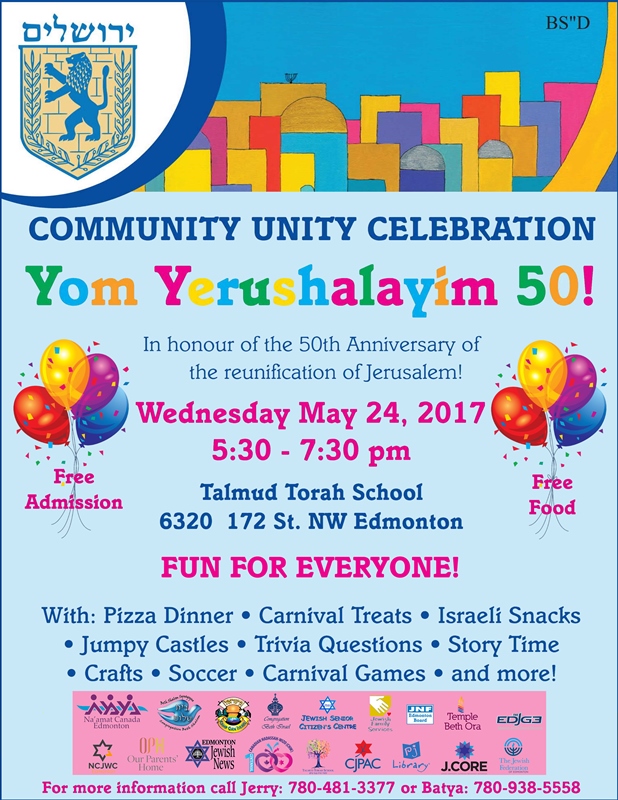 "It is so wonderful for so many diverse groups within the Edmonton Jewish Community to come celebrate together," remarked Rabbanit Batya.  "Yom Yerushalayim an ideal time to celebrate unity in our community with a family friendly activity to get to know the wonderful Jewish organizations in our community."
Each person will receive a passport and will visit each of several organizations' tables to receive "a stamp" (a city in Israel) from the organization. There will be fun and interesting activities at each table.
"The idea is to bring unity in the community so that people can go from table to table and get to know more about each organization and increase their appreciation for our wonderful community and its many amazing components," added Rabbanit Batya.
"And with each organization providing a contribution, we can offset the price and offer free admission."
The event will also include a pizza dinner, Israeli treats, jumpy castles, trivia games and questions, story time, crafts, soccer (weather permitting), carnival games and more fun family activities.
"We are happy to host the Yom Yerushalayim 50 – Community Unity Celebration at Talmud Torah School," said Talmud Torah Society Executive Director Jerry Sorokin. "The central place of Jerusalem in ancient and modern Jewish history is something all of our TT students learn about. We're encouraging the kids, their families, and other members of the Edmonton Jewish community to share in the celebration."
Rabbanit Batya also commented on how appreciative she is to have a planning committee helping with this year's event. She said, "It's so wonderful to have a great committee to work with this year. Thank you Yaara, Eleanor, Yulia and Jerry for working on this event."
There is still time for additional organizations and groups to get involved, she added. If you would like your organization to participate in the Community Unity Celebration contact Batya at (780) 938-5558 or Jerry at (780) 481-3377.
"The true beauty of Judaism is when all Jews from different backgrounds come together to unite as one," concluded Rabbanit Batya. "We are really looking forward to the whole community coming together for a fun event. Come out to support Israel, celebrate the community and have a good time with your friends and family."