(Calgary) – The Carriage House is renowned for it'd delicious baked goods, entrees and side dishes. They've been so kind to share the recipe of one of their favorite offerings with Alberta Jewish News readers – their amazing rugelach. Happy baking and enjoy – or just give the Carriage House a call and leave the baking to them. I'm warning you – I find these incredibly addictive!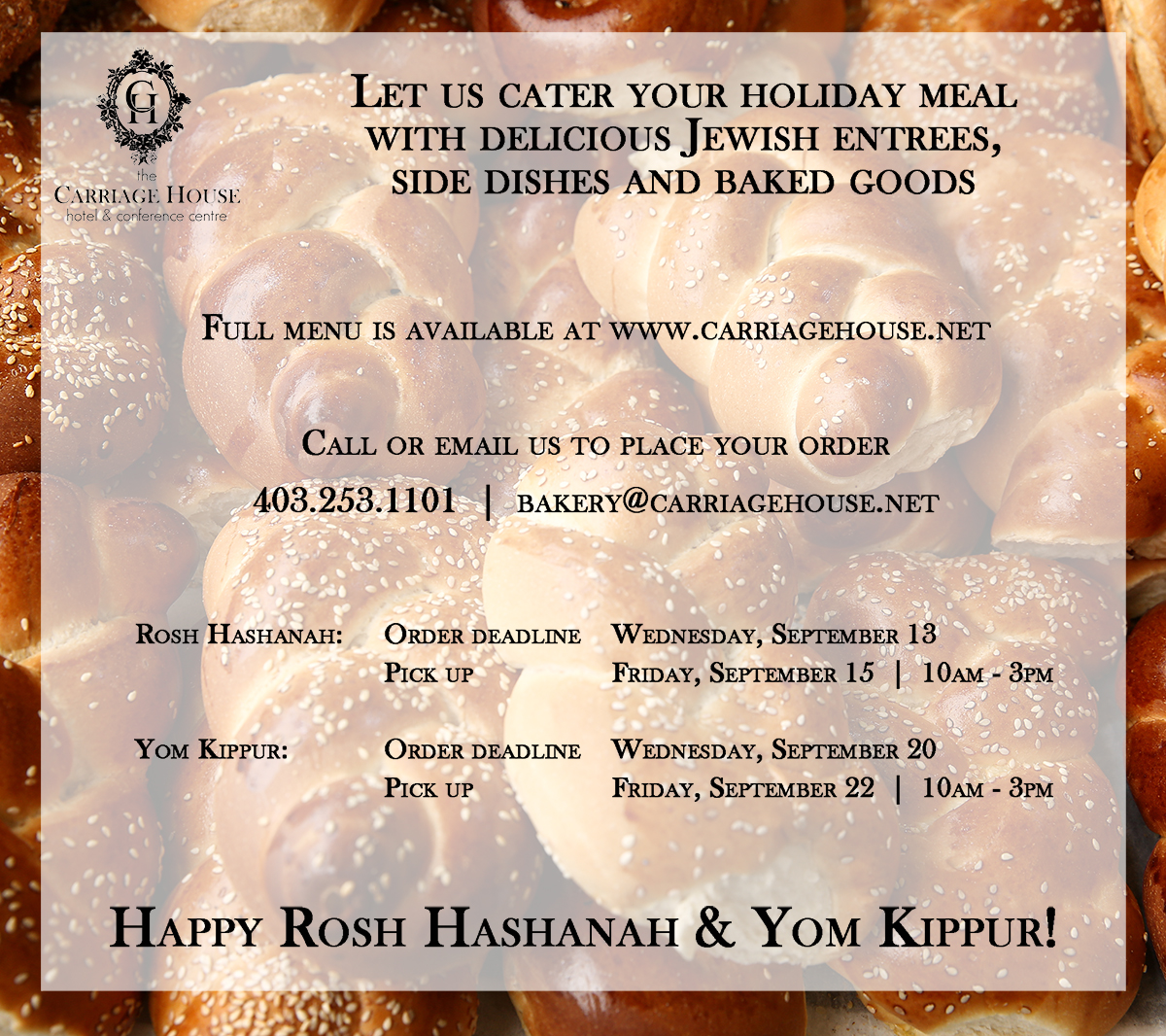 Yield: 36 cookies
Prep time: 35 Minutes
Cook time: 25 Minutes
Cooling time: 120 Minutes
Total time: 180 Minutes
Ingredients
Dough
2 ¼ cups all-purpose flour , spooned and leveled
1/3 teaspoon salt
1 cup unsalted butter , cold and cubed
1 large egg yolk
1 ¼ teaspoon vanilla
3/4 cup sour cream
Filling
1/4 cup granulated sugar
1/4 cup brown sugar
1 cup chopped walnuts
2/3 cup dried cranberries
2 teaspoons cinnamon
powdered sugar for work surface
water to brush dough
Egg wash
1 egg beaten with 1 ¼ tablespoon milk
3 tablespoons granulated sugar
1 ¼ teaspoon cinnamon
Instructions
Combine all ingredients to make dough into a bowl of a food processor. Pulse until pea-size chunks are formed. (You can also do this with a pastry blender or fork, if you would rather).
Transfer the dough onto a work surface and gather the pieces into a ball. Divide the dough into 3 equal portions and gently flatten into a disc shape. Wrap each one in plastic wrap, then chill in the refrigerator for at least 2 hours or overnight.
To make the filling: In the bowl of a food processor, pulse the granulated sugar, brown sugar, walnuts, dried cranberries, and cinnamon until very finely minced and well combined. The filling will feel a bit moist. You'll have roughly 2 cups total.
Line 3 rimmed baking sheets with parchment paper; set aside for later.
Using one disc of dough at a time (keeping the others chilled until ready to use), transfer to a clean surface dusted with powdered sugar, roll each section of dough into a 10-inch circle. (Dusting the rolling pin with powdered sugar if necessary, to prevent sticking.)
Lightly brush the dough with water. Spread 1/3 of the filling over the top in a thin layer, gently pressing down to adhere.
Using a knife, cut the dough into quarters, then cut each quarter into 3 equal pieces, so you end up with 12 wedges.
Roll up each wedge, starting at the wide end, taking care not to push too hard or wrap too tightly (you don't want the filling to ooze out during baking.) Curve the ends inward to form a crescent shape (optional.)
Place rolls onto prepared baking sheets, point-side down, roughly 2.5 inches apart.
Repeat with the other two discs of dough. (If only baking one tray at a time, refrigerate the remaining cookies until ready to bake.)
Preheat the oven to 375 degrees F.
Combine the 3 tablespoons granulated sugar and 1 teaspoon cinnamon.
Working with 3 or 4 Rugelach at a time, brush tops with egg wash and immediately sprinkle with some cinnamon-sugar.
Baked for 23-27 minutes until lightly golden brown.
Remove from the oven and allow to cool on baking sheet for 2-3 minutes, then transfer to a wire rack to cool completely. Dust with powdered sugar and serve warm or at room temperature.