By CMDA staff
(AJNews) – On September 30, the first National Day for Truth and Reconciliation, Canadians from coast to coast to coast stopped to remember and honour the lost Indigenous children and survivors of residential schools, their families, and communities. CMDA Western Regional Director Sharon Fraiman acknowledged the solemn day on her popular social media channels. Sharon's heartfelt post included a photo of herself and a member of the Tsuut'ina Nation, both holding brochures for the MDA's world famous First Seven Minutes program. The lifesaving seminars will soon be available to member of the Nation.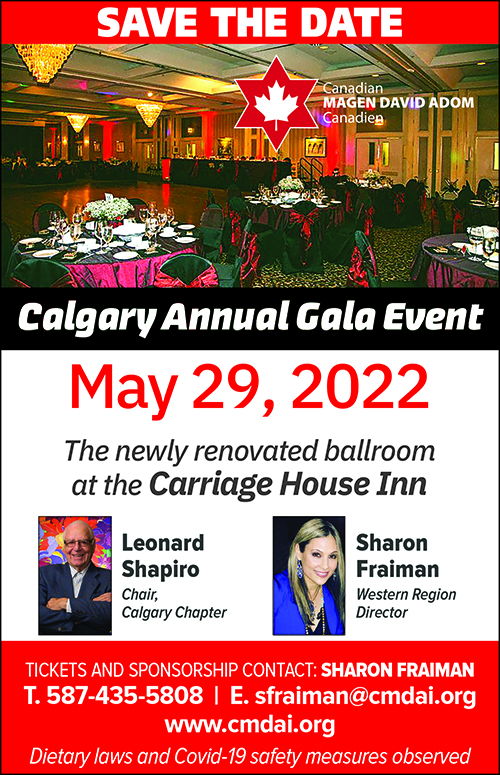 Inspired to build a cultural bridge with the with the members of the Tsuut'ina Nation, located right next door to Calgary, Fraiman reached out to former Chief Lee Crowchild who accepted her invitation to join the local CMDA Board.
"Our friendship and mutual respect came first," says Fraiman. "When Lee was Chief, I saw an inspirational leader with the ability to bridge cultural gaps and bring people together. I knew he would be an excellent fit for our Board, and help provide opportunities to teach life saving skills to the Tsuut'ina people through our First Seven Minutes program."
"I see myself as a peace builder, "says former Tsuut'ina Chief Crowchild. "This is a time of great change for our Nation and we can learn from other cultures as they learn from us. It's the opportunity to work collaboratively."
CMDA Honourary Calgary Chair Lenny Shapiro, a long time volunteer and supporter has been encouraging Fraiman to build strong relationships with the Tsuut'ina Nation and other First Nations.  "Reconciliation needs to happen at many levels," says Shapiro. "Through respect and understanding we can work together to everyone's benefit."
First 7 Minutes is a State-of-the-art seminar on community preparedness and response training for medical emergencies developed by MDA and and made available to communities in dozens of countries around the world.
Pandemic restrictions have delayed the first classes but the program will be readily available to Tsuut'ina Nation members. There are plans to provide workshops to staff of the Grey Eagle Casino and Resort. It will also be offered to business and community leaders and anyone interested in taking the seminar.
"The program will be a good fit for many members of our Nation and in particular for those who like to hunt and get out into the bush. And with more traffic and people moving around the Nation, there's absolutely going to be the need for people with this vital skillset," says Crowchild who adds that saving lives is part of Dene tradition. "The Apache are Dene like the Tsuut'ina. Many Apache became fearless firefighters throughout Arizona and New Mexico."
The presenter to the Tsuut'ina Nation members will be CMDA paramedic Don Sharpe, who will train attendees and award certificates of training completion. Sharpe has been a paramedic in Calgary for nearly 40 years. He has held dozens of First Seven Minutes seminars and trained hundreds of Albertans.
Save the Date: The Calgary Annual Canadian Magen David Adom Annual Gala will be held on May 29, 2022 at the Carriage House Inn.
For more information visit cmdai.org or email sfraiman@cmdai.org.