MONTREAL (JTA) — Canada inaugurated a national Holocaust memorial in Ottawa as its government reportedly readied itself to formally apologize for turning away 900 European Jews from its shores on the eve of the Holocaust.
The National Holocaust Monument — a stark, stylized Star of David in form — took a decade to complete at a cost of $7.2 million split between private and public donors.
"May this monument remind us to always open our arms and our hearts to those in need," Prime Minister Justin Trudeau said Wednesday September 27, 2017, at the opening.
The unveiling of the memorial, which is located across from the Canadian War Museum, is being seen as historic. Canada was the sole Allied nation not to have a national Holocaust memorial.
Rabbi Daniel Friedman, the grandson of Holocaust survivors and the Rabbi of the Edmonton Beth Israel Synagogue, chaired the National Holocaust Monument Development Council, which raised $4.5 million for the design and construction of the monument. He said the monument should be a required stop for every visiting foreign dignitary and every schoolchild.
"It has been a very long work in progress, but we have reached the goal: It's something I'm very proud of," he said in an interview. "It really symbolizes who we are as Canadians."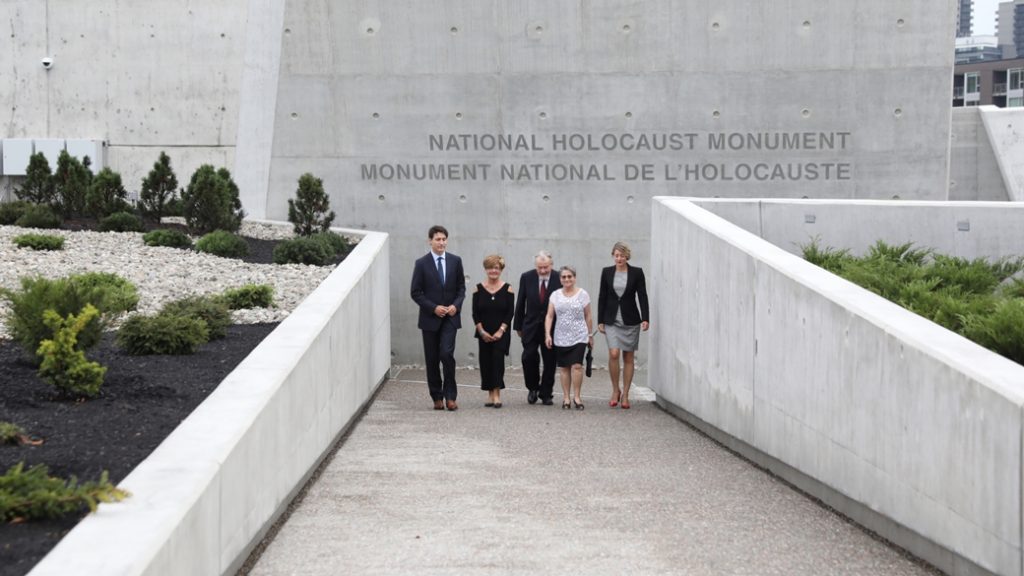 "This monument, so close to our Parliament and Supreme Court, is a reminder of the devastating cost of allowing hatred and tyranny to overcome openness, inclusion, and freedom," added Prime Minister Trudeau. "Today we reaffirm our unshakeable commitment to fight anti-Semitism, racism, xenophobia, and discrimination in all its forms, and we pay tribute to those who experienced the worst of humanity. We can honour them by fighting hatred with love, and seeking always to see ourselves in each other."
An Ottawa university student in 2007 noted the lack of a national Holocaust memorial and worked toward legislation that made the monument possible.
According to news reports, some survivors were disappointed that at the monument's official launch, Trudeau did not deliver a hoped-for formal apology for Canada turning away the M.S. St. Louis in 1939.
Cuba and the United States also denied entry to the refugees and, after they returned to Europe, about one-quarter of those on board died in the Holocaust.
There is a memorial to the ship at a war museum in Halifax, near the harbor where it was not allowed to dock.
Trudeau indicated in an interview with The New York Times in June that his government would consider a formal apology, with other sources reporting that it was still working on it.
"[W]e express deep appreciation to all who played a role in making this monument a reality," the Centre for Israel and Jewish Affairs and Canadian Jewish Holocaust Survivors and Descendants said in a joint statement.
"May it always serve as a caution of the dangers of unchecked evil and the unspeakable cost of silence in the face of anti-Semitism and hatred."
"This monument is a powerful tribute to the millions of Jewish men, women and children and other victims whose lives were extinguished during one of the darkest chapters in human history," stated Mélanie Joly, Minister of Canadian Heritage. "As we reflect and honour their memory, we also pay tribute to the courage and strength of the survivors who came to Canada following the Holocaust. Their stories are a powerful reminder of our responsibility to stand against anti-Semitism and prejudice in all its forms and to never allow intolerance and hate to take root in our communities. We will never forget."