By Jeremy Appel
Calgarian Chris Fodor opened a tasting room at his urban winery in February 2020, and then we all know what happened.
Fodor, who's been in the wine business for 15 years but started the City & Country Wine brand in 2017, says he's had to adopt various strategies to survive under shifting lockdown restrictions.
"It's been an interesting time, that's for sure," says Fodor.
Adapting to the new normal involved "a lot of extra handwork," as well as time and cost, he says.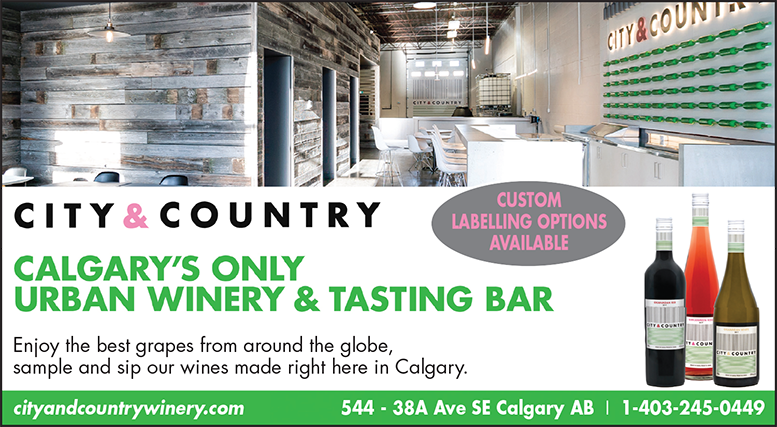 "Everything that we do typically is done either at the bar or table-side, so we would deliver the tastings. At some points, people would get six different glasses with their wine, which is a huge amount of work for the staff to try and provide the experience, but keeping distance not to be pouring into my glass and your glass, and the net glass, in the same bottle we've already drunken out of."
Pandemic or not, Fodor says the goal is to give customers "a wonderful experience."
City & Country Wine opted not to charge a COVID fee, or even increase their prices as a result of the extra work that went into making their bar COVID-safe.
"Luckily, we were able to get more glassware to help us through some of that, but it was tough," said Fodor. "There are some days when you start running out of glasses and there's not a lot you can do except work harder. We have a wonderful team who did that."
The bar closed for 10 weeks during the first lockdown and then had to adapt to new social restrictions, which they managed by setting their online store.
"We re-opened. Things were slow on some days, better on other days. There was no consistency, or rhyme or reason," Fodor says.
And then in mid-November, they had to close again.
"In the past year, we've been closed five out of the 12 months," Fodor said.
He says the most popular wine is their red, which outsells white by two-to-one. "I completely understand that, because you can drink red wine any day. It's hard to drink a white wine today when it's -16 out."
They make wines from grapes grown in B.C., Ontario, Oregon, California, Chile and South Africa. Fodor says he's hoping to add Australia to the mix this year.
At this point, they're not doing any tastings, but they're looking at re-opening to do tastings by appointment only, which is what many wineries throughout North America have done to stay open, he added.
"You would book in, pre-pay and then we'd have this space for you," said Fodor. "I think it will be successful. It will allow us to have a limited number of people in the tasting room and keep the social distance, even more so now."
He says he was so preoccupied with getting the business up and running that he hadn't paid attention to the news about COVID spreading throughout Asia and Europe.
"When the announcement came that there was coronavirus and everything was being shut down, I was absolutely and completely shocked. I had my head in the wine," said Fodor.
"It was seeing your dream just get quashed and not knowing what will really happen next."
He says the current measures they have in place are sustainable at the moment, but like everything these days, the long view is a giant question mark.
"I'm not sure exactly what we're going to be able to do next as a business, or even as a society, if we can't mitigate this and other risks that come in the future," Fodor said.
Jeremy Appel is a Local Journalism Initiative reporter for Alberta Jewish News.