(AJNews) – B'nai Brith Calgary Chapter 816 is welcoming special guest, Michael Mostyn, CEO of B'nai Brith Canada at a very special Zoom webinar on March 7, 2021, 10 am MST. The webinar is part of B'nai Brith Calgary's Speaker Series.
Michael Mostyn serves as a senior spokesperson for the community and speaks out on behalf of Canadian Jewry and other communities whose human rights are under threat globally.
The chapter will also be hosting a tribute to William (Willy) Kohn who was a former President of B'nai Brith Calgary, active in the Jewish community, UJA and the early days of Camp BB.  Mr. Kohn passed away on the evening of December 11, 2020, just 20 days shy of his 94th birthday.
Admission is by donation which can be made before or after you register at: bnaibrithcalgary.org/donation/.  A portion of the funds raised will be donated to the Toni Kohn-Woodward Foundation.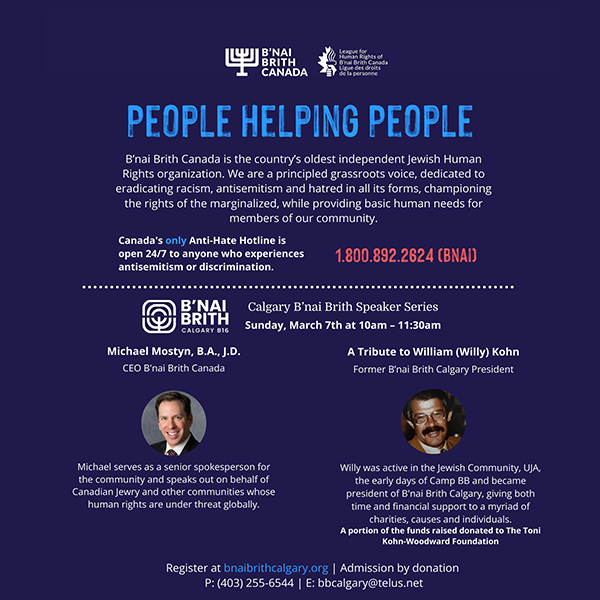 B'nai Brith Calgary Chapter 816 President Darren Bondar is encouraging the whole community to participate. "With the postponement of our annual dinner which is our key fundraiser and the needs of the organizations that we support as great as ever during the Covid-19 pandemic, we greatly appreciate your generosity and support.," stated Bondar.
Advance registration for this webinar is required:
https://zoom.us/webinar/register/WN_ut6v1e5qT8-lEu985X6NMg
After registering, you will receive a confirmation email containing information about joining the webinar.
Michael Mostyn is the Chief Executive Officer of B'nai Brith Canada, and he oversees the breadth of B'nai Brith's programming and advocacy initiatives.
He is a barrister and solicitor in good standing with the Law Society of Upper Canada.  Prior to his appointment to this key portfolio at B'nai Brith, he was a successful litigation lawyer in Toronto, where he practiced law as a partner at Mostyn & Mostyn. He has also served as Chief Strategic Officer in the high tech start-up sector, where he was responsible for developing corporate vision, strategic partnerships and new business opportunities in the public and private sectors.
Michael has been involved with B'nai Brith Canada for many years in a variety of roles, prior to his appointment as Chief Executive Officer. He began his association with B'nai Brith as captain of the Maccabees in the B'nai Brith Men's Ice Hockey League, where he played right wing.
He previously held the position of National Director of Public Affairs, leading B'nai Brith's Ottawa office and being the point person for government relations and diplomatic affairs on behalf of Canada's grassroots Jewish community.
Since his first international experience as a presenter at the 14th Bileta Conference: "Cyberspace 1999: Crime, Criminal Justice and the Internet" at the College of Ripon & York, England in 1999 while in his third year of law school, Michael has established himself as a leading advocate for human rights.
Michael represented B'nai Brith Canada and was an official member of the Canadian Delegation to the International Task Force on Holocaust Education, Remembrance and Research in Prague, Czech Republic, in 2007. It was at this historic meeting that Canada officially became an observer country to the IHRA.
In 2008, Michael represented Canada at the Atlantic Association of Young Political Leaders International Conference in Tirana, Albania. Albania ascended to NATO in 2009.
He was a member of the B'nai Brith & Canadian delegations to the 3rd Global Forum for Combating Antisemitism in Jerusalem, Israel, 2009.
He was also a member of the Canadian delegations to the Solidarity with Belarus International Donor Conference in Warsaw, Poland and the Belarus International Implementers Meetings in Vilnius, Lithuania in 2011.
Michael was awarded the Queen Elizabeth II Diamond Jubilee Medal in 2012 in recognition of his community service to Canada.
Micah Libin will be moderating the webinar event.