by Rochelle Rabinovitz
(AJNews) – The Calgary Council of Christians and Jews (CCCJ) invites you to join us for a  "Talks with Tea" presentation via Zoom, on two Sunday afternoons, January 24 and 31st, at 4pm. You can relax with your cup of Tea and we'll provide the Talkers. The topic, SABBATH – TIME FOR GOD? will be discussed by two engaging speakers, Rabbi Binyomin Halpern, and Professor Mark Buchanan respectively.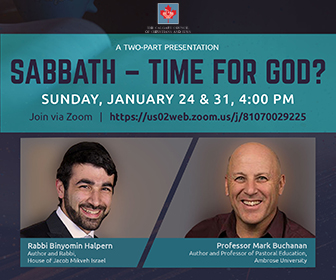 Rabbi  Halpern is the rabbi at the House of Jacob Mikveh Israel, in Calgary. He is the author of several books on Jewish law and Scribal law. His interest in rabbinical studies was inspired by observing his father, Rabbi Eliezer Halpern.
Professor  Buchanan teaches in the area of Pastoral Education at Ambrose University. in Calgary. He is the author of Restoring Your Soul by Restoring Sabbath as well as a number of other books relating to faith and practice. His teaching is enhanced by his years serving as a pastor.
Please register before January 24th by emailing rochyrab@gmail.com to receive the Zoom link unless you are receiving this notice by email, in which case, click on the Zoom link below at 3:45 each day.