(AJNews) – The covid-19 pandemic has been difficult for all people and all businesses. In light of many small businesses changing and adapting their practices to fit new social norms, Alberta Jewish News is going to speak to some of your local favourites, to find out how they are coping, and how they are continuing to serve the community during these strange times. If you know of a small business we should feature in our next business spotlight please e-mail Dan at albertajewishnews@shaw.ca.
In this edition we spoke to Gail from Grumans Delicatessen. Grumans has been serving the Calgary area delicious Jewish-inspired deli food since 2005. Started by Peter Fraiberg, and named after his mother's side of the family, he is now joined by his sister Gail at their new location in Britannia. Grumans is a true deli featuring lots of take-out foods such as knishes, latkes, verenikes, Montreal smoked meat, assorted soups, slow oven roasted beef brisket, cabbage rolls and much more. Grumans serves breakfast and lunch in both locations and there's catering too for entertaining at home or for your business.
What changes have you made to your business to cope with the pandemic?
A: We've added delivery and curb side pick-up, this has been very helpful, especially for our customers self-isolating or concerned about being in public spaces. Our downtown location is also offering delivery via Doordash and Skip the Dishes.
We've enhanced our cleaning and sanitizing protocols (which were already strict), making sure all surfaces are disinfected throughout the day, sanitizing the credit card machine after every transaction, etc.
We've also reduced our hours slightly to help control our labour costs and give our staff a much needed rest.  Our new hours at Britannia are Tues-Sun 10-3, closed on Mondays.  Our Downtown location is closed Sun and Mon, open Tues-Sat 10-3.
What has been the most popular item you sell or service you are offering?
A: We have a wide range of home-style soups and meals that we sell from our freezer.  They've definitely become our best sellers, especially the Chicken Noodle Soup, Mac 'n Cheese, and Cabbage Rolls.  Everything's made in house from scratch and most of the recipes are inspired by my Mom's incredible home cooking.
What are some of the new challenges that your business is facing?
A: Like most businesses right now, the biggest challenge is paying the bills so we can get through this crazy time and still be in business when it's all over.
How are you keeping spirits up?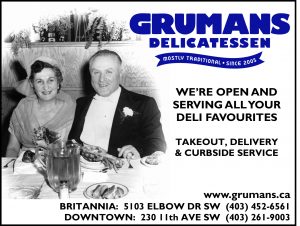 A: We're extremely lucky to have incredible people working with us.  They're our extended family, and we all feel blessed to be able to go to work every day.  We also have wonderful customers who appreciate that we are still open and able to feed them.
How can customers and community members support your business?
A: Come to the restaurants, order ahead and pick up, or have it delivered.  Whichever way, as long as people continue to buy our food, we will be able to stay afloat and keep cooking.  We also ask everyone to please spread the word.  If you like our food, then please let your friends and family know about us, especially through social media.
Share a positive experience you've had recently through your business
A: Every day is a positive experience.  I get to go to work and spend the day with people I love, and do what I love to do.  I'm very lucky. There are a couple of specific things that come to mind that stand out:
All the customers who thank us for being open.  The show of appreciation has been amazing.
Our landlord at the Britannia location (Opus) has been incredibly kind, caring and generous, working with us in various ways to ensure that the business survives this crazy time.  We have not had to ask for anything, but instead they have come to us with creative and thoughtful offers.
What advice would you like to pass along to our readers?
A: First and foremost, this is a time to be kind to each other.  Times of crisis tend to bring out the best and the worst in people, but it seems like I'm mostly seeing the best.  It's a beautiful thing to help and to be helped.
What are you most looking forward to once a sense of normalcy returns?
A: I'm looking forward to the restaurant one day being filled with happy customers, enjoying a bowl of Matzo ball soup and a smoked meat sandwich, and kibitzing with their friends at the next table.  Grumans is more than a sandwich shop.  It's a social gathering place and has become a hub for the Jewish Community in Calgary.  We look forward to all of us socializing over a good meal together soon.
Thank you to Gail for taking the time to discuss Grumans and for making us all crave a smoked meat sandwich immediately.
If you know of a business Alberta Jewish News should spotlight in our next edition please e-mail Dan at albertajewishnews@shaw.ca