(EJNews) – Hello, my name is Ben Kanee and I am Mobile Mortgage Specialist working with the Bank of Montreal (BMO).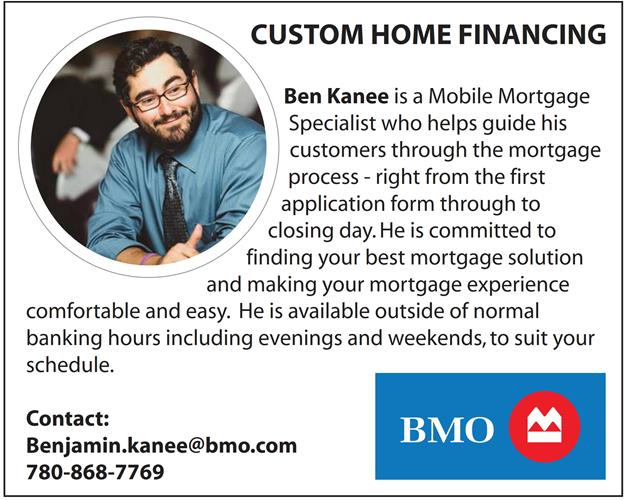 What's a Mobile Mortgage Specialist?
I was hoping you might ask.  I am a lending professional who can provide a customized home financing plan and help guide you through the entire process from the first application form to closing day. To give you a better idea of the services I offer I have put together a few frequently asked questions and answers.
What makes you so "special"?
All I work with is mortgages. I won't try to sell you a credit card, RRSP, TSFA or life insurance policy. I am familiar with and have access to all of BMO's mortgage products including Mortgage Cash Accounts, Purchase Plus Improvements, and Homeowner Redi-lines. I will help you find products that are tailored to your unique circumstances, whether this is your very first mortgage, a refinancing or a renewal.
What is the current interest rate?
Interest rate are always changing, but at the moment, they are at historic lows which makes this a very attractive time to borrow and lock in a rate. It makes sense to look around for the lowest rate.  When I help you make an application, I will always prove to you that you are getting the best interest rate available.
Will I get approved?
Getting approved for the principal and rate you are hoping for is often the biggest worry. It's my job to remove the worry from the process. The best way to determine your eligibility is a Pre-arranged Mortgage. Pre-approval lets you go house or condo shopping knowing exactly how much you can afford because the size and interest rate of your mortgage are predetermined. Even if you don't apply for a pre-arranged mortgage, I have the tools and experience to give you a fair assessment of what size of mortgage you are likely to be able to obtain.
How "mobile" are you?
Very! I will meet you at your home, your office, coffee shop or gym. Or if you prefer, at a convenient BMO branch.
When can I get in touch with you?
ANYTIME. I don't work "banking hours". I am available to provide my clients with reliable, quality service  any time of the day, seven days a week. I am always available to answer any questions you  have about home financing. I understand that purchasing a home is one of the most important decisions my clients make and I want to make the experience as stress-free and enjoyable as I can.
Please call me or email me at: Benjamin.kanee@bmo.com – 780-868-7769