(EJNews) – "A Celebration of Life" –  a round of special events with Israel's disabled veterans and for their benefit, will take place in June in Calgary, Montreal and Toronto.  Lisa Levy, Executive Director of Beit Halochem Canada, Aid to Disabled Veterans of Israel noted: "I'm grateful that we are privileged to support those who defended the State of Israel."
Beit Halochem Canada, Aid to Disabled Veterans of Israel is instrumental in supporting the rehabilitation of those 51,000 disabled veterans wounded in Israel's wars and ongoing defence, through the Beit Halochem Centres in Israel, will be holding next month three benefit concerts in Calgary, Montreal and Toronto.   Personal stories of heroism and overcoming adversity will be showcased at these events told by those who sacrificed their bodies and often their souls in defence of the State of Israel.
Levy added: "I am glad that we have the privilege to support these soldiers who defended the State of Israel in its numerous battles and wars.  At the events audiences will become personally acquainted with some of the very moving personal stories of these heroes whose lives changed in one split second."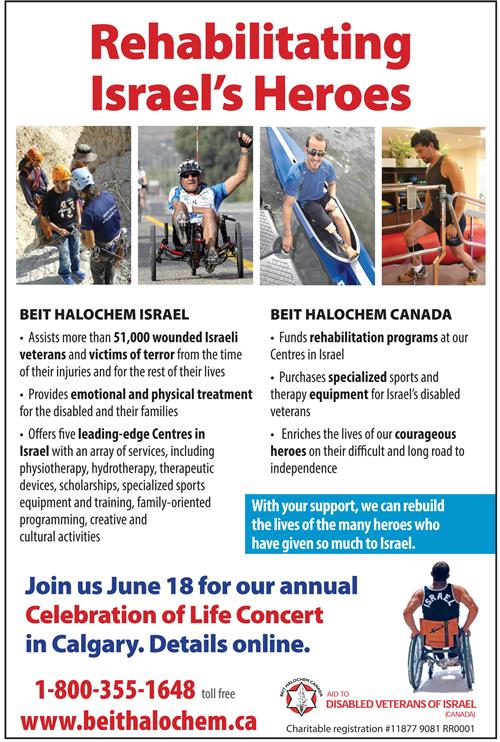 Appearing at the concerts will be leading Israeli singers such as Osnat Harel and Hananel Edri alongside disabled veterans wounded during their military service who have undergone a long rehabilitation process through the Beit Halochem Centres in Israel.  These include Ron Abdan, who lost his eye in a terror attack during his military service and became a very real contender in the Israeli TV production of " The Voice."
Abdan was wounded while serving in the "Kfir" Infantry Regiment in a guarding post near the town of Beit Jala.
"At the hospital I was urgently rushed to surgery because shrapnel had penetrated my eyes and head. When I woke up from the Morphine I couldn't understand why everyone around me was crying all the time.  I even laughed and my mother thought I had lost my mind.
"Some time later I asked to have a big loudspeaker and microphones brought to me.  I was in a wheelchair connected to an IV, but I got off the chair and we had Karaoke sessions.  I sat by the piano every day and played for hours," recalls Abdan remembering his long rehabilitation period after the injury.
The concert will also honor three additional heroes and bring their stories: Captain Ran Ben Atia, who served in the Nahal Infantry Brigade and was critically wounded from a sniper as the ground forces began entering Gaza during the 2014 Operation Protective Edge.  Itzik Dadush who served as an officer in the Engineering Corps and was wounded in the Yom Kippur War as a result of which he lost his eyesight and one of his legs.  Haim Lev Tov was wounded in Operation Protective Edge while serving in the Elite 'Palchan' unit of the Paratroopers Brigade and until this day suffers from Post-Traumatic Stress Disorder as a result of his injury.
The Concert Schedule will be:
June 18 – 6.30pm at Beth Tzedec Synagogue, 1325 Glenmore Trail SW, Calgary
June 20 – 7.30pm at: Oscar Peterson Hall, 7141 Shebrooke St. W. Montreal,Quebec
June 22 – 7.30pm at: George Weston Recital Hall, Toronto Centre for the Arts,  5040 Yonge St., North York, Ontario
For ticket reservations please enter: https:// beithalochem.ca