By Deborah Shatz; Photos by Dan Moser
(EJN) Over the August long weekend, more than 360,000 people flocked to Edmonton's Hawrelak Park to sample the sights, sounds and tastes of 85 different cultures participating in the Servus Heritage Festival.
The Israel Pavilion, sponsored by the Jewish Federation of Edmonton was once again one of the most vibrant pavilions at the festival, winning third place in both the arts & crafts and the food categories.
A  highlight of the Israel Pavilion was the delightful entertainment performed by the very talented Aviv Dancers which included a wide variety of dances as well dancers of all ages.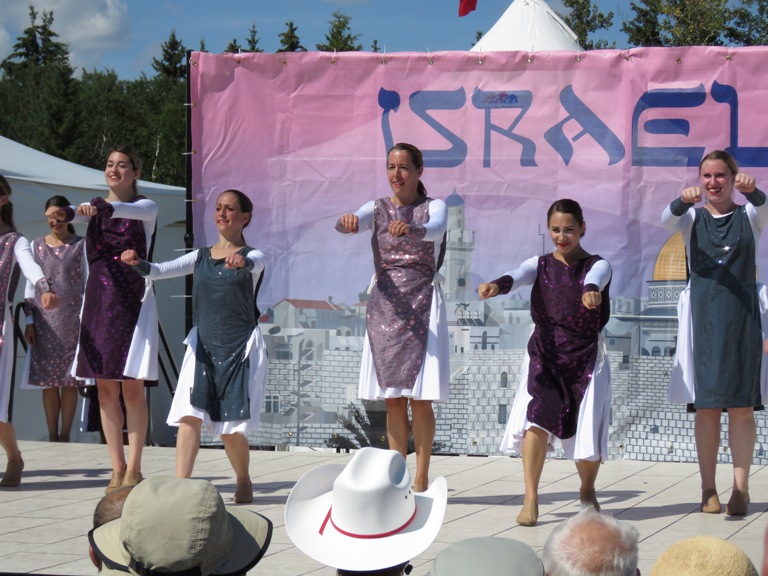 "The Edmonton Heritage Festival is a wonderful event where groups can educate the public about their country, culture, art and food," said Sari Uretsky Leung, Artistic Director of the Aviv Israeli Folk Dance Association (AIFDA).  "It's a great opportunity for us to promote peace and tolerance, which is AIFDA's mission."
The Heritage Festival is certainly one of the gems of Edmonton's festival season and the Jewish community is proud to participate each year and showcase Israeli culture and dance.
There were several dances performances held daily over the course of the festival (August 2 and 3). The creative costuming, choreography and music provided by the Aviv Dancers, as well as the broad spectrum of themes kept the performances extremely entertaining.
"The dances we performed this year were choreographed by the directors of the different groups, myself, Annie Marcus and Davina Eisenstat as well as choreographers from Argentina and Mexico," explained Sari. "AIFDAtries to use a variety of Israeli folk dance styles and music in its shows and we use authentic cultural costumes to match."
It was wonderful and quite impressive to see so many dancers this year and the younger groups were really sweet to watch.
"This year we had a record number of performers participating (over 40) from as young as 8 years old to our mature adult dancers," noted Sari.  "Each year the number of dancers seems to grow as so many people want to be part of the excitement.  The volunteer performers work for months to perfect their show and then it all pays off in the 11 shows we put on in two days! We just love performing for the huge crowds and we are so proud to be part of such an amazing festival!"
Under the direction of Catering by Ed's, Eddie and Susan Yedgarova and a team of hard working volunteers organized by Christina Reboh, the Israel Pavilion also featured a wonderful menu of delicious Israeli foods including a falafel plate, deep fried pickles, chocolate rugelah, lemonada, and watermelon.
To help mark the 40th anniversary of the festival, a new Heritage History Tent featured a visual look back at the festival's history and retraced how it went from a one-day concert to the celebration of multiculturalism it is known as today.  This year a very successful science program facilitated by the University of Alberta Science Outreach Program was located next to the EIA Kidzworld.
This year's festival also saw the addition of 5 new pavilions representing:  Haiti, Lebanon, Morocco, Rwanda and South Soudan. There were over 60 new food items to choose from at the festival this year including: Chicken Red Curry from Cambodia, Dovga soup from Azerbaijan, Patatje Oolong (a type of Dutch poutine), Moroccan Tfaya couscous and Turkish-style pizza.
"It is a wonderful time for all cultures in Edmonton to come together and celebrate diversity," concluded Sari. "We are happy to work each year with the Jewish Federation of Edmonton in showcasing Israeli culture and we look forward to seeing you all again at next year's festival."
Scroll down to see some of our photos, and click here for a few more.