(AJNews) – On April 24, 2022, at 2:30 p.m. MST, House of Jacob Mikveh Israel (Calgary), in conjunction with Congregation Rinat Yisrael (Teaneck NJ), will host a virtual presentation by Dr. Eliezer Segal, Professor Emeritus in the Department of Classics and Religion at the University of Calgary on the topic of "Gunsmoke & Gemara, Depictions of Jewish Life in Classic TV Westerns." The talk is sponsored by the family of the late Mrs. Minnie Zuckier A"H, on the occasion of her first yartzheit.
Minnie Lyon was born in Calgary on October 18, 1930 to Ruth and Yitzchak Lyon, immigrants from Poland who met and married in Calgary. The family operated a modest confectionery store, eventually constructing their own building on 9th Avenue Calgary (which remains standing and is eponymously known as the Lyon's Confectionery Building). In a Calgary Herald newspaper piece originally written in 1994, Minnie recalled how farmers would drop their wives and families off at the store while visiting the local hotel beer parlour and sometimes not come back for a day, leaving the Lyon family to put up their guests for the night.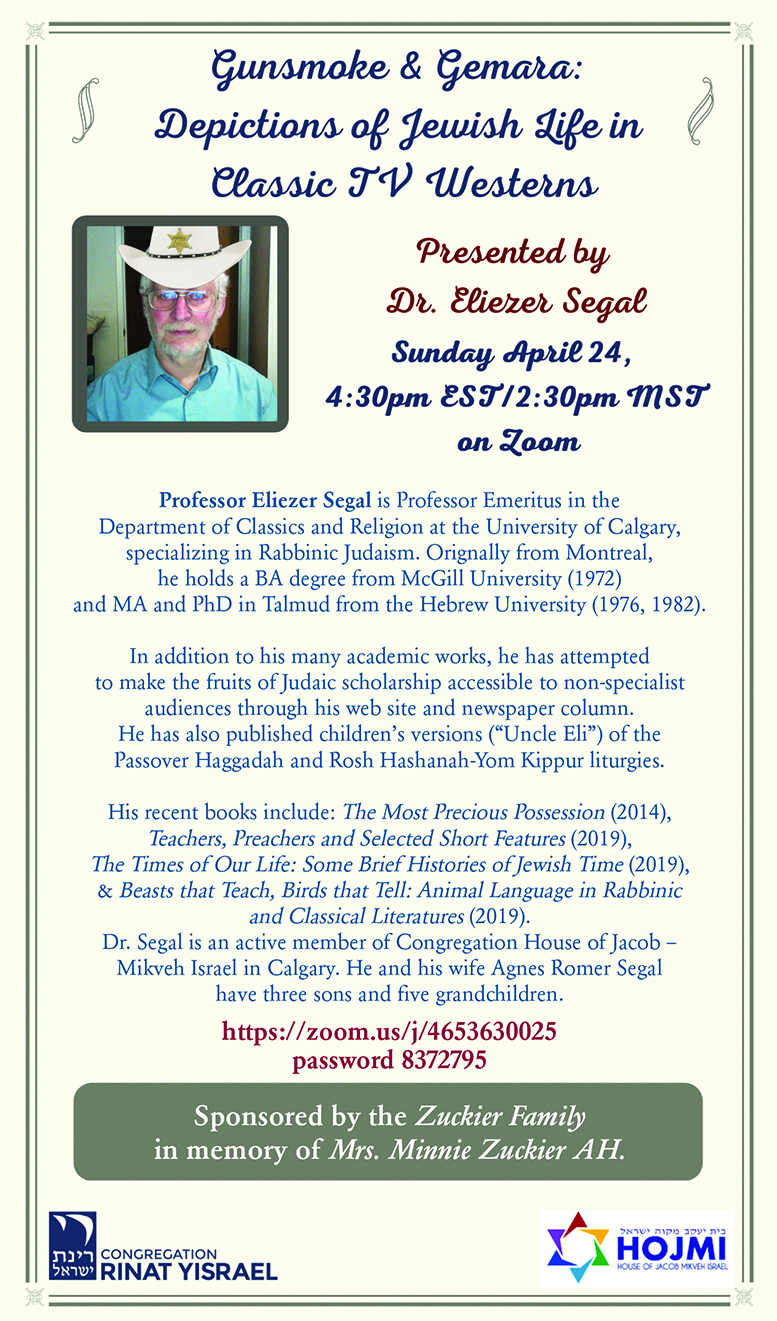 Calgary certainly had its rural and rustic flavour in the 1930's which Minnie absorbed as part of the culture. She was raised in a very humble household, was a child during the Depression, and an adolescent during the Second World War, all of which contributed to a stoic world view. She was devoted to Jewish observance and causes, as an active life-long member of Hadassah WIZO, and in partnership with her husband Elliott, as a dedicated supporter of the House of Jacob Mikveh Israel synagogue, which she attended religiously.
Minnie has been described as reserved, but with a steely resolve. According to her family, she was impeccably honest, highly tolerant of others, unflinchingly patriotic, and very proud to be a Canadian and an observant Jew. The western virtues of independence, self-reliance, honesty, and neighbourliness overlapped with the Jewish values of tzedakah (charity), chesed (kindness), tzniut (modesty) and emet (honesty) resulting in a unique personality that her family would like to highlight with this special program.
Minnie Zuckier had a love of Calgary and Western culture, a great respect and affinity for Judaism and Jewish values, and at least a small expertise in classic television shows. Professor Segal's presentation will shed some light on Judaism and the Western frontier, at least through the eyes of Hollywood, and serve as a light-hearted reminder of a unique Calgary personality who graced the Community for over 90 years. Details on how to attend virtually are noted in the event flyer.
To attend the virtual presentation on April 24 at 2:30 p.m. MST, visit zoom.us/j/4653630025. Apply password 8372795.