(Edmonton) – The Edmonton Jewish Film Festival (EJFF) is back for its 26 season, offering Edmonton audiences the very best in Jewish-themed films from May 10 to May 18. Carefully selected by a volunteer committee of film experts, the festival includes Edmonton premieres of films from Israel, the USA, Switzerland, France, Germany, and Belarus. This year will see audiences returning to in-person screenings for two free events. All the screenings are available online and are free.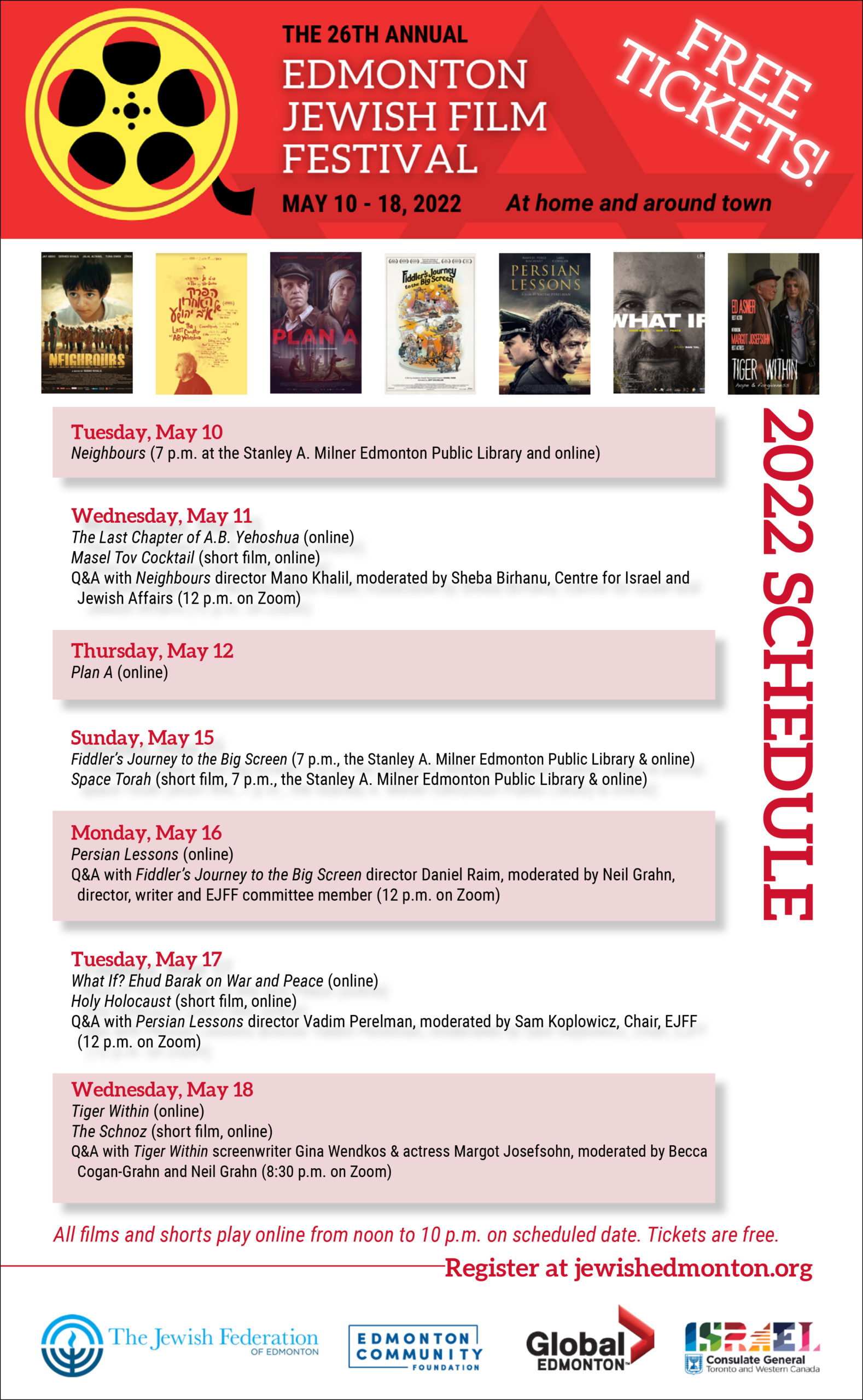 The EJFF opens with Neighbours, a beautifully shot and moving film set in Syria in the 1980s. which tells the story of the spunk and resilience of Syrian children in the face of a vicious Jew-hating dictator (Wednesday, May 10 at 7 pm, in-person at the Muttart Theatre of the Stanley A. Milner Edmonton Public Library on online between noon and 10 pm). A live Q&A session will take place with filmmaker the following day at noon via Zoom.
 Also in person will be Fiddler's Journey to the Big Screen, a documentary about the making of Fiddler on the Roof. Fiddler's Journey is "an homage to the brilliance and genius of director Norman Jewison and the film Fiddler on the Roof. It is highly entertaining and one of the best 'making of' films I have ever seen," says EJFF Chair Sam Koplowicz. (Sunday, May 15 at 7 p.m. in person at the EPL or online between noon and 10 p.m.). A live Q&A session will take place with award-winning filmmaker Daniel Raim the following day at noon via Zoom.
 Closing night, May 18, features Tiger Within, the story of the unlikely friendship between a wayward antisemitic teen and a Holocaust survivor, played by the late Ed Asner in one of his final films. A Q&A with screenwriter Gina Wendkos and young actress Margot Josefsohn will follow the film (Tuesday, May 18 at 8:30 p.m., online).
 The Edmonton Jewish Film Festival is presented by the Jewish Federation of Edmonton with major sponsorships from the Edmonton Community Foundation, Global Edmonton, and the Consulate of Israel. Generous support is also provided by dozens of companies, non-profit organizations and individuals throughout Edmonton. Funds raised through EJFF support festival delivery as well as P2G, the Jewish Federation's capacity-building partnership in Israel's Northern Galilee region, which this year is financing a youth centre and an Arab/Israeli youth partnership program.
 Viewers can watch all films on their screening days between noon and 10 p.m. To see the full schedule and to register, visit Jewishedmonton.org.