By Becki Allen
(Edmonton) – Are you looking around your house and thinking that an area needs updating? Is your home "cookie cutter," just like the neighbours? There are many stories of Edmontonians feeling the pinch of the slow economy, so you might think that 2016 is not a good year to buy a new home.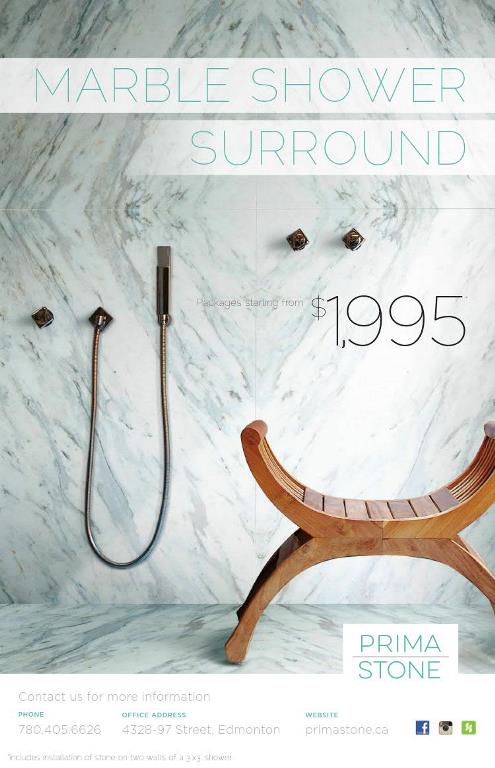 On the bright side, 2016 is a great year to take on a renovation that will ensure your existing home retains or increases in value! At Prima Stone Inc, we work with our clients to incorporate the timeless beauty of marble, travertine or onyx into any interior space – kitchens, bathrooms and even fireplace feature walls. Because Prima Stone is much lighter than traditional marble slab, it is less expensive and easier to install. This saves time and money when compared to mosaic tile or traditional slab. Also, because Prima Stone is real marble, travertine or onyx, it is extremely unique, giving your home a luxury feel and making it really stand out at selling time. Here are a few recent projects that just might inspire you to start thinking about incorporating marble into your home to help increase or retain value.
The Shower Overhaul: A client came to us with a BIG problem: there was a leaky shower in the master bedroom's ensuite, even though it had not been used in years. Deciding to save money, the client decided to do the demolition himself. However, our guys stepped in to complete the shower renovation, including installing the walls, soap box, waterproof base, curbing and tile. We even installed the shower fixtures after the stone was installed.. To top it all off, we recommended a local glass company for the new glass shower door
The Whole Home Reno: Another client came to us looking for a creative design solution for her main floor bathroom. She had gutted most of the main floor of her home and wanted something new and different for her shower. After looking at Carrara marble and light porcelain tile, she decided that having to scrub grout lines was not at all appealing. We were able to help her by installing the shower walls, curbing and trim in this now light, bright and beautiful bathroom. The best part? This shower now has the seamless appearance of full-thickness slab walls, but was only a fraction of the cost. And… NO GROUT!
New Home Fireplace: A third client had recently taken possession of a newly-built home in Stony Plain. As she was not interested in the builders' preselected options of cultured stone or tile, she requested that the builder leave the fireplace face finished in drywall; she simply did not want the same look as everyone else on the street. This client visited our showroom and fell in love with the book-matched veining pattern of the Volakas marble. Being an extremely savvy shopper, this client had us provide her with an estimate, then went to explore options at another local marble company. She came back and reported that our cost was $5,000 less than the other company! Our installers put in three panels, floor to ceiling, on her living room's fireplace face. We even hung her TV!
Looking to do something a bit different with your home renovation? Call us at 780-405-6626 or email info@primastone.ca and let's start planning how you can incorporate the luxury of marble, travertine or onyx into your home's interior! Visit our showroom in Edmonton at 4328 – 97 Street or at primastone.ca.
Becki Allen is Managing Partner and Business Development at Prima Stone Inc.