(EJNews) – Edmonton kids can have a wonderful opportunity this summer for a terrific camp experience with a cartooning and illustrating focus, presented by Australian cartoonist Danny Cohen.
"We are a cartooning & educational company based in Sydney, Australia and we are coming back to Canada for the 5th year to run our Summer cartoon day camp workshops," explains Cohen. "We came to Calgary a year before last Summer and had a great turnout. Our popular camps have also been held in Vancouver, Toronto and Ottawa and this year we have decided to go to Edmonton for the first time."
The Edmonton Children's Cartoon Camps will be held at Parkview Community League Hall (9135 – 145 Street) from Monday July 30 – Friday August 3. You can book for the whole week or for one or more days.  Whatever works best for you. Click here for a complete list of the themes and activities that will be featured. Here is some important information about the cartooning camp: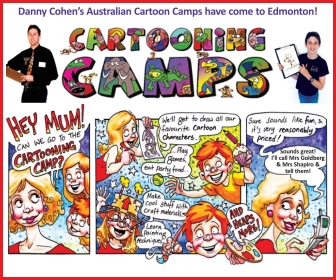 No previous drawing skills are required
For children aged 4 to 16 years of age
All art materials supplied
Working with Children Checks
Children can book for one day or for the full week
All staff have working with children checks
Patient and friendly teacher
A professional Sydney (Australian) based cartoonist will be running the program
Small class sizes
Fun, educational & exciting program
Kosher food supplied on request.
Tuition by a professional Australian Cartoonist (35 years' experience in Australia, New Zealand, Canada, Malaysia, Hong Kong, United Kingdom, Singapore & USA). The Illustrating Man Designs Pty Ltd, trading as the Cartoon Kingdom, is Australia's largest leading cartooning, entertainment & art education company providing caricature artists and entertainers to all functions. Click here for information.
Edmonton Children's Cartoon Camps are running from Monday July 30  to Friday August  3, 2018, conveniently located at Parkview Community League  9135 – 145 Street NW Edmonton. Click here to register or email bookings@cartoonkingdom.com.au.