(AJNews) – Here is a look at the films that will be screened at the Virtual Edmonton Jewish Film Festival (EJFF), from May 2 – 11, 2021.
EJFF will light up computer screens and TVs in Edmonton homes and beyond, showcasing Jewish culture, traditions and ideas through film with stories of politics, history, love, identity and more. Feature films are complemented by virtual Pub Talks and Lunch Time Chats with distinguished guest speakers to provoke conversation and thought.
All films and events are free and open to one and all though if necessary, priority will be given to Edmonton area residents. Each film will be accessible from noon to 10 pm on the scheduled dates. You will need an email address and a computer to participate.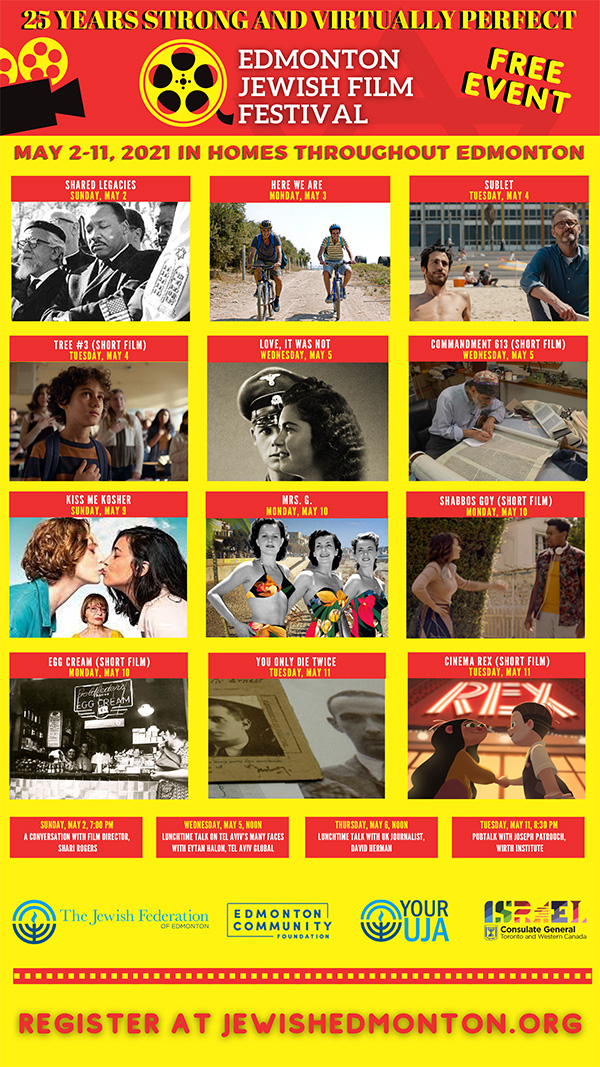 Sunday May 2, 97 minutes
Shared Legacies: The African American-Jewish Civil Rights Alliance (2020)
Director: Shari Rogers (USA)
USA Documentary; English
May 2 at 7 pm via Zoom: A conversation with film director Shari Rogers.
The crucial historical lessons of Black-Jewish cooperation in the turbulent Civil Rights era are revisited in this fascinating, urgent call to action. Events come alive through a treasure trove of archival materials, narrated by eyewitnesses, activists, Holocaust survivors, and leaders of the movement, including Congressman John Lewis, Ambassador Andrew Young, Rabbi Alvin Sugarman, Rabbi Peter S. Berg, members of the Marin Luther King's family, and many others. This inspiring story of empathy, unity and partnership demonstrates that freedom and equality, for all, can only be achieved when people come together.
Sponsors: The Uretsky-Leung-Harowitz-Glick-Hering families
In loving memory of Rick Uretsky z"l
Monday, May 3, 92 minutes
Director: Nir Bergman (Israel)
Hebrew with English subtitles
Drama
This tender drama examines the intricacies of love, disability, community, and change. Divorced dad, Aharon, has given up his artistic career to look after his autistic son, Uri. They live a quiet life together, but as Uri reaches young adulthood, their cocooned life is upended when Uri's mother decides that he needs to be placed in a specialized home that can better cater to his needs. Deeply reluctant, Aharon decides to run away with his son, instead. They hit the road on an adventure-filled, often humorous, trek.
Sponsors: by Servus Credit Union
Tuesday, May 4, 129 minutes
Director: Eytan Fox (USA/Israel)
Hebrew and English with English subtitles
Drama
Warning: explicit sexual content
May 5 at noon via Zoom: Tel Aviv's Many Faces, with Eytan Halon, Head of International Press Tel Aviv Global.
Michael, a gay, middle-aged and slightly uptight travel columnist, goes to Tel Aviv to write an article, with just five days to capture the essence of Tel Aviv and then go quickly home to New York. But, when he sublets an apartment in a trendy Tel Aviv neighborhood from Tomer, a strikingly handsome and hip young film student, he finds himself drawn into the life and energy of the city, forming an intense bond with Tomer that will transform both their lives in unexpected ways.
Sponsors:  Friends of the Galilee Panhandle
Wednesday, May 5, 83 minutes
Director: Maya Sarfaty (Israel/Austria)
Hebrew and German with English Subtitles
Documentary
May 6 Noon Lunch Time Talk via Zoom:  A Conversation with UK Journalist, David Herman. Sponsored by:  The Holocaust Education Committee of the Jewish Federation of Edmonton.
A true story of the relationship between a prisoner and a Nazi officer. Helena Citron, beautiful and full of life, is taken to Auschwitz as a young woman, and soon finds unlikely solace under the protection of Franz Wunsch, a high-ranking SS officer who falls in love with her and her magnetic singing voice. Risking execution if caught, they go on with their forbidden relationship until the war ends and the camp is liberated. Thirty years later, a letter arrives from Wunsch's wife asking Helena to "return the favor" and testify on Wunsch's behalf. Will she help the man who brutalized so many lives, but saved hers? Through extensive eyewitness testimonies from Yad Vashem and Shoah Foundation archives, as well as interviews with seven remarkable survivors now in their 90s, the film tells this remarkable story.
Sponsors:  Catherine Miller, Len Dolgoy and Family, Francie Ratner, Mark Dolgoy and Family
Sunday, May 9, 101 minutes
Director: Shirel Peleg (Israel/Germany)
Hebrew, English, and German with English subtitles
Romantic Comedy
When Maria moves from Germany to Tel Aviv to be with her beloved, Shira, a series of small mis-steps puts in motion a wedding plan for the two women, a visit to Israel by Maria's parents, a culture clash, and a fierce battle with Berta, Shira's grandmother who is flatly opposed to any marriage between Jews and Germans. Shira and Maria discover that love is not the road to happiness they had envisioned, but more a minefield, littered with booby traps waiting to detonate. Even the most cringeworthy situations bring laugh out loud moments in this charming rom-com.
Sponsors:  Cynthia and Wayne Pertman
Monday, May 10, 54 minutes
Director: Dalit Kimor (Israel)
Hebrew and English with English subtitles
Documentary
Alive with beautiful fashion models and sumptuous, colorful fabrics, this film tells the story of Mrs. Lea Gottlieb, legendary Israeli designer and founder/owner of the Gottex swimwear empire. Though Gottlieb's life was full of crises and challenges, she always prevailed. Through interviews with family and former colleagues, and an array of splendid archival photos of Tel Aviv beaches and fashion runways, the film profiles Mrs. G's incredible creativeness, her dominant personality, her complex relationships with her two daughters, and her unbridled passion for her work.
Sponsored by Scotia Wealth Management
Tuesday, May 11, 92 minutes 
Director: Yair Lev (Israel)
Hebrew and German with English Subtitles
Documentary
May 11 at 8:30 pm via Zoom: Pub talk with Joseph Patrouch, Director, Wirth Institute for Austrian and Central European Studies, U of A.
In this real-life Jewish detective story, Israeli Yair Lev's mother learns that she has inherited a posh cottage in North London and all she has to do to take possession is to prove that she is the daughter of the late Ernst Bechinsky, Yet, what seems simple quickly becomes mysterious with the shocking discovery of another man named Ernst Bechinsky whose birthday and birthplace are the same as her father's. Lev turns detective and sets out to investigate a complicated history of deceptions and forgeries that stretches from Tel Aviv to Vienna to Zagreb. The story he slowly uncovers is an astonishing and suspenseful tale of sacrifice, love and friendship.
Sponsored by:  JAHSENA
Five short films will be screened during the EJFF – "Cinema Rex," "Egg Cream" and "Tree #3" will be available throughout the festival – "Commandment 613" will be screened on May 5 – "Shabbos Goy" will be screened on May 10.
The shorts are sponsored by Aviv Israeli Folk Dance Association, National Council of Jewish Women of Canada, Edmonton Screen Industries Association Office, ORT Edmonton and the Holocaust Education Committee of the Jewish Federation of Edmonton. 
For ticket information visit jewishedmonton.org