(EJNews) – Urban Retreat Body and Skincare Centre was recently the winner of a Top Choice Award for Best Beauty Spa in Edmonton for 2016! The accolade comes as no surprise because this wonderful day spa nestled in the heart of Wolf Willow Shopping Centre in West Edmonton is truly one of our city's gems. It was established in 2003 by owner and director Anita Prysko and was beautifully renovated and expanded in 2007.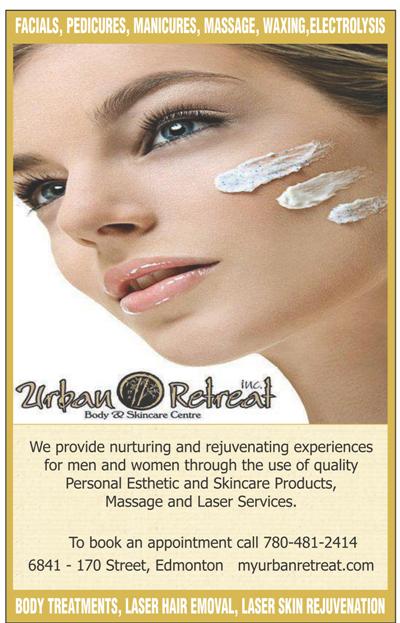 This Edmonton day spa offers a little piece of heaven on earth as a getaway from the hectic realities of daily life. It measures over 3000 square feet and features spa services and spa packages including: laser hair removal treatments, manicure & pedicure nail treatments, massage therapy, facials, waxing, lashes & brows, microdermabrasion, body treatments, makeup application, sublative skin rejuvenation, botox & fillers and spa packages.
They also carry dermalogica and other skincare products. The full team of professionals includes estheticians, registered massage therapists and laser technicians.
"We are happy to be part of this wonderful neighbourhood and welcome our beloved regular customers as well as first time visitors to our spa," notes Prysko.
"Urban Retreat prides itself on a high level of expertise in all services and all staff work together to achieve the very best experience for our clients."
If you want to make sure you have beautiful skin for your special occasion, here are some tips you can follow to help relieve the dry skin that comes from life in our harsh Alberta climate:
Bathe or shower using warm not hot water. Use fragrance-free body wash (without detergents) and moisturizers.
Use ointment or cream instead of a lotion. Great ingredients to look for are shea butter, jojoba oil, lactic acid, urea and hyaluronic acid.
Always carry hand cream and apply after handwashing, plus carry an effective lip balm, and apply it often.
Wear gloves on your hour hands to protect from cold elements, water and harsh chemicals.
Make sure your humidifier is working and sleep with a portable in your room.
Hydrate from the inside out, drink plenty of water throughout the day at least eight glasses. Eat a diet rich in proteins, high in sulfur, vitamin A and vitamin C. Limit consumption of alcohol and caffeine, as they zap the skin of fluids and leads to dry skin.
If you are looking for a spa experience with a group of friends or for a special occasion – look no further.  Well-located in Edmonton's west end, Urban Retreat Spa is easily accessible for all clients. The spa welcomes individuals for services and is also able to accommodate large parties for special occasions. The pedicure area has six shiatsu massage pedicure chairs with air jet tubs. The spa has a fabulous steam room available at your request and the lounge area is comfortable for serving food and drinks or just relaxing.
"Come and see for yourself," invited Prysko. "We welcome your interest and will happily show you around! Please call 780-481-2414 or come visit us in person at 6841- 170th Street."