On June 23rd, 2016 the Jewish National Fund (Edmonton) and Canadian Friends of the Hebrew University of Jerusalem will join together to pay tribute to Dr. James Shapiro at the 2016 Negev Gala.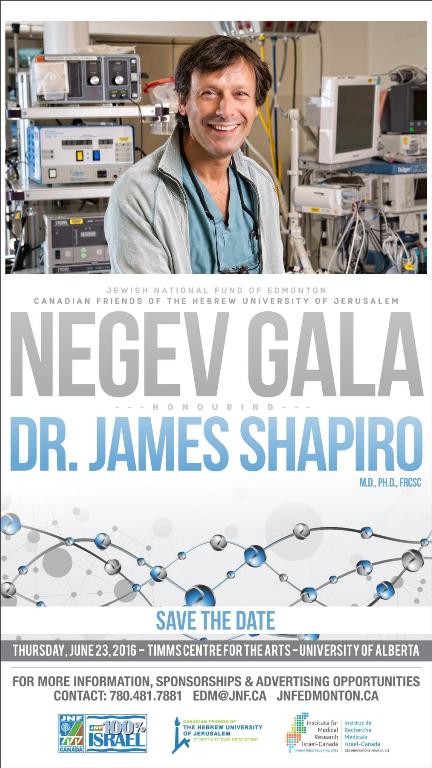 This year's Negev Gala will see a unique collaboration of two Israel based organizations, Jewish National Fund and the Hebrew University to honour Dr. James Shapiro and celebrate his dedication and many accomplishments.
Dr. Shapiro is one of the world's leading experts in emerging treatments of diabetes. He  is currently a Canadian Research Chair in transplantation and the Director of the Clinical Islet Transplant Program at the University of Alberta and a Professor of Surgery, Medicine and Surgical Oncology. He is known for developing the 'Edmonton Protocol' – an islet transplantation technique which has allowed many severe diabetics to stop taking insulin entirely, although the duration of this insulin independence does vary.
The Edmonton Protocol is considered a major advancement from earlier transplantation efforts, and has regenerated much interest and research into establishing islet transplantation as a regular treatment modality for diabetes. Dr. Shapiro continues to lead the Edmonton team which is by far the most successful and active islet transplant program worldwide.
Think of Dr. Shapiro and his team as pioneers or chalutzim of diabetes research and it is no wonder that Canadian Friends of Hebrew University and Jewish National Fund are thrilled to honour him at the upcoming Negev Gala. Not just his team, but the international health community is excited about his latest research. The results, he says could soon mark a new standard for treatment – not only in diabetes, but in several other diseases as well.
"Until now it has been nearly impossible for transplanted cells to function reliably when placed beneath the skin," says Shapiro. "In these studies, we have harnessed the body's natural ability to respond to a foreign body by growing new enriching blood vessels. By controlling this reaction, we have successfully and reliably reversed diabetes in our preclinical models. This approach is new and especially exciting as it opens up a world of opportunities, not only in diabetes, but also across the board in regenerative medicine."
Shapiro and his team say the new procedure – an evolution of The Edmonton Protocol – has the potential to be applied safety and easily to patients. They add, it not only offers several benefits to diabetes patients, but also could safely open the door to allow for the assessment of emerging stem cell treatments for other illnesses as well.
"This exciting new approach doesn't have to be limited to diabetes," says Shapiro. "For any area of regenerative medicine that requires replacing old cells with new – and there's lots of different disease states where there's just one gene defect that could be corrected by a cell transplant– this opens up an incredible future possibility for successful engraftment beneath the skin."
Canadian Friends of Hebrew University of Jerusalem and Jewish National Fund are leading the way in scientific research and development, laboratory equipment and student scholarships enabling further research that can benefit the international community. Proceeds from the 2016 Negev Gala will support the important work of these organizations.
For more information, sponsorship and advertising opportunities, call 780-481-7881, email edm@jnf.ca or visit jnfedmonton.ca.