by Regan Naomi Treewater-Lipes
(EJNews) – Once a year something spectacular, extraordinary, and truly magical occurs within the walls of Talmud Torah School.  As Jewish families far and wide gather their nearest and dearest to commemorate those long ago wicks that burned so bright for eight miraculous nights, staff at the ELC attempt a little modern day miracle of their own.  An ordinary school gymnasium by day — but by night on this annual occasion, their little hint of enchantment and ample community dedication transforms the gym into a Hanukkah wonderland.  The rich oily smells of fresh latkes and decadent sufganiyot waft through the halls, twinkling holiday lights sparkle like gems and the wonderful sound of children's laughter echoes with heart-warming jubilance.
There is never a shortage of children's activities at TT's annual Hanukkah party – but this year the organizers really raised the bar.  In addition to a bouncy house there was a professional face-painter, a balloon artist, and a special visit from everyone's favorite storybook feline — Pete the Cat! Fuelled by chocolate Gelt children from nineteen-months to five-years-old danced the night away to some classic Hanukkah favourites — jumping, twirling and swirling with delight.  Mother's with infants in tow were able to make use of a tiny-tots play area, so nobody was left out of the festivities.
But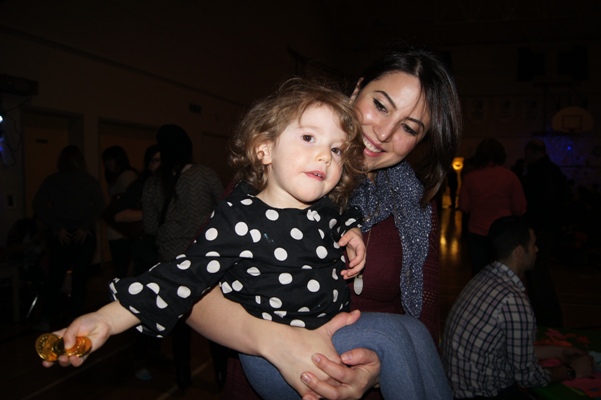 this year, in addition to the mirth and excitement of the long awaited Hanukkah bash, the ELC was proud to be able to bring to fruition a mitzvah of the heart.  Thanks to the generosity and infinite kindness of professional photographer John Findlay –- who so graciously donated not only his time but expertise — the ELC was able to offer party goers the opportunity to take family portraits for only $18.  All proceeds from the fundraiser went directly to the Salmanov family – members of the TT community to whom the ELC has gladly extended their hand.  Recently, their youngest child was diagnosed with an aggressive form of cancer.  This brave little nineteen-month-old girl is currently undergoing chemotherapy with a specialist in Toronto.  This time of year — no matter how you celebrate — is a time for family, a time for warmth, and a time for closeness.  Organizers were very pleased that through community efforts they were able to give this family some much needed financial peace-of-mind.
After all the streamers came down, the last dreidel was spun, and the final latke eaten, the hearts of the ELC children remained aglow with memories of fun, games, crafts and Hanukkah magic. These children, whose smiles beamed for Findlay's camera, were unaware how much their parents' donations meant for one family's Haunukkah – perhaps one day they too will be humbled and proud to be a part of such a supportive and benevolent community.  One thing is for certain though; there was enough Hanukkah magic in the air at the ELC's party to keep us all eager for next year!