(EJNews) – The Edmonton Jewish National Fund will be hosting the 2018 Negev Gala Dinner on June 19 at the Fantasyland Hotel.
Proceeds from the 2018 Negev Dinner will benefit the Israel Tennis Center (ITC) in Haifa and fund the installation of the Lisa Miller and Farrel Shadlyn Q.C. Tennis Courts for Peace.
ITC uses tennis to promote unity by bringing together children of different races, religions, and economic backgrounds. The ITC in Haifa promotes Arab-Jewish coexistence through its renowned Doubles Coexistence Program and offers tennis instruction to children from all every walk of life.
Today, the ITC-Haifa is at maximum capacity. Expansion plans include the construction of two additional tennis courts and a larger building that serves as a community centre.   Additional classrooms will accommodate ITC's growing educational, remediation and enrichment programs.  In the facility and on the tennis courts, barriers are broken down and children and their families dream of a more secure future.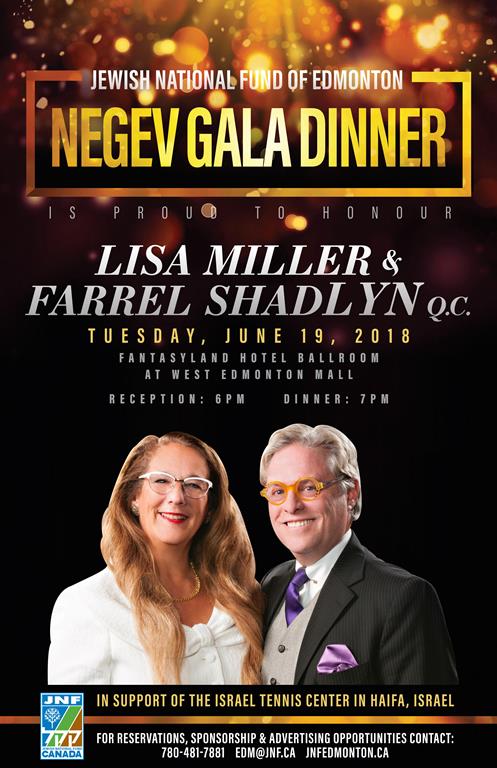 It is where children from varying means, backgrounds and abilities learn to speak a common language and play a common game. This project will provide a safe harbour for children living on the margins of society in Israel and free them to explore and maximize their potential.
Since its inception in 1901, the Jewish National Fund has been the sole agency responsible for the development and infrastructure of land in Israel. Their many programs include land reclamation, reforestation, and road building.
From the Negev Desert to the Galilee, lush green spaces, rich farmland and cities pulsating with life have blossomed out of swamp and mountain rock. The JNF directs 100% of its charitable dollars to support the Land of Israel.The Jewish National Fund is the caretaker of the land of Israel, on behalf of its owners – Jewish people everywhere.
Please join JNF Edmonton in honouring Lisa Miller and Farrel Shadlyn Q.C. with your contribution to this life changing project on Tuesday, June 19, 2018 at the Fantasyland Hotel Ballroom. Formal invitation to follow. For reservations, sponsorship and advertising opportunities, contact Jay at 780-481-7881 or email edm@jnf.ca.
To join in the JNF Edmonton database or to update your contact information, please email your address to: edm@jnf.ca