Reviewed by Connie Zalmanowitz
(AJNews) – Woman of Few Words: My Creative Journey with Dystonia is a book that tells a compelling story of a resilient, talented and very human woman.  The author, Cheri Tannenbaum, was born in Edmonton, Alberta in 1952. She is the eldest of 4 children, born to Sam and Frances Belzberg. Cheri attended Edmonton Talmud Torah School from Grades 1-6 and then like her other Jewish friends went onto public school.
"I felt like I was wrapped in a cocoon of silence that was forced upon me, separating me from from the world and deepening my isolation." –  Cheri Tannenbaum in "Woman of Few Words"
Cheri describes an early life filled with friends and family that would be familiar to many of us growing up in Edmonton and Calgary. At 16, much to her objection, her family moved to Vancouver. During her teenage years she dabbled in the culture of the late sixties, complete with vegetarianism, yoga and meditation. At the age of 20, like her siblings before her, she found spiritual answers in Judaism and began a religious journey that would anchor her and give her the courage to survive and thrive through what lay in her life ahead.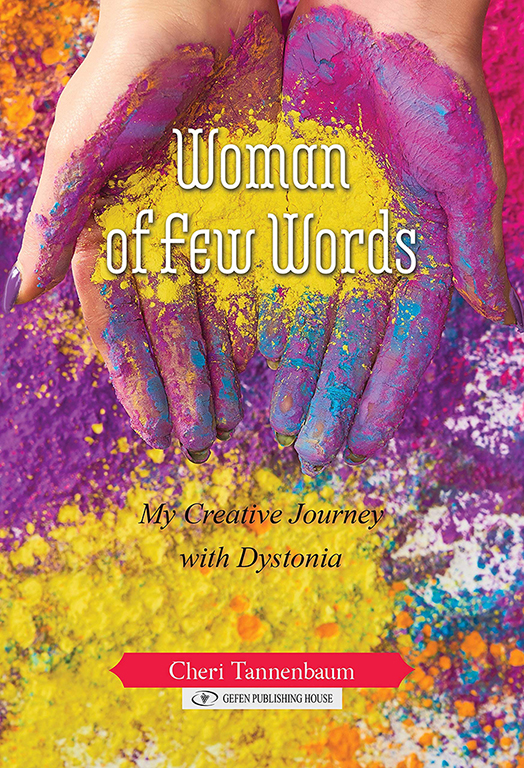 During her first year at Stern College Cheri's handwriting became illegible, her speech became unintelligible and her feet began kicking uncontrollably when she walked. Cheri tells of years of misdiagnosis, doctors believing the illness was in her mind and recommending psychiatric treatment. Finally, and to her great relief, the mysterious symptoms were identified as a rare neurological disorder called Dystonia. There were no treatments, few specialists and little known about the illness that had robbed her of her speech and muscle control. Her parents wasted no time and started a Foundation called the Dystonia Medical Research Foundation in an effort to fund research and develop medical treatments. That Foundation has now been in existence for over 40 years and has identified over 300,000 sufferers in the North America and contributed to numerous breakthroughs in understanding the disease.
Cheri's forty-five year journey with Dystonia has been fraught with unbelievable challenges but she has been sustained by strong Jewish faith and the support of loving people around her. The hurdles she describes have been enormous. Everyday activities require creative, often effortful and preplanned ways of doing the things many of us take for granted. Yet she she has completed university degrees, run creative businesses, built a full life in Israel, and has 3 amazing children and grandchildren. In reading the book, one often wonders how she has managed to be so optimistic and remain so strong in her faith. Cheri is very honest in her descriptions of the questioning she has done with G-d over the years, in trying to understand the larger purpose in her disabilities, specifically her lack of voice.
Cheri considers it an honour when others are inspired by her and is sincere in hoping her struggles do help others. But she conveys to the reader, that she had no other choices but to move ahead and look for purpose. Her accomplishments as you will read are many, but I suspect she will always be seeking to explore and make the most of life and her relationship with G-d and Dystonia.
Women of Few Words: My creative journey with Dystonia was published in 2019 by Gefen Publishing House in Jerusalem, ISBN: 978-965-229-973-4. It is available for purchase in hard cover or Kindle edition from the publisher at gefenpublishing.com, through Amazon or from your favourite bookseller.
Dystonia is a movement disorder characterized by involuntary muscle contractions that cause abnormal movements and or postures. It can affect many parts of the body including the eyes, mouth, voice, arms, legs and torso, affecting one's ability to see, speak, write and walk. For more information about Dystonia and the various forms and treatments; https://dystoniacanada.org