(EJNews) – Relax and be pampered at Urban Retreat Body and Skincare Centre, an oasis that is nestled in the heart of West Edmonton and conveniently located in the Wolf Willow Shopping Centre.
Enter the doors and serenity fills your soul and soothes both your body and mind. Founder and director Anita Prysko and her team provide an enjoyable and relaxing experience for everyone who walks through the doors. Cell phones are turned off, soft music is playing and wonderful aromas fill the air – it is indeed an elixir of youth.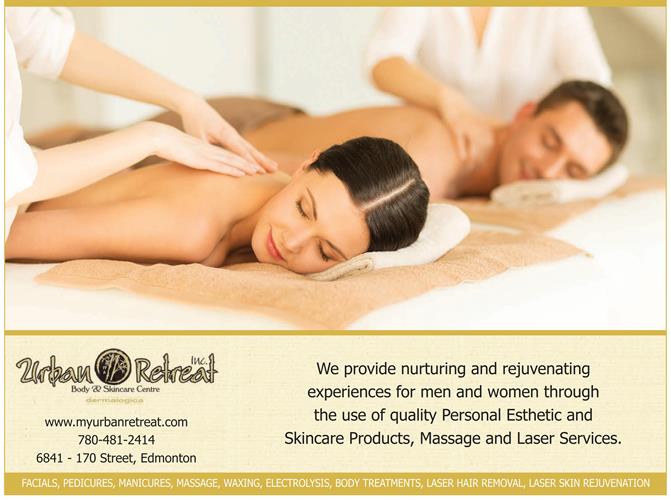 With a wide range of cutting edge services and treatments available, it is a wonderful venue to retreat from a hectic work weak or to prepare for a special occasion. No matter which of the services you partake in, you are sure to leave the premises a more beautiful and radiant you.
And rest assured, you are getting the best spa treatment that our city has to offer. Urban Retreat was recently the recipient of the 2016 Top Choice Award of Excellence for Best Beauty Spa in Edmonton.
Urban retreat is the ideal place to go for skin treatments as well as massages – both relaxing and therapeutic. They offer a variety of spa packages and body treatments as well as laser hair removal, facials, peels, manicures, pedicures, waxing, make-up application and much more.
"We provide a warm, welcome 'retreat' with friendly and accommodating staff who go above and beyond to make sure your experience is the best you can get in the city," says Anita who has been providing esthetics services to her loyal clientele as well as new customers for over 15 years.
"We have an amazing range of wonderful services and products to choose from," adds Karen Petrovic, Guest Services. "This summer, in addition to our must-have pedicures, massages and waxing, we are introducing two wonderful products from Dermalogica. The first is a charcoal rescue masque that is quickly becoming the go-to treatment masque for tired lackluster skin. It is an all-in-one masque that detoxifies, brightens and invigorates all skin conditions.
"The second is a new Dermalogica IonActive Power System that combines thermal activity and the latest treatment-room technology to help reduce the signs of skin aging, uneven skin tone, acne and/or dehydration. It is a wonderful treatment for clients with challenging skin conditions who want to elevate their skin to the next level."
These are just two of the many exhilarating treatments offered at Urban Retreat.
Dermalogica also recommends the following tips for summer skin care, adds Karen.
Exfoliate skin at least twice a week for clearer, smoother skin. Helps prevent congestion and lack luster skin. Daily Microfoliant is ideal to use daily as it's gentle and non-irritating.
Keep Skin Hydrated: Ensure healthy glowing skin by using a hydrating masque twice a week. Use a hydrating serum like hydrating booster daily to keep skin plumped and conditioned.
Drink More Water: Prevent internal dehydration by upping your water intake. Water with lemon is excellent for skin as it helps give skin a clear, healthy complexion.
Reapply SPF Frequently: Protect from sun rays with your preferred SPF. Use a teaspoon amount for the face. A Shot glass amount is needed for the body. Reapply frequently to stay protected.
Soothe Over-Exposed Skin: Use after sun repair to calm, repair and soothe damaged skin. It helps prevent redness and peeling as well as repairing damaged skin cells.
Repair Skin: Treat sun damaged skin with AgeSmart. Repair and renew skin and undo UV damage with a range of products to give you your best skin now.
"We are extremely proud of our commitment to provide experienced staff, high quality products, competitive pricing and excellent customer service," says Anita. "We now have the capacity to host corporate gatherings, bridal and baby shower events, birthday parties as well as seasonal get-togethers. If your group, club or simply several friends want to enjoy some time with one another getting pampered, Urban Retreat would love to welcome you! We are excited about the recent changes that we have made to our centre and look forward to showing you around our expanded premises."
Urban Retreat is open Tuesdays through Fridays from 9 am – 9 pm and on Saturdays from 9 am to 5 pm. To book an appointment call 780-481-2414 or email urban-retreat@shaw.ca. For a complete menu of services visit myurbanretreat.com.