Although we all may have moved indoors there are so many ways to keep our minds stimulated and entertained, such as joining in on a JNF Canada Webinar!
Take a look to see all of the upcoming webinars!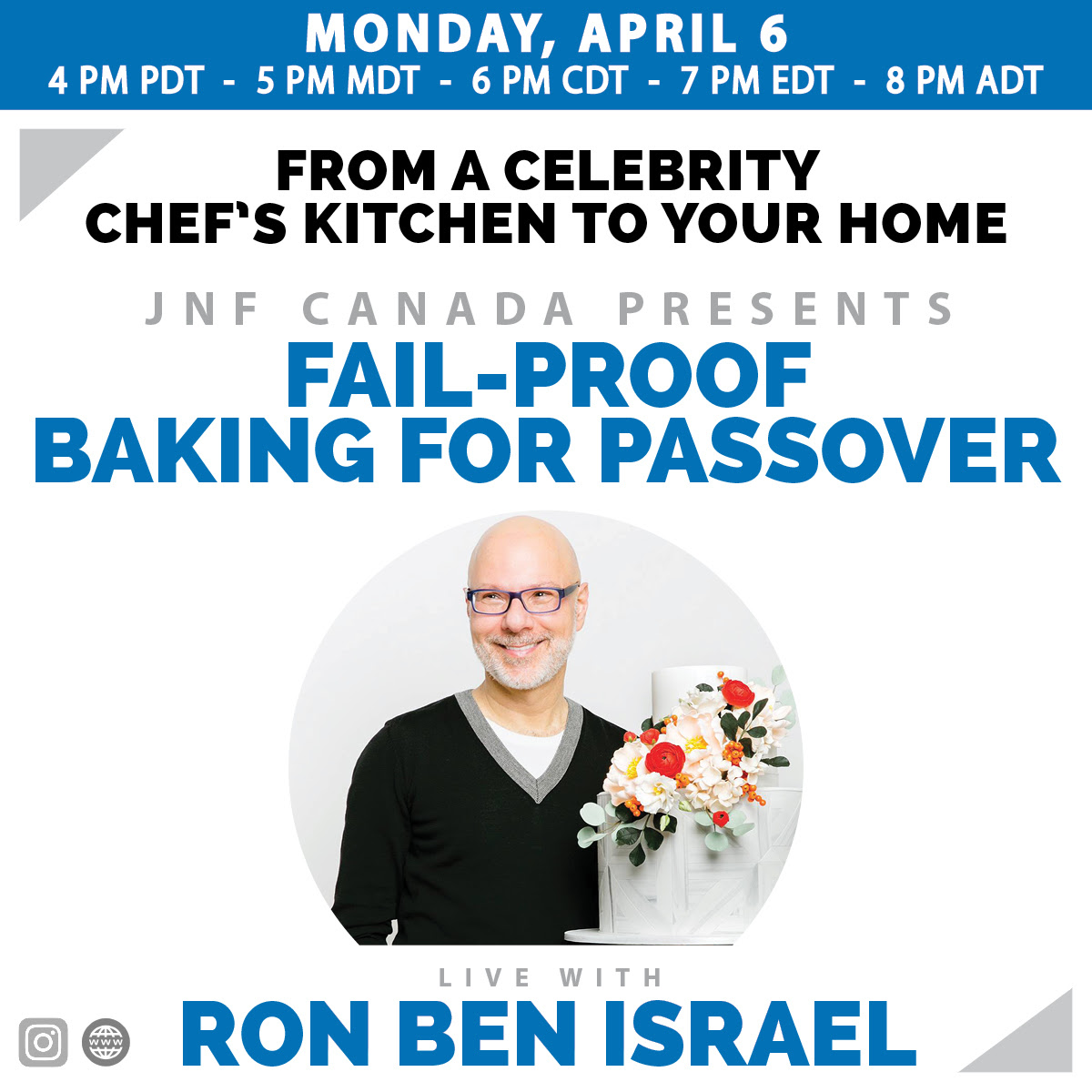 About Ron Ben Israel
As chef-owner of one of the world's finest couture cake studios, Ron and his accomplished team have made specialty cakes that have been hand-delivered to destinations throughout the continental U.S. and abroad. Ron started his confectionery adventures after a 15-year career as a professional modern dancer. Upon retiring from performing with companies spanning three continents, he incorporated his art training, military background and ballet regime into the discipline of pastry arts. Ron's cakes were discovered by Martha Stewart while on display in the windows of Mikimoto on Fifth Avenue, an encounter that propelled him to a prominent position in the print media and TV. In 1999 he established his flagship design studio and bakery in Manhattan. Along the way, he became the only guest master pastry chef-instructor at the International Culinary Center in New York City, has been awarded prestigious gold medals for his confectionery achievements and influenced countless aspiring cake designers. He has been the sole host and judge of the three seasons of the hit Food Network show "Sweet Genius", and continued with three seasons of the channel's popular "Cake Wars". Ron is sought after as a teacher and a lecturer for cake techniques and design as well as the wedding and special events' industry.
Ingredients to have on hand.
For the cake:
5 Matzos, any type or shape
To moisten:
1 cup coconut/ almond/ soy/ rice milk OR orange juice OR cold coffee OR sweet wine
For the filling:
Chocolate spread OR Nutella OR Nut spread OR jam (OR Ron's Ganache)
Alternative additions + decorations:
Flaked Coconut
Chopped Nuts
Chopped Candy
Sprinkles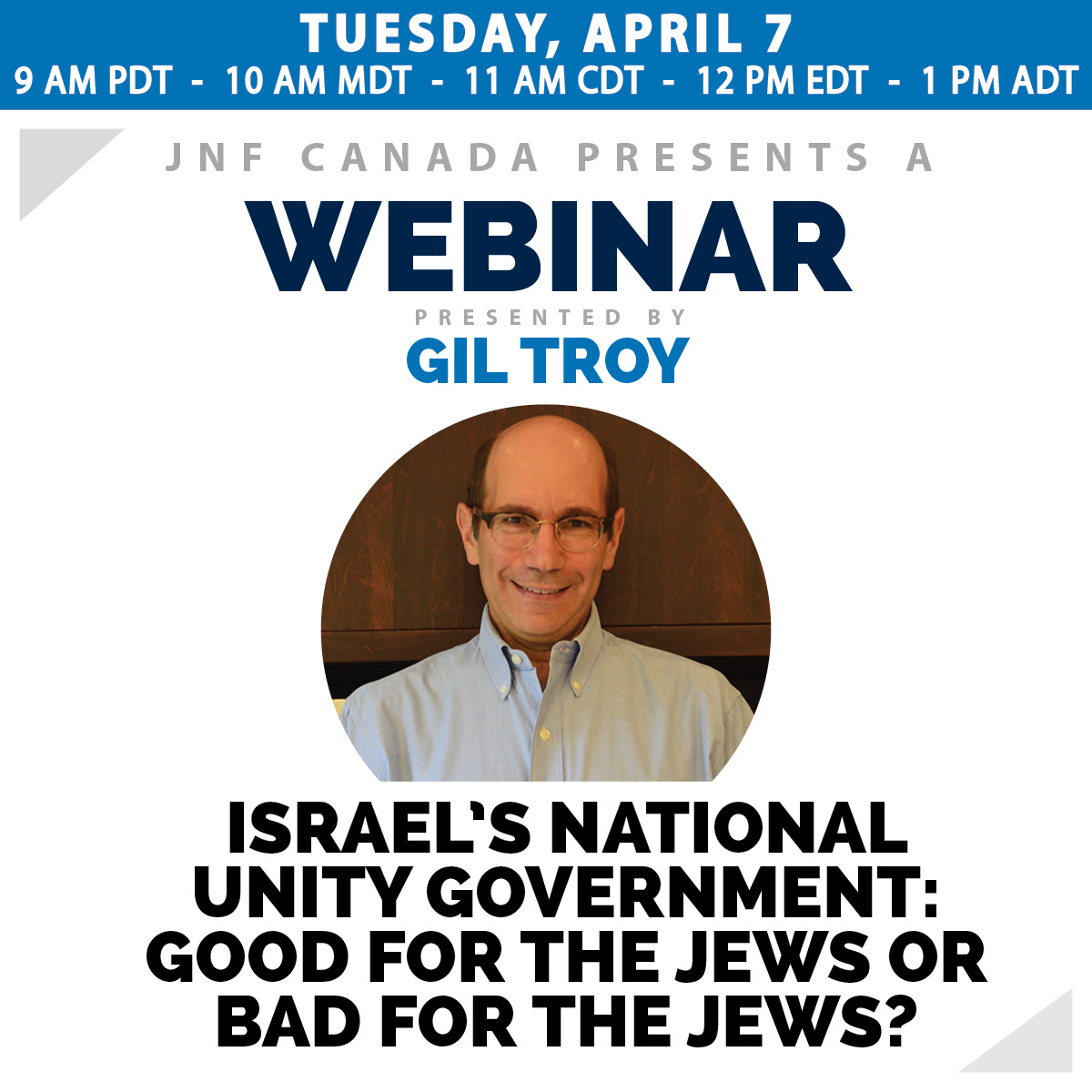 A distinguished Scholar in North American History at McGill University currently living in Jerusalem, Gil Troy is an award-winning American presidential historian and a leading Zionist activist. In the Foreword to Troy's latest book, The Zionist Ideas: Visions for the Jewish Homeland – Then, Now, Tomorrow, Natan Sharansky writes:  "This magnificent work is the perfect follow-up to Arthur Hertzberg's classic The Zionist Idea. Combining, like Hertzberg, a scholar's eye and an activist's ear, Gil Troy demonstrates that we now live in a world of Zionist Ideas, with many different ways to help Israel flourish as a democratic Jewish state."
Recently designated an Algemeiner J-100, one of the top 100 people "positively influencing Jewish life," Troy wrote The Age of Clinton: America in the 1990s, and ten other books on the American presidency. One leading historian called Age of Clinton "the best book on the man and his times." Troy edited and updated another classic, the multi-volume History of American Presidential Campaigns, originally edited by Arthur M. Schlesinger, Jr. and Fred Israel. He is now writing new essays on the 2012 and 2016 elections.
Troy has published essays in the American, Canadian, and Israeli media, including writing essays for the New York Times' "Campaign Stops" in 2012 and 2016. He wrote a weekly column for the Daily Beast, "Secret Lives," putting current events in historical perspective, and writes a weekly column for the Jerusalem Post.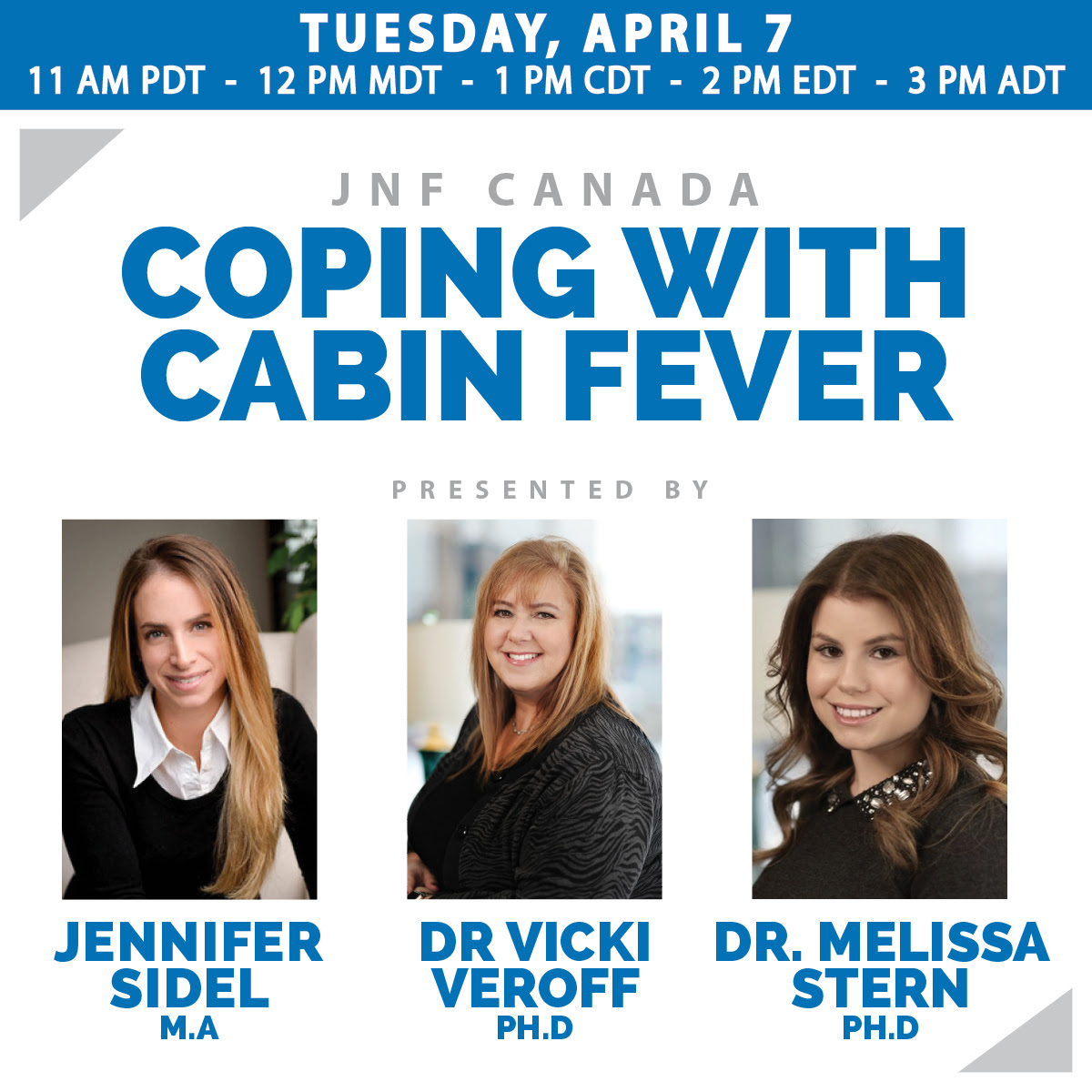 Dr. Melissa Stern
Dr. Melissa Stern is a licensed psychologist who has been working with children, adolescents, and young adults, and families for the past 10 years. She is a graduate of the McGill School/Applied Child Psychology program. Her research is focused on adolescents' and young adults' emotional regulation and self-harm. She has experience working in various clinical settings such as in private practice, hospital outpatient clinics as well as the McGill University Assessment Clinic. Notably, Melissa received extensive training in Dialectical Behavioural Therapy (DBT) at the Douglas Mental Health University Institute's Child and Adolescent Depressive Disorders Clinic. Furthermore, she is one of a select number of mental health professionals trained in Dialectical Behavioural Therapy for Children (DBT-C) in Canada. Melissa's specialized training permits her to provide therapy to individuals with a wide range of difficulties, including anxiety, depression, eating disorders, self-harm, as well as suicidal thoughts and behaviours. This approach provides a better understanding of her client's difficulties and equips them with the tools they need to manage their emotions, improve their well-being and build a life worth living. Furthermore, her authentic, empathetic and non-judgemental approach allows for all of her clients to feel comfortable in therapy. More recently, Melissa has founded the West Island DBT Centre, which offers a wide range of DBT services to the Montreal community, including individual and group therapy. During the COVID-19 pandemic, the West Island DBT Centre is offering teletherapy via video conferencing to reach their clients through this difficult time.
Dr. Vicki Veroff
Dr. Veroff has been a clinical psychologist for over 30 years, working with children, teens, adults, and couples. In 2013, she also received Quebec accreditation as a practicing neuropsychologist, offering specific expertise in brain-related issues and disorders. Dr. Veroff offers individual, couple and family therapy; psycho-educational and neuropsychological testing; mindfulness meditation training; and various neurocognitive interventions (e.g., Cogmed Working Memory Training, Bio-Acoustical Utilization Device, Alpha-Stim).
After working for many years at the Montreal Children's and Jewish General Hospitals, as well as in various schools and daycares, Dr. Veroff now works exclusively in private practice. She is passionate about her work and her clients and opened the West Island Neuropsychology and Counseling Centre to offer clients a wider range of services all in one convenient location. The clinic offers all types of therapy (e.g., CBT, DBT, art/drama/music therapy, parenting skills, ADHD coaching) as well as remediation for learning disorders.
Dr. Veroff had a broad range of expertise, with specializations in anxiety, ADHD, work stress/burnout, depression, relationship issues, learning difficulties/disabilities, neurodevelopmental disorders and behaviour problems. She is always happy to answer any questions about therapy and/or testing and can be reached via her direct email drveroff@wincc.ca or her web site, www.vickiveroff.com.
Jennifer Sidel
Jennifer Sidel is a licensed psychotherapist with over 12 years of experience working with children, adolescents and adults dealing with a range of difficulties. Jennifer works in private practice with both adolescents and adults, treating issues such as depression, anxiety, postpartum issues, parenting challenges, self-esteem, anger management, trauma, and abuse.
Jennifer is a licensed psychotherapist by the OPQ (L'Ordre des Psychologues du Quebec) and holds a Masters degree in Educational Counselling from the University of Ottawa and BA in Psychology from McGill University.
Jennifer is also a certified member of the Canadian Counselling and Psychotherapy Association and a member of the Canadian Association of Cognitive and Behavioural Therapies.
Check out this JNF FUTURE WORKSHOP
Preparing for your first seder on your own? You'll definitely want to join JNF Future this on Monday, April 6th at 8 PM EDT for a "Charoset Making Workshop" with Ellen Grossman of Ellen Jane Desserts!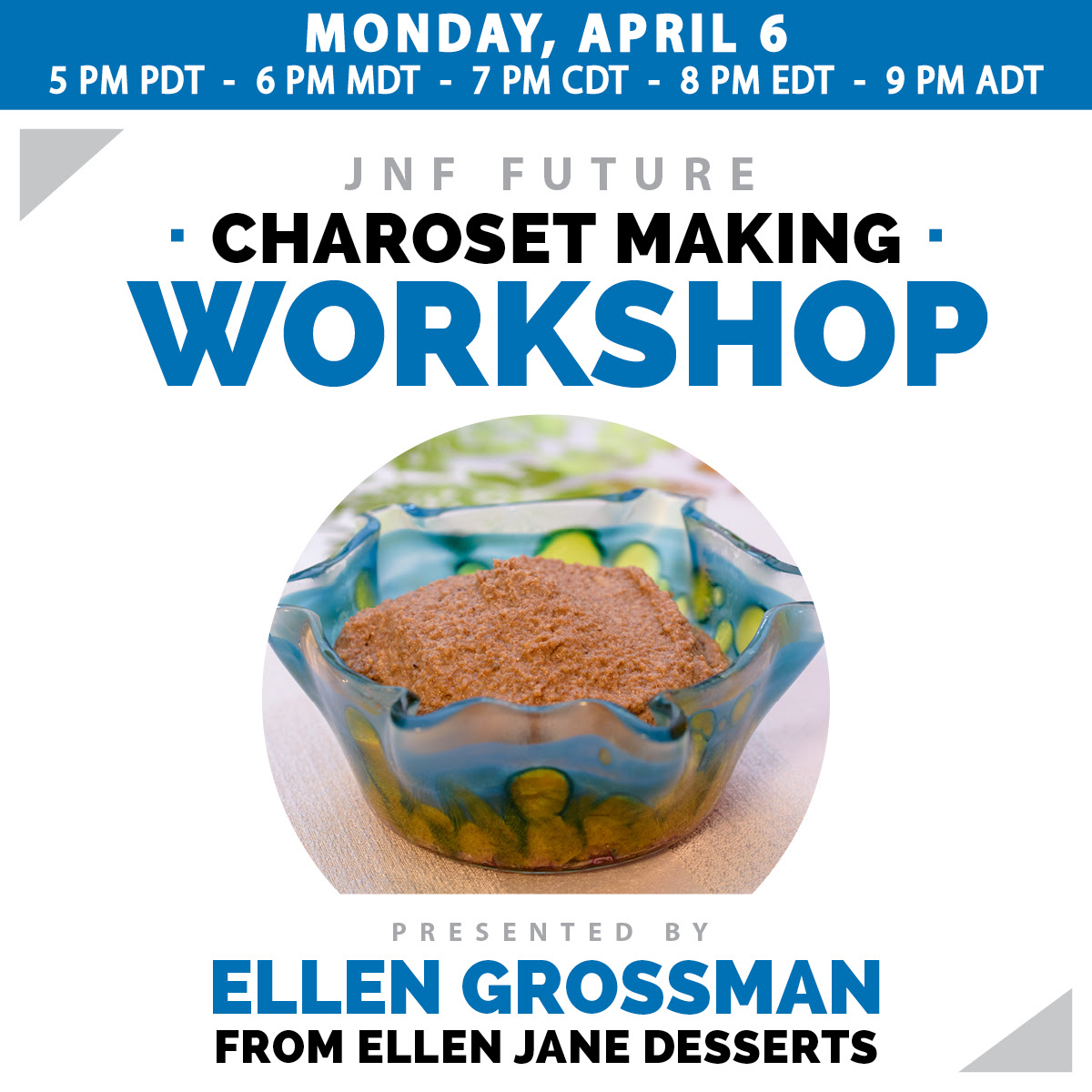 About Ellen Grossman
From a young age, Ellen Jane cultivated a love of baking in her mother's kitchen.
Her mother, a talented baker, inspired Ellen Jane to explore the art of pastry. The only sweets allowed in her childhood home were homemade pastries. Ellen Jane and her four sisters quickly learned to make their own desserts from scratch in order to satisfy their cravings.
​After years of making birthday cakes, holiday treats, and desserts for family and friends, Ellen Jane sought professional training in order to take her baking to the next level. With her starched white apron, rolling pin and measuring spoons in hand, she went back to school to study Baking and Pastry Arts at George Brown College in Toronto, Canada. Once Ellen Jane received her diploma, she immediately opened a small business from her home, catering an array of delicious pastry delicacies.
​As Ellen Jane expands her business in a state-of-the-art facility, she continues to uphold the same high standards of quality, personal attention, and creativity. All pastries are dairy-free and made from scratch, using only the finest kosher ingredients.
*Ingredients to have on hand: 3 large apples, honey, cinnamon, sweet red wine or grape juice & walnuts. (Additional items for fun can include dates, figs, almonds, raisins, cloves, ginger, lemon juice, bananas).
*The full recipe will be shared once registered.