(EJNews) On September 13, at 2 pm on the afternoon before Erev Rosh Hashanah, the University of Alberta will be showcasing a variety of selections of "Suppressed Music" which was created but suppressed under the Third Reich. Join Dr. Suzanne Snizek at the U of A Convocation Hall, as she explores Suppressed Music and the Third Reich. The Performance is being presented by the University of Alberta Department of Music and the admission is by donation.
According to Dr. Snizek, the classical meaning of the term "Suppressed Music" within musicological circles concerns music that was suppressed by the Third Reich. She said, "Often this music was suppressed simply because it was written by Jewish composers. However, sometimes music might be suppressed for more ideological reasons or for aesthetic reasons. However, it was not at all a clear cut situation: essentially, the authorities decided who was Jewish. And if they felt it was culturally expedient to overlook someone's' Jewish heritage (Hermann Levy comes to mind), than for their purposes that person wasn't Jewish anymore, even though Levy's father was a Rabbi."
The Third Reich suppressed music in many ways, noted Snizek. They banned publication and performance of works by Jewish composers. This sometimes meant removing works that were already popular amongst the public and other times it meant that a new work might never see the light of day. Hans Gál is a good example of a very established and successful figure who was forcibly removed from the culture. He was serving as the head of the Mainz Conservatory, which was a prestigious post, and was a leading composer of that era. He was so well known that in 1940 when he was interned in Britain, his fellow internees simply referred to him as 'the famous composer.'
"Suppression can also refer to more violent and sinister approaches, including deportation to concentration camps and murder" explained Snizek. "A wide variety of incredibly talented composers from many countries were killed, including Erwin Schulhoff, Leo Smit, Pavel Haas, Gideon Klein, Victor Uhlmann and Hans Krasa. The loss to musical life on an international scale was enormous. The extent and depth of cultural damage is still striking to me after many years of studying this era."
Dr. Snizek's particular area of research has focused on music created by refugees who were place in British internment camps during the Second World War. This is a small area related to the larger issue of Suppressed Music. "My concern over contemporary abuse of power (specifically in relation to Guantanamo) was actually what first motivated me to look at the historical practice of interning or 'detaining' people indefinitely," she added. "The idea that one could be stripped of one's freedom for an indefinite length of time, without being formally charged, was horrifying to me and remains so."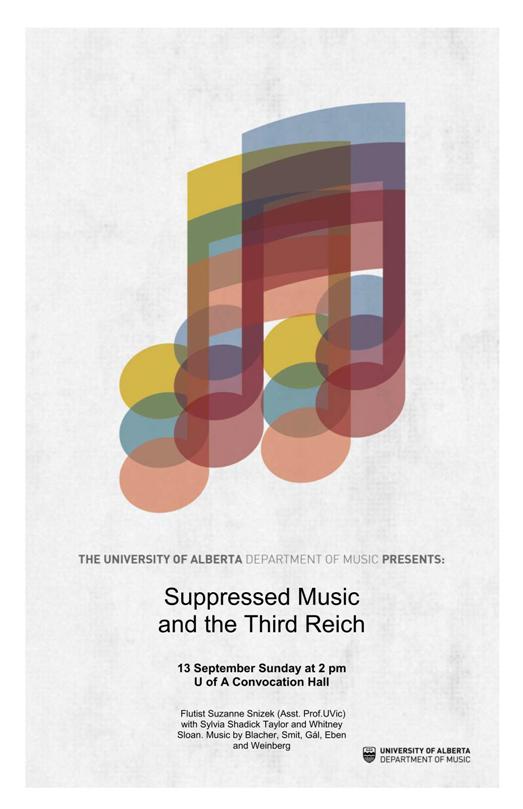 Dr. Snizek will be showcasing a variety of Suppressed Music in Edmonton on September 13 as she outlines below.
"The first work was written by Hans Gál, the aforementioned successful composer. His musical style was very conservative and grew directly out of the Germanic traditions, particularly of Brahms. His formal structures are classical while his harmonic language is quite Romantic. He lived an extremely long life and for complicated reasons his music never regained a solid footing within the repertoire. He stayed true to what he believed was valuable (traditional Germanic practices) and the British establishment wanted to embrace the avant garde, especially in the 1960's and 70's. His musical conservatism did not help his career.
"Petr Eben is another composer presented on my programme. I just love his work, and his piece Drei still Lieder for flute, soprano and piano is gorgeous. It seems musicians do not programme it because they simply do not know it. Eben was a child survivor of Buchenwald (he was perceived as Jewish by the Nazi authorities) and as an adult was further persecuted by the Communist regime of his native Czechoslovakia, because he was actually a lifelong devout practicing Catholic and his religiosity did not sit well with the Communist regime.
"The second work on the programme is Blacher's Sonata for flute and piano. This Sonata was written in 1940, incidentally the same year that Gal was interned in the UK. His music and career suffered because he was not a Nazi sympathizer (he was politically on the left). His music is extremely sparse and emotionally direct, akin to Paul Hindemith. He truly avoids 'emotional bombast.'
"We are also playing selections from Weinberg's 12 Miniatures, for flute and piano. Weinberg fled eastwards, rather than west. Originally from Poland, Weinberg lost his entire family in the Shoah. Later in the Soviet Union he was a victim of antisemitism and was arrested during the Stalinist Purges. He might have met a fate similar to so many others arrested in this dark time but was saved by Stalin's timely death. His music is said to resemble Shostakovich but actually the proper way to describe their similarity is to say they sound like each other. They showed each other their work before releasing it to the public, and were very close colleagues and friends. The influence was seemingly mutual.
"The last piece I will be playing is by Leo Smit (a movement from his first rate Flute Sonata). It was the last piece he wrote before being deported to Sobibor Extermination Camp, where he died in 1943. Smit was a Dutch Jew with a French musical training which one can clearly hear in his music. In other works one can hear his interest in jazz as well but not so much in this work (Sonata for flute and piano)."
About Dr. Suzanne Snizek
Dr. Suzanne Snizek was recently appointed Assistant Professor of Music at the University of Victoria (BC, Canada), where she has taught flute, chamber music and musicology since 2011. She received her BMus from IU-Bloomington (Wincenc, Lloyd and Pellerite). Snizek continued her study with famed flutist Julius Baker (UArts in Philadelphia), where she completed her MMus. In 2011 she earned her DMA (UBC-Vancouver) where she studied with Lorna McGhee.
Her innovative DMA thesis explored the musical culture within World War II British internment. Her work is published in Cultural Heritage and Prisoners of War: Creativity Behind Barbed Wire (Routledge 2012), The Impact of Nazism on the Development of Twentieth Century Music (Böhlau Verlag 2014) and Captivité de guerre au XXe siècle: des archives, des histoires, des mémoires (Armand Colin 2012). Dr. Snizek has also presented guest lecture recitals at Cambridge University (UK), l'École Militaire co-sponsored by Service Invalides- Historique de la Défense and the Institut l'Histoire de Temps Présent (Paris, France) and at the Chutzpah! International Arts Festival with support from the Vancouver Holocaust Education Centre (Vancouver, BC) in 2013.