by Maxine Fischbein
(AJNews) – Mark your calendars for a very special virtual event on Sunday September 19 at 11:30 am. To launch the 2021 United Jewish Appeal campaign, the Jewish Federations of Calgary and Edmonton are jointly hosting a Zoom conversation with celebrated author Yossi Klein Halevi, a senior fellow at the Shalom Hartman Institute of Jerusalem. He is a leading expert on the middle east, a frequent op ed contributor, a New York Times best-selling author and a popular lecturer on Israeli affairs.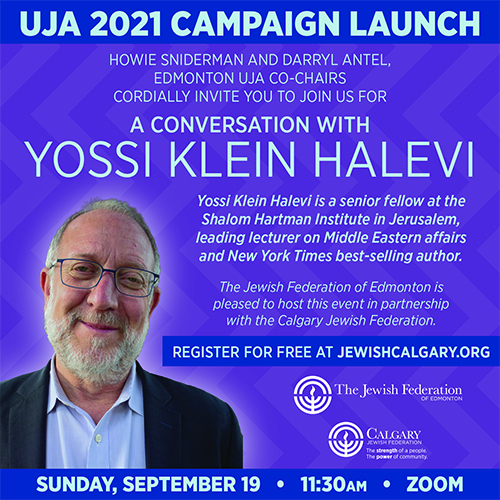 "Yossi Klein Halevi is a tremendous writer who comes from a wildly interesting background," said Calgary Jewish Federation co-president Jared Shore. "His presence is timely as he has some wonderful insight into where Israel currently stands and also where we stand in the Diaspora – being both supportive of Israel and critical of Israel."
The September 19 event will feature a conversation between Shore and Yossi Klein Halevi. They will cover a wide range of relevant topics including some controversial perspectives and provocative ideas. Questions from the audience will also be invited.
Halevi left his home in New York when he was in his 20s and moved to Israel in 1982. Over the decades, he has tried to sort out for himself how and why the Israelis and the Palestinians, have been locked in their intractable conflict for generations.
In his book, "Letters To My Palestinian Neighbors," Halevi tries to reach beyond the failed politics and toxic polarized narratives to connect with his neighbours. He looks at the elements that would be necessary to build a lasting relationship between two peoples who disagree on almost everything.
Wall Street Journal Reporter Daphne Merkin calls the book, "a clarion call – not to arms, but to empathy… the work of a gifted thinker. It is a profound and original book."
Halevi emphasizes that he's not a politician, he's a writer who considers difficult questions and shares his thoughts. He is also a co-host with Donniel Hartman and Elana Stein Hain, of the Hartman Institute's For Heaven's Sake podcast. In this podcast, the reporters tackle difficult issues including the notion of Israel as an Apartheid state, the reason that progressives are turning their backs on Israel and why Israel is perceived as losing the public relations war against Hamas.
The Calgary and Edmonton Jewish communities are pleased to be hosting this event together to launch their 2021 UJA campaigns. Special guest Eric Fingerhut, CEO, Jewish Federations of North America will also be in attendance at the event and deliver up to date information about issues facing Jewish communities in the Diaspora.
"The past 18 pandemic months have taught us all about the need to adapt," said Edmonton UJA co-chairs Howie Sniderman and Darryl Antel. "Hosting joint programs for the members of our communities in Calgary and Edmonton is just one of the innovations that, in many respects, was a long time coming and is very welcome, as they bring our wonderful Alberta Jewish community even closer."
This is an excellent opportunity to pool our resources," noted Shore. "The Calgary and Edmonton communities have partnered for many years in provincial lobbying initiatives, and this is a way to partner in a new and inspiring way."
"We are indeed stronger together," added Sniderman and Antel, "and bringing the views of an important thought leader in the Jewish world such as Yossi Klein Halevi to our communities is a small example of the impact of the UJA campaign.  His take on the current state of the Jews as well as the Jewish State will undoubtedly be of interest to us all. We are excited to provide the opportunity to hear and learn from Yossi as we launch our annual community UJA campaign."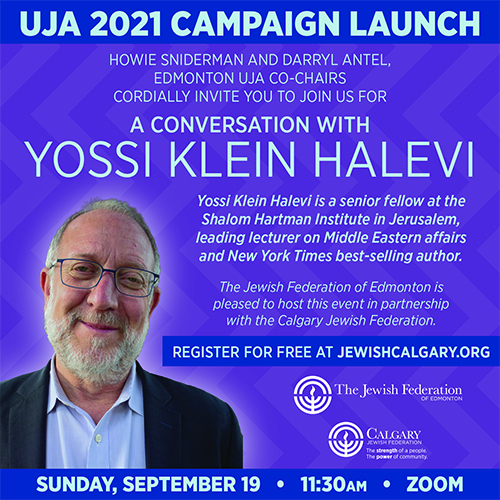 Yossi's professional endeavours are diverse. Together with Imam Abdullah Antepli of Duke University and Maital Friedman, he co-directs the Hartman Institute's Muslim Leadership Initiative, which teaches emerging young Muslim American leaders about Judaism, Jewish identity and Israel.
He is also the author of Like Dreamers: The Story of the Israeli Paratroopers Who Reunited Jerusalem and Divided a Nation, which won the Jewish Book Council's Everett Book of the Year Award.
"This year's campaign is as important as any," concluded Jared Shore. "We've seen how a strong community response has helped us weather some enormous challenges over the past 18 months. It's a critical time to invest and reinvest in our community's organizations and agencies."
The 2021 UJA launch takes place over ZOOM on September 19 at 11:30. Register for the free event at JewishCalgary.org and you will be entered into a raffle to win a copy of "Letters to my Palestinian Neighbour."
Maxine Fischbein is a Local Journalism Initiative Reporter.