(CALGARY, AB) – From March 15 until April 10, 2016,  Theatre Calgary is bringing one of the most produced and most talked-about comedies in North America to the Max Bell stage with Joshua Harmon's Bad Jews.
Since its New York premiere at Roundabout Theatre in 2012, Bad Jews has become one of the most popular plays in North America. The San Francisco Chronicle called it "scathingly funny and thought-provoking" and the New York Times hailed it as "the best comedy of the season." It's a heartfelt and hilarious interrogation of faith, culture, and identity in the modern world.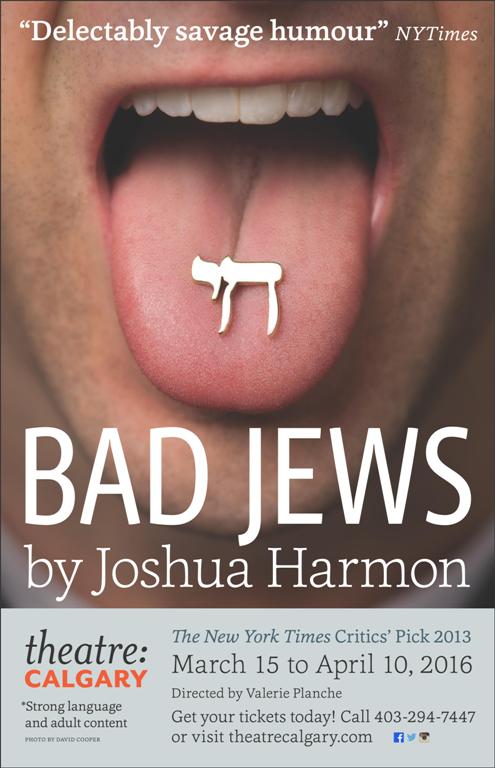 In Bad Jews, three young Jewish cousins (and one non-Jewish girlfriend) have to bunk together in a cramped apartment during their grandfather's shiva, the customary mourning period after a death. When they're forced to decide who should inherit a precious family heirloom, the result is a ferocious and articulate brawl over religious tradition and cultural legacy. "These four young people share a lot of big ideas," says Artistic Director Dennis Garnhum, "and I think we should listen closely to them."
The voice behind Bad Jews is playwright Joshua Harmon, who was still shy of his 30th birthday when it premiered. His first inspiration for the play came during his second year of university, when he attended a Yom Hashoah (Holocaust Memorial Day) service in which the grandchildren of survivors told their ancestors' stories, instead of the survivors themselves. That got Harmon thinking about his own relationship to Judaism, and how his generation will approach its cultural legacy and tell the Jewish story. But he let the project sit in his notebook for several years, unsure of how to approach such a challenging piece while still a student. When he returned to it in his late twenties and finally finished a first draft, it got immediate attention and landed him his first-ever major production.
That off-Broadway staging thrilled New York audiences and led to productions across the continent, where the play has consistently struck a chord with Jewish and non-Jewish audience members alike. "I firmly believe that by being incredibly specific," Harmon says, "you can tap into something universal."
THE CAST The cast features JEREMY FERDMAN as Liam Haber, BOBBI GODDARD as Daphna Feygenbaum, DAVID SKLAR as Jonah Haber, and KATHARINE ZABORSKY as Melody.
THE CREATIVE TEAM Making her Theatre Calgary directing debut is VALERIE PLANCHE. Valerie has been seen as an actor on numerous productions on the Max Bell stage. The creative team includes CORY SINCENNES (Set, costume and lighting design), ZACHARY MOULL (Production Dramaturg), JANE MACFARLANE (Vocal coach), KARL H. SINE (Fight Director), PATTI NEICE (Stage Manager), and CARISSA SAMS (Assistant Stage Manager).
Performances at Theatre Calgary run from March 15 to April 10, 2016 – Tuesday thru Sunday with evening curtain at 7:30pm (Tues-Thurs & Sunday) and 8:00pm (Fri & Sat), weekend matinees at 2:00pm.
Tickets for all performances start as low as $45.00 and can be purchased through Theatre Calgary at 403-294-7447 or online at theatrecalgary.com. All performances take place in the Max Bell Theatre in Arts Commons.