By Rabbi Ari Drelich
(AJNews) – Despite the darkness that prevails at present around the world, the bright lights of Chanukah will continue to shine Bezrat Hashem at the Alberta legislature this year.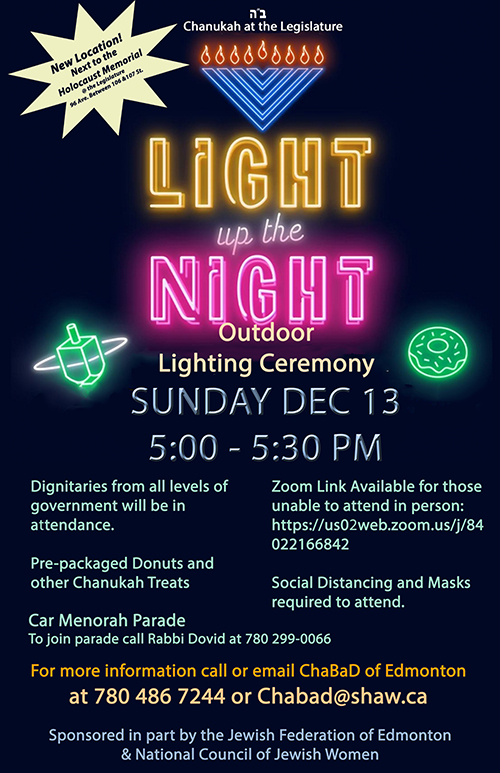 On Sunday December 13 at 5:00 PM Chabad of Edmonton will be holding a short outdoor candle lighting ceremony with our giant menorah which will this year be situated next to the Holocaust memorial adjacent to the ledge building.
In light of the new restrictions due to COVID-19, the ceremony will not be a public event.
In designing this year's program Chabad was looking for ways to celebrate in a safe and meaningful fashion.
To that end we have decided to combine the ceremony with our annual Car Menorah parade featuring 40 vehicles with Menorahs on top, that will be parade through the city and join the ceremony at the Ledge. Participants will stay in their cars.
As well, this year, the event will be broadcast via zoom so that everyone can enjoy the candlelighting virtually. This Zoom link is sponsored by the Jewish Federation of Edmonton to facilitate the entire community's participation in this event.
For those who participate in the parade, we will have prepackaged donuts and Chanukah treats to make the holiday that much more special.
We wish to express our appreciation to the Schayer family for their continued support of Chanukah at the Ledge, as well as the Jewish Federation of Edmonton and National Council of Jewish woman for their meaningful partnership in bringing Pride in Yiddishkeit to our community.
For information about participating in the Car Menorah Parade, call Rabbi Dovid at 780-299-0066.