(Edmonton, AB) – Jewish women from across the Edmonton area are coming together to unite for a day of physical and spiritual indulgence, in celebration of Jewish womanhood, at a "Spa for the Soul." The event, which will be held at 10:30 am Sunday, June 24, at the Fantasyland Hotel Ballroom, will be honouring Edmonton born-and-bred Reisa Segal-Sheckter. Reisa is known for her outstanding dedication and tireless support of Edmonton's Jewish women, and we will be taking this opportunity at "Spa for the Soul" to acknowledge and thank her for her service.
The event will treat participants to an array of mini spa treatment and fitness classes, in addition to a lineup of workshops tackling topics relating to Jewish women in the 21st century.
Ladies will then enjoy a gourmet three-course luncheon by Rodney Khoo, Executive Chef of the Fantasyland Hotel, followed by Instruction to Traditional Israeli Dancing led by Meirav Or from the Aviv Dancers.
The keynote speaker, Goldie Plotkin, a native New Yorker, is a Rebbetzin and Shlucha (Chabad emissary) in Toronto. As a highly sought-after motivational speaker and lecturer, Goldie travels the world to motivate, inspire and share the joy of marriage, parenting and the beauty of our Jewish traditions.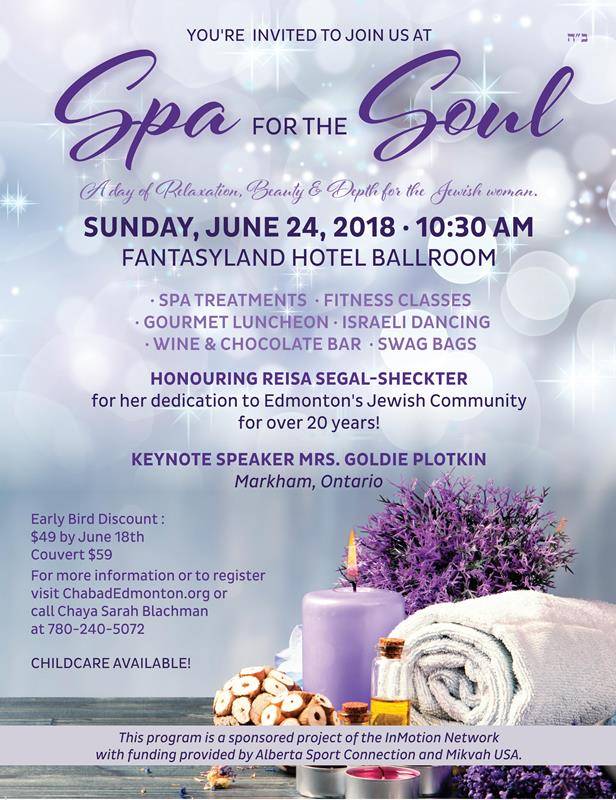 In addition to other impressive speaking engagements, she was invited to address the Knesset on matters of Marriage Enrichment and coaching young couples in Israel.
Goldie will address the topic: Secrets from Kabbalah for Eternal Relationships. She will demonstrate how even the most experienced and dedicated partner in a relationship has something to learn. This address will pick up where the self-help books leave off, offering timeless Kabbalistic insight and practical advice for relationships.
The pampering doesn't end with the hotel luncheon. The program concludes at the Beth Israel Synagogue with a Chocolate and Wine Bar with Mikvah Spa tour. In addition to sampling an array of kosher wines and chocolates, ladies will have an opportunity to have a behind-the-scene tour, and see what everyone is talking about, at the newly renovated Women's mikvah. The mikvah offers the Jewish woman the remarkable gift of purity and holiness.
Ladies will be happy with the knowledge that they will not only be enjoying themselves but will be helping a good cause too. Proceeds from this event will go to the Beth Israel & Edmonton Community Mikvahs.
For those moms with small children ages 0-5 years, on-site babysitting will be available throughout the entire program. Advanced registration is necessary for childcare.
"This event is about joining together in celebration of the Jewish female self," says Chaya Sarah Blachman, one of the event organizers. "We are recharging our bodies and souls, and empowering ourselves to empower others."
For more information and to RSVP, visit www.ChabadEdmonton.org. Early Bird discount ends June 18th.