(Edmonton) – The Jewish Federation of Edmonton is announcing a Solidarity Vigil on Wednesday October 25 at 5:30 pm at the Alberta Legislative Grounds for the 222 hostages that are being held captive in Gaza. The hostages were abducted during the horrific Oct. 7 massacre by Hamas which took place in Israel and over 1400 people were murdered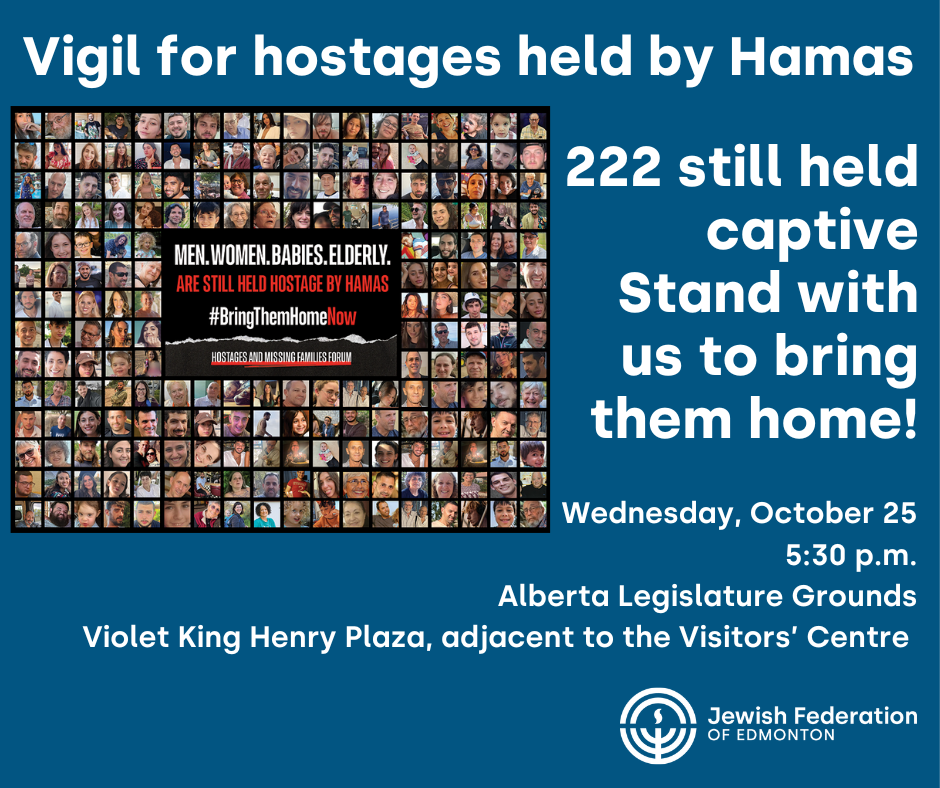 .
Hamas is still holding 222 people, including children and babies, captive in Gaza.
"We are asking you to take a stand with our Jewish community to speak out for them and bring them home," stated the Jewish Federation of Edmonton. "A vigil will take place on the Alberta Legislature Grounds with a short program. Printed images of the hostages will be available for the first 200 people who want to hold. You are welcome to bring Israeli flags and signs that state #BringThemHomeNow. A prayer will be said for the hostages."
Vigil for hostages
Wednesday, October 25
5:30 p.m.
Alberta Legislature Grounds
Violet King Henry Plaza (view map)
Parking options
Paid Indigo parking lot on 106 St and 97 Ave
Small free public lot on 107 St and 98 Ave
Paid street parking along 99 Ave
Free street parking along 107 St