By Lesley Machon
(AJNews) – From nursery to grade nine, the Calgary Jewish Academy (CJA) is swinging open its classroom doors. The smallest students file in, proudly sporting backpacks that reach from shoulders to knees. The junior high cohort is adjusting after a summer of sleeping in or doing things on their own time, with a low chorus of yawns. Within minutes, the hallways are a collage of colour— classroom display boards, backpacks, and pencil boxes brimming with each shade of crayon still tucked inside.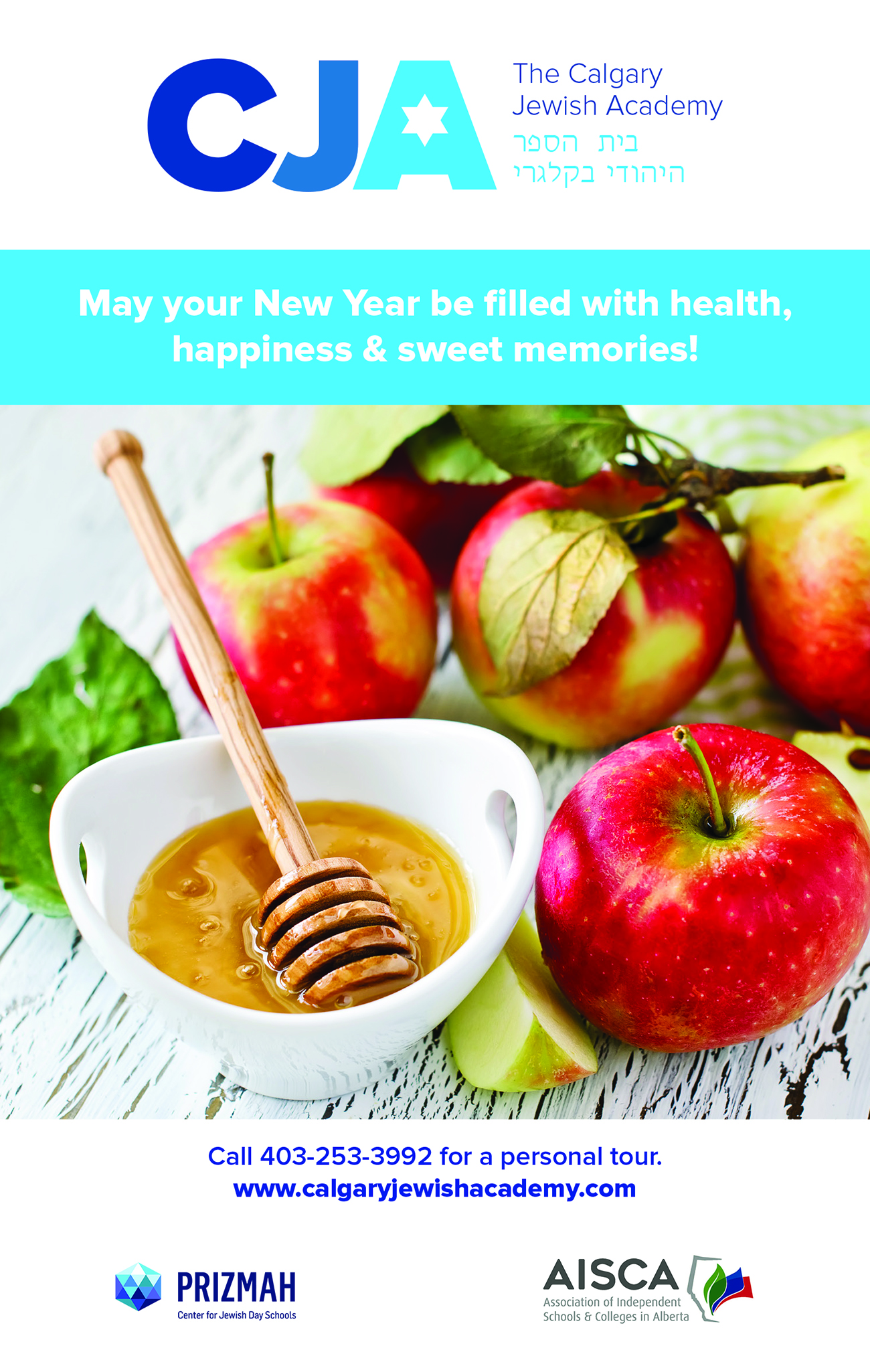 The early days are always chaotic—there is a good dose of excitement and anxiety that comes with a new year and new environment. Lockers won't open (left then right then huh?), and students bump into each other searching for their homerooms. Some know the CJA like a second home, and are encouraged to reach out to new students in every grade. Attending a smaller school comes with the benefit of a warm and welcoming environment that we all work together to cultivate. At the CJA we know that students learn best when they feel safe, seen, and cared about. The Shehecheyanu blessing is echoed down the halls on the first day, off-key little voices praying enthusiastically. While the world is still a little scary and uncertain, we have our little oasis.
Classrooms are freshly decorated, from construction scenes, to global themed, to Judaica: beautifully framed Hebrew phrases, and Jerusalem's skyline. The students eat apples dipped in honey to usher in the New Year with sticky fingers, and the shofar is blown from the field as a symbol of new beginnings: the Jewish New Year, and the start of a new school term. The sound of the Truah involves nine rapid fire, staccato blows, like an alarm clock you can't hit snooze on. Truah is the wake up call to the New Year. The shofar itself also represents the connection between our inner and outer worlds. While the blower must first take a big breath, the shofar only sounds when the air blows out. Rosh Hashanah reminds us that turning inward allows us to burst forth and contribute to the world. This relates to our school's focus on self-regulation—through breathing, body breaks, writing assignments dedicated to self-inquiry, and classes focused on mindfulness and creativity—so we can be of service to each other in productive and sustainable ways.
Soon, students will enter the Sukkah, and the citrusy smell of the etrog will fill the air. Students will shake the lulav in all four directions while saying traditional prayers and giving thanks for food, shelter, and abundant harvest. This holiday is a calendar highlight every year. Each of our celebrations is an enriching experience that connects us to centuries‑old traditions and a system of values that we recognize as the basis for moral decisions.
Research shows that participating in culture, community, and traditions anchors individuals in a sense of their own identity and affirms their belonging in a community. This is important for both healthy self-esteem and relationships with others, and we are proud to provide our students with this kind of foundation in a school environment.
Our goal at the CJA is to foster students who are connected to themselves and the world around them. Our collective efforts focus on cultivating an imagination, sense of truth, and feeling of responsibility in each student so they can move forward as academically innovative and culturally grounded and compassionate. At a time of much uncertainty and divisiveness, we seek to live and learn in the true spirit of shalom.
 Lesley Machon teaches Humanities at Calgary Jewish Academy, cja.ab.ca