(EJNews) – The beautiful piece of art that adorns the cover of Edmonton Jewish News' Rosh HaShanah edition is entitled "Moored" and it is the creation of the very talented Alberta artist Nomi Stricker. The art is perfect for the New Year because of its use of beautiful fall colours as well as the theme of being moored. The image evokes feelings of security and belonging and is particularly meaningful at this time of year, when each of us feels moored to our families, our friends, our communities, and our traditions.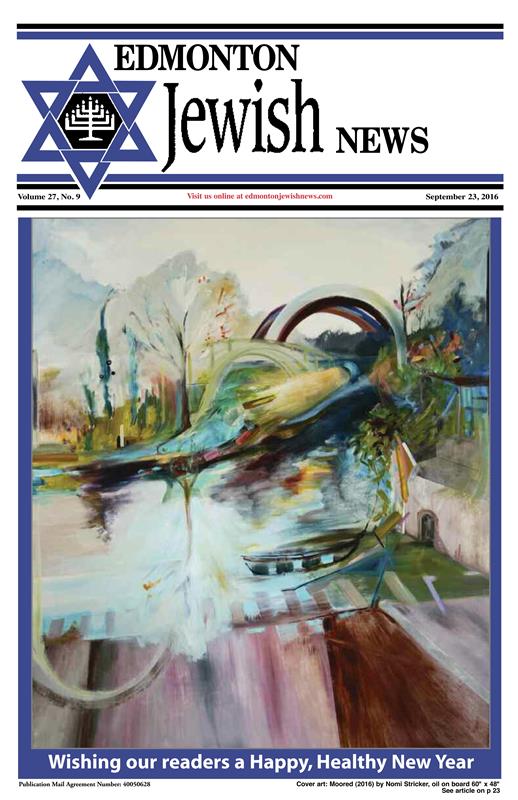 As seen on her website nomistricker.com, Stricker's recent paintings depict curious and improbable spaces. Sites explored on a year traveling abroad (including Israel), places visited in daily experiences, and glimpses caught in subconscious dreams contribute to these painted fictions. Memories, imaginings, and source photographs are fused, morphing into fantastical abstract landscapes.
These unlikely spaces often revisit familiar landscape tropes – with tree branches, bridges, rivers, desert terrain, and city skylines meeting Stricker's less literal visual language of paint swaths, arcs, and floating forms.
Celestial, terrestrial, and aquatic motifs are present throughout the series. Ideas of regeneration, cycles, and the search for visual and metaphorical structure within ephemeral, fluid spaces seem to be recurring considerations.
Nomi's roots run deep in the Jewish community of Alberta. She is a graduate of the grade nine program at Calgary Jewish Academy which included the Partnership 2G class trip to Israel. She took on leadership roles as an active member in the B'nai Brith Youth Organization and for years attended Camp BB Riback in Pine Lake, both as a camper, and later as a staff member, helping campers achieve their artistic potential every summer.
Following her formative years in Calgary, she moved to Edmonton where she graduated from the University of Alberta in 2008 with a Bachelor of Arts, Double Major with Distinction in Classics and Art & Design. Her work is featured in private collections across Canada and in England. In 2013, her work was acquired by Foreign Affairs and International Trade Canada's Visual Art Collection for permanent display at Canada House in London, England and at another Canadian diplomatic mission abroad.