(EJNews) – There is some great health and wellness news for residents living in the West End of Edmonton. Callingwood Crossing Medical Clinic has been newly renovated to better meet the needs of their patients.  That is good news for everyone in the neighborhood and surrounding areas.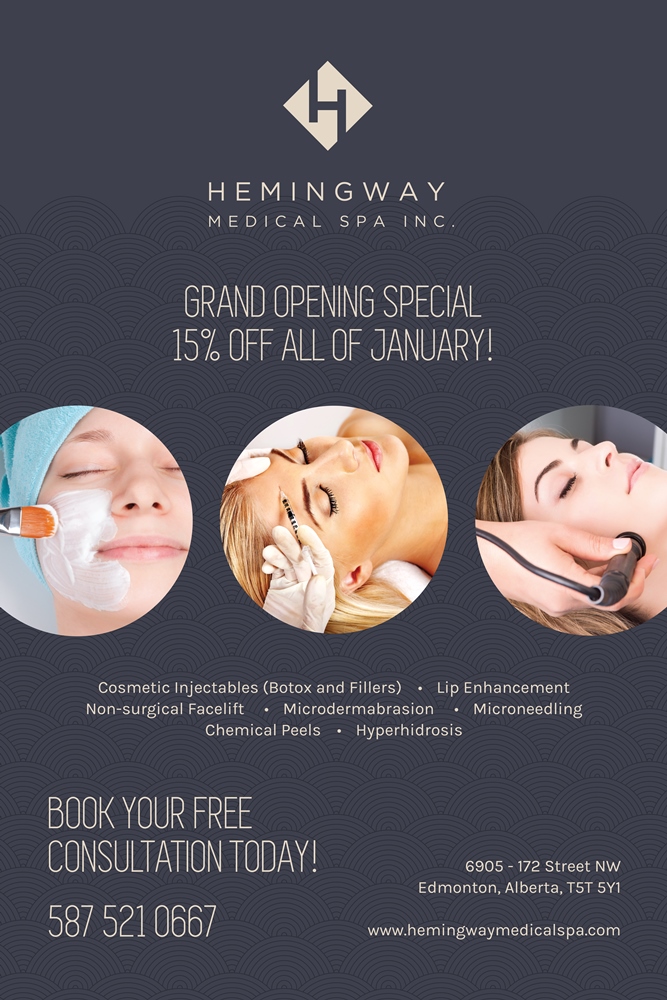 "We're located in West Edmonton and we serve the needs of our community," said Dr. Andrew Kohler. "Our goal is to provide comprehensive care for families. We want you to consider us your medical home."
The clinic is conveniently nestled in the heart of Edmonton's West End at 6905 172 Street with a wonderful team of doctors available to fit all schedules including week-end and evening hours.
"As both a family practice and a walk-in clinic we strive to offer continuity of care for our patients," explained Dr. Brock Organ. "We are pleased to be accepting new patients either by appointment or as walk-ins."
New to the group of doctors are Dr. Jean-Loup Carpenter and Dr. Bernadette McEvoy. They are joining the existing team of doctors that include Dr. Andrew Kohler, Dr. Jamie Olesen, Dr. Ken Romano, Dr. Kevin Jackman, Dr. Maria Pariy, Dr. Brock Organ and Dr. Adhikar Gokul.
"Our qualified doctors have a wide range of expertise and experience and are dedicated to serving your family with the best care possible," noted Dr. Maria Pariy.
"Our family doctors provide the highest quality medical care with a range of professional medical services. We have a strong referral network with many other health specialties including pharmacy, mental health networks, optometry, physiotherapy and dermatology. The clinic is a member of the Edmonton West PCN and fully integrates each person's care into a medical home model of care."
The recently completed renovations are modern and new; they are truly representative of the warm atmosphere of caring that is the central philosophy of the clinic. There is an ambiance of comfort and healing throughout the clinic.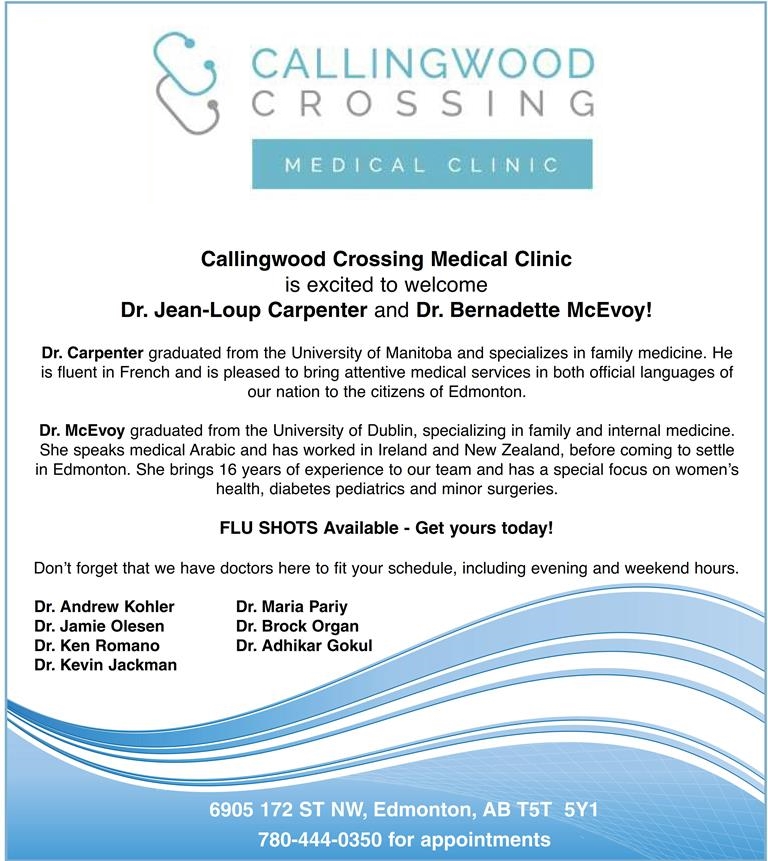 One of the very special additions to Callingwood Crossing is the new Hemingway Medical Spa that is situated right inside the office. In addition to being a family physician and manager at Callingwood Crossing, Dr. Jamie Olesen is the medical director of the Hemingway Medical Spa and provides services that include Botox, Fillers, Lip Enhancement, Microdermabrasion, and Microneedling.
Dr. Olesen is local to Edmonton and completed ten years of post-secondary education at the University of Alberta. His credentials include a Bachelor of Science, Doctor of Medicine, and certification and licensure with the College of Family Physicians of Canada. He is also a member in good standing with the College of Physicians and Surgeons of Alberta, Alberta Medical Association, Canadian Association of Aesthetic Medicine, and the International Association for Physicians in Aesthetic Medicine.
In addition to his work at Callingwood Crossing Medical Clinic and Hemingway Medical Spa, Dr. Olesen works clinically as a surgical hospitalist in the department of Orthopedics at the University of Alberta Hospital.
To celebrate the grand opening of the Hemingway Medical Spa, all services will be offered at a 15% discounted rate for the full month of January. Book your free consultation today by calling (587) 521-0667.  To learn more about the spa, visit hemingwaymedicalspa.com.
For more information on Callingwood Crossing Medical Clinic or to inquire about any of their services or to book an appointment call  (780) 444-0350.  They are an after-hours clinic, with plenty of parking on-site.  Follow them on twitter and facebook at @callingwoodcrossingmedical.
Stay tuned for news on their Grand Re-opening in January.