By Rabbi Leonard Cohen
(Calgary) – The timeless objective for Rosh Hashanah, and further on through Yom Kippur is Teshuva. While often translated as "penitence," that English term with its connotation of guilt seems incongruous with what Teshuva really means. The Hebrew word comes from "Shuv," to return. When we return the Torah to the ark, we sing, "Hashivenu Hashem Eilekha v'Nashuva, Chadesh Yameinu ke-kedem" – Bring us back to you, hashem, and we shall return; renew our days as before.
Teshuva is a coming back to what really matters: our fundamental, sacred connection to Hashem, to the people around us, and to our true selves, the people we are meant to be. The first ten days of the New Year, Aseret Y'mei Teshuvah, culminate in Yom Kippur, during which we say, "U'teshuva, u'tefilah, u'tzedakah ma'avirin et ro'a hag'zeirah" : the performance of Teshuva/return, along with the crucial mitzvot of prayer and Tzedakah (charitable giving), cause Hashem to ward off any evil decree against us.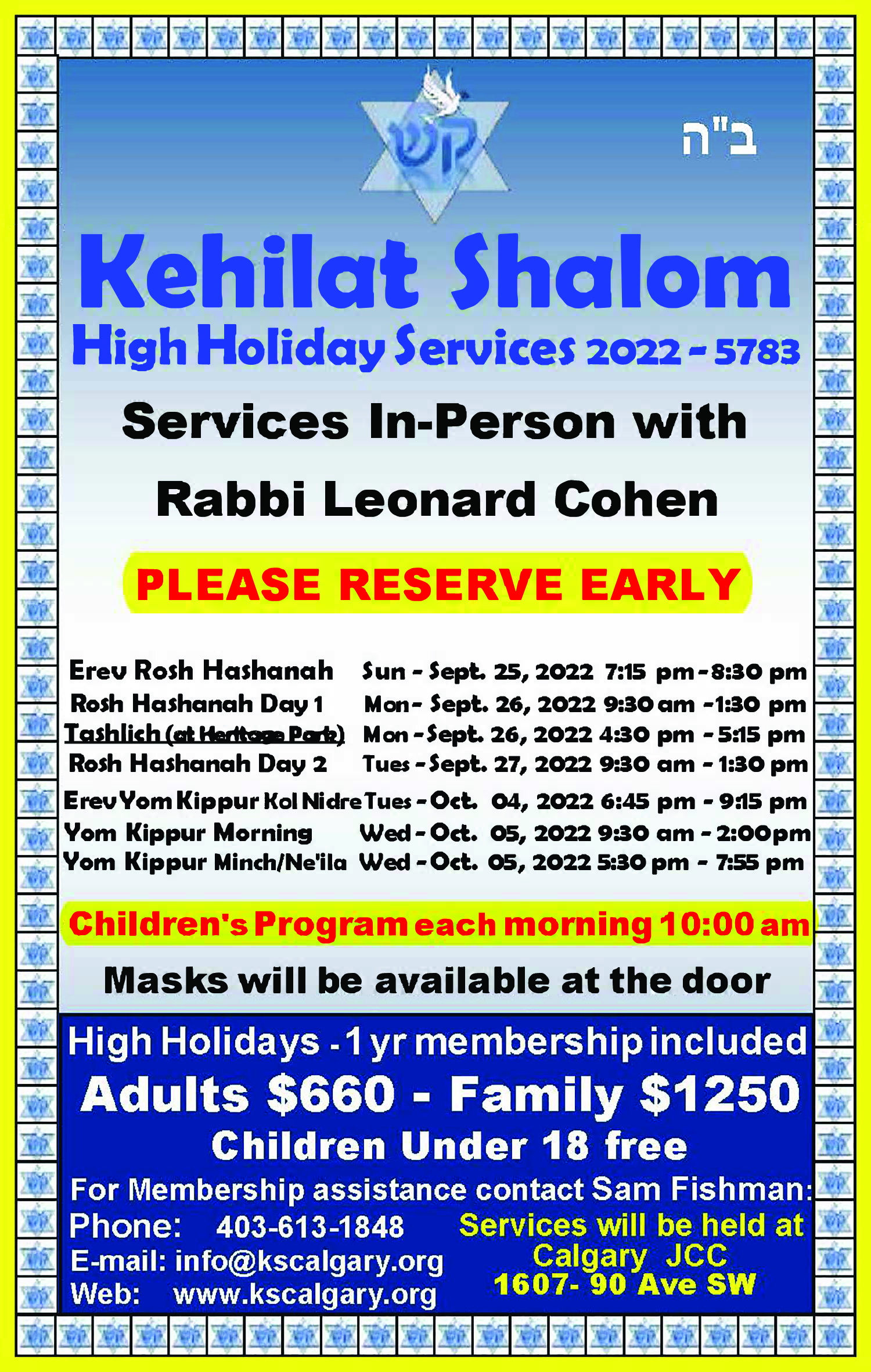 During Rosh Hashanah, we take "time out of time" to prepare ourselves for our future destiny to unfold over the coming year. We include three major themes in the morning prayer on Rosh Hashanah: Malchuyot, Zichronot, Shofarot – which focus our thoughts and hearts on the Teshuvah task at hand. Malchuyot evokes the majesty of Hashem as Creator and sovereign, the uplifting and benevolent force which underlies the significance of our lives in this universe.  Zichronot refers to memories – we recall our history and profound destiny as a Jewish people, along with the covenants and love that gird us to this day to carry out great things together. And Shofarot simply returns to the ethereal trumpeting of the shofar, which captures in its cries that which we cannot even state in words.
During the High Holidays, you can derive the most out of service not only by singing along and participating in prayer, but also taking some time to reflect on where you find yourself in life, and what it is you might wish to bring about in future with G-d's help. It could be a mitzvah that you wish to take on, or dealing with an important personal challenge, or simply considering those parts of your life you wish to build on, strengthen, reduce or eliminate.  Praying with a congregation can help you draw strength from the people around you, from the words and music of Tefilah, from the reverberating sound of the shofar.
It is my profound wish that you find ways to partake in the Simcha (happiness) of the Rosh Hashanah holiday, epitomized by the sweetness of the apples and honey and raisin challah we consume.  We can stive to fulfill the precept of living life joyously. The Tehilim verse "Ivdu et hashem b'simcha" – i.e., "Serve the L-rd with happiness" (Tehilim/Psalms 100:2) — signifies that our happiness is itself a prerequisite for Jewish life and for worshipping Hashem. Shana tova umetuka – may the coming year be a wonderful, sweet year for you and your loved ones.
 Rabbi Leonard Cohen is the spiritual leader of Kehilat Shalom congregation in Calgary.