(AJNews) – On June 29, as part of the TD Jazz YYC Summer Festival, Pulkes Band will be bringing the best Israeli brass and string players together to Temple B'nai Tikvah at 8 pm for a show unlike anything you've experienced. You'll be treated to Israeli music pulsing with African rhythms, Western grooves, Mediterranean and Balkan sounds, in a world-lifting sensation made to move your body.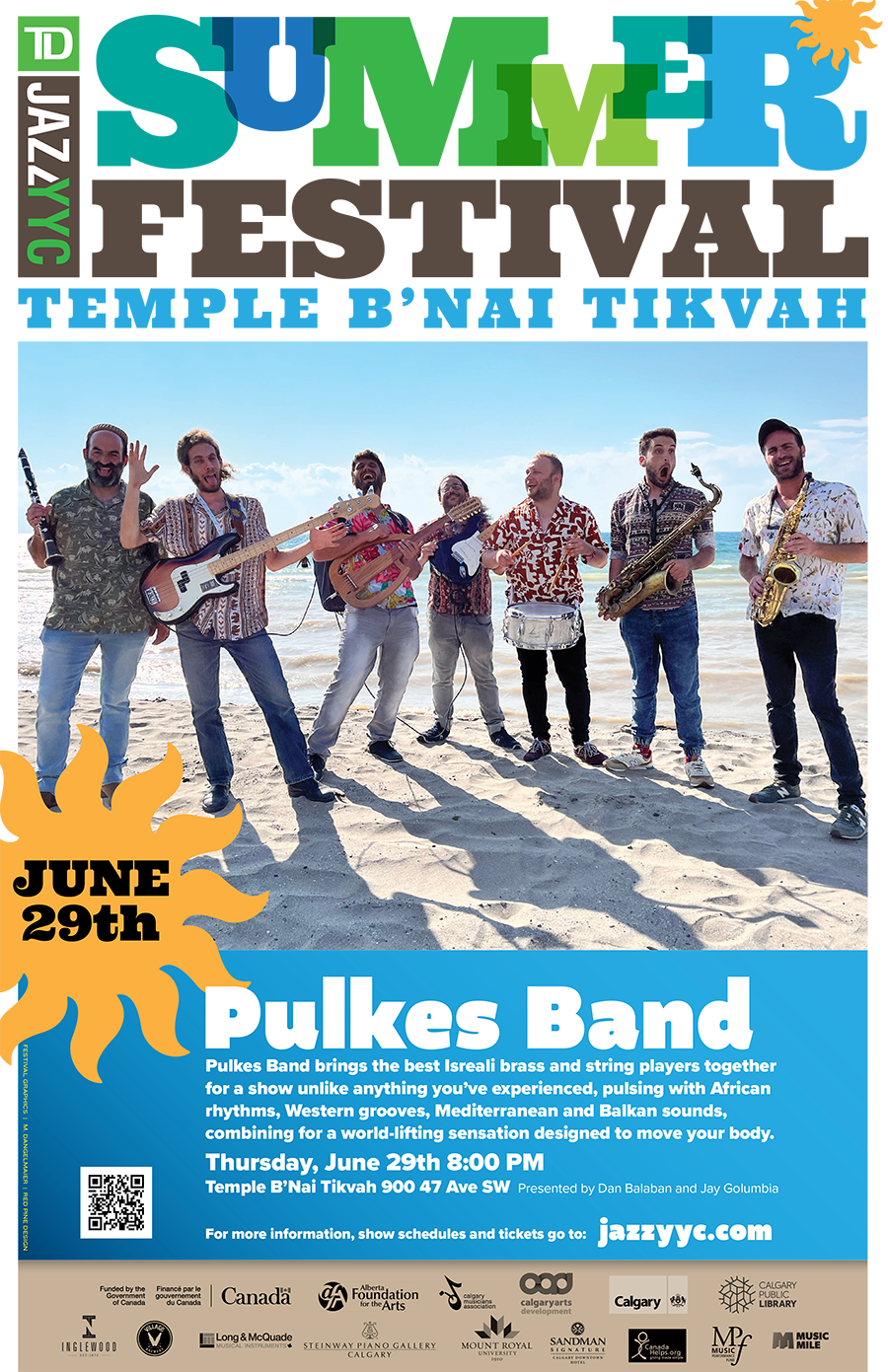 Pulkes Band has grown and evolved within the walls of Jerusalem; band members started out in the "Music and Silence" school for music in Jerusalem, under the musical direction of  Eval Talmudi. They play world music with an emphasis on music and styles from the Balkans, klezmer, Mediterranean and more. Since 2017 to this day, they have conquered festivals around the country and around the world.
Band members are: Tuval Haim, Drums; Yosef Shitrit, Alto Sax; Shevach Samuel, Tenor Sax; Nevo Castiel, Guitar; and Gilad Fried, Bass Guitar.
"I've been volunteering with Jazz YYC in a fundraising capacity for over 4 years," says Jay Golumbia who is co-sponsoring the event with Pulkes Band and Dan Balaban.
"Our vision for this event is twofold," he continued, "to bring the Jewish community together for a raucous high energy event to kick off the summer and to resurrect the B'nai Tikvah venue, which has proven itself as a great place for music… especially Israeli/Jewish artists. And to reconnect Jazz YYC with the Jewish Community and continue presenting high caliber local, national and international Jewish performers in Calgary."
Following the YYC Festival, Pulkes will perform at the Victoria Jazz Festival on June 30 and in Vancouver on July 2.
Don't miss this opportunity to enjoy Pulkes Band live at the beautiful TBT in Calgary.  Click here for tickets and more information. 
Thursday June 29 | 8:00PM – 10:00PM
$36.00 | $31.00 Members | $18.00 Youth Under 25 | $31.00 Seniors | $90 Family Pass